Merry Christmas, everyone! Hope you are having a joyful time with your family and friends.
Last night, after attending a Christmas church service, hubby and I perfected my new Peanut Butter Cookie recipe. I tried making them once before, but having never had a peanut butter cookie (I know, pity me) 😉 I did not really know what I was looking for, so he was my taste guide. After my first attempts we established that cookies needed to be crunchier and more peanut-buttery. I even went as far as going to the nearby Whole Foods to try one of theirs to have a point of reference. 😉 And, last night hubby's dream for home-made Peanut Butter Cookies came true–they turned out to be everything that he thinks a peanut butter cookie should be.
So, in the spirit of sharing, try this Peanut Butter Cookie recipe and enjoy!
Vegan Peanut Butter Cookie Recipe
yields 18-20 cookies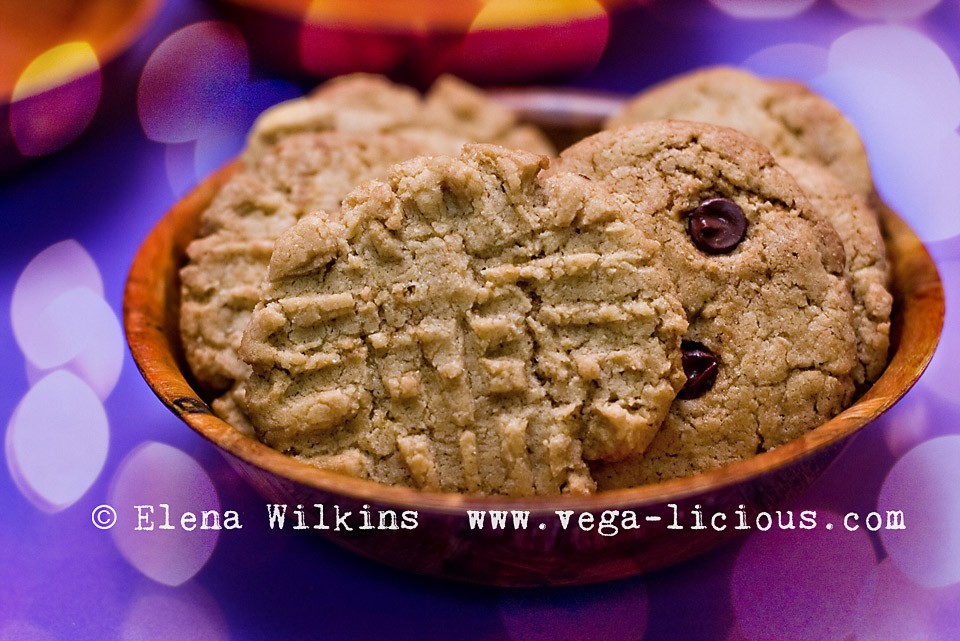 [click image to enlarge]
WARNING: THIS IS NOT A HEALTH FOOD, ALTHOUGH IT IS ALL PLANT BASED! 😉 As such it is to be made and eaten only occasionally and sparingly. 
Ingredients
1/4 cup brown sugar
1/2 cup white, unbleached sugar
1/8 tsp Himalayan salt (if you use other kinds scale down, since Himalayan salt is milder in taste)
2 tsp vanilla
1 tsp baking soda
2 tsp lemon juice
1/4 cup Earth Balance butter (vegan)
1/2 cup fresh peanut butter
1/4 cup almond milk
1 cup unbleached white flour
1/4 cup vegan chocolate chips
Preparation
Place all ingredients, except for chocolate chips, into a food processor and blend until well combined (you will end up with a slightly flaky batter, which you will finish mixing by hand, pressing all particles in)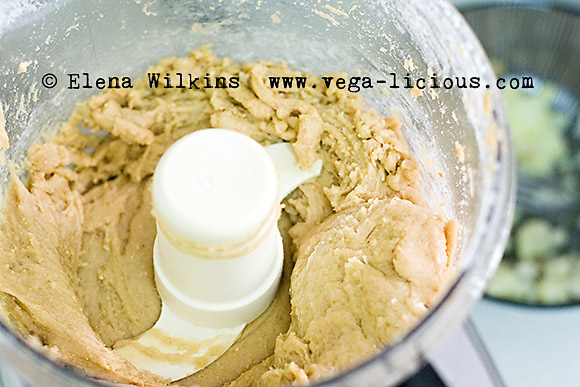 If you would like to make some cookies with chocolate chips, transfer dough into a bowl and divide into 2 parts; if not, you can keep it in the food processor container
If you are making half of the cookies with chocolate chips, add 1/4 cup of chips into the half of the dough and mix them in by hand, as you are rolling cookies
Preheat oven to 350 F
Line two baking sheets with parchment paper
For plain cookies: form 1 inch hockey pucks/balls out of the dough, place on the baking sheet 2-3 inches apart; using a fork create beautiful indentations and press the dough down to form round disks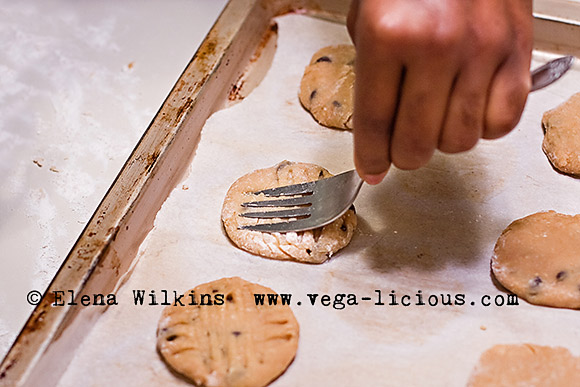 For chocolate chip cookies: form 1 inch hockey pucks/balls out of the dough, press each down with your hands to form round disks, place on the baking sheet 2-3 inches apart
You will end up with 18-20 cookies
Bake for 10-11 minutes or until golden–if you have a narrower oven and have to place one sheet on the bottom rack and one on top, make sure to switch them up after 5 minutes–do not over-bake, as cookies will turn out to be EXTRA crunchy
Cool cookies off on a cooling rack and enjoy with a cold cup of almond milk
Store remaining cookies in an air tight container
NOTE: If you don't want cookie as crunchy use all white sugar instead of using brown sugar.
Merry Christmas!