This is ultimate vegan comfort food for vegans and non-vegans alike–potato ravioli!  The potato filling, however, can be replaced with about any other filling you like: pumpkin, cherries, or anything else.  Enjoy!
Vegan Potato Ravioli Recipe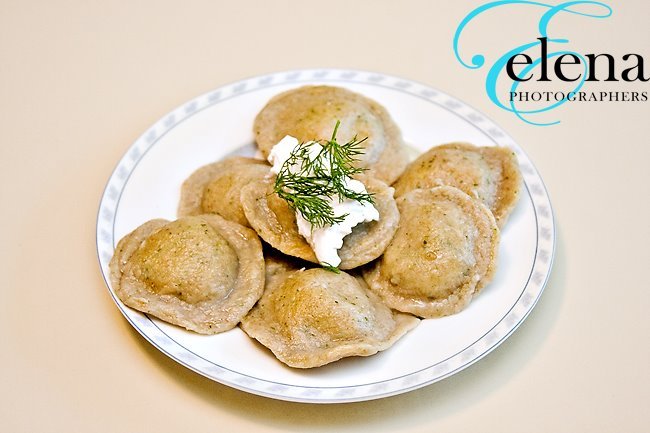 Ingredients
Dough
1 cup warm water
3 tablespoons cilantro*, chopped
2 cups white, unbleached organic flour
2 cup whole wheat organic flour
1 teaspoon of favorite all-purpose seasoning
sea salt to taste or none (you can salt water that you will cook the ravioli in)
*You can substitute cilantro with basil.
Filling
3 medium potatoes, peeled and cooked*
2 tablespoons cilantro or dill, chopped
Mash potatoes and add cilantro or dill.
Let it chill to room temperature.
*Make sure to salt with sea salt to taste when cooking.
Preparation
To make dough, place water and cilantro (or basil) in the food processor and blend until cilantro has been finely chopped up.
Add salt, seasoning and flour, one cup at a time. Pulse until flour is blended in.
Transfer dough to a flat surface and knead until smooth, adding a bit of flour if needed.
Divide dough into four equal parts. Roll out each part into a thin sheet.
Use a round glass to cut out circles.