This salad was my lunch today–delightfully delicious.  Enjoy!  Pineapple never tasted this good!
Cucumber Pineapple Salad Fat Free Recipe
Ingredients
1/2 large English cucumber, sliced into bite-size chunks
1 ripe avocado, scooped out of its shell
1 cup fresh pineapple chunks
mint leaves from 2 stems, finely chopped
a sprinkle of Himalayan salt
Preparation
Combine all ingredients and enjoy!
If you need more juices in the salad, squeeze 1/2 orange into the mixture.
Life is too short to hate your food–so make the food that will make your body happy and leave taste buds singing Hallelujah!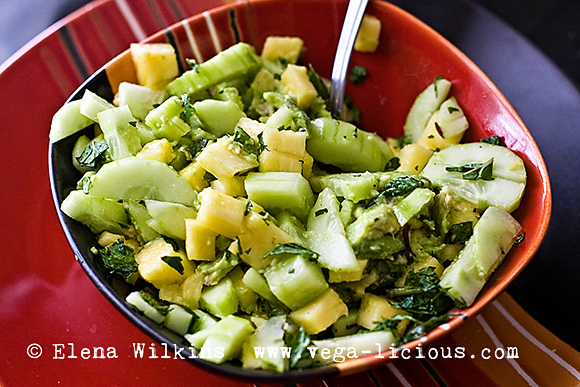 Berrylicious Fruit Smoothie
Fresh cucumbers were not my only craving today.  Right after waking up I had a huge desire for a fruit smoothie.  The one I whipped up was everything I needed.  Enjoy it!
yields 2 servings
Ingredients
1-2 cups pineapple
1 ripe banana
1.5-2 cups water or organic almond milk
1.5-2 cups berry mix: cherries, strawberries, blueberries and pomegranate
Blend until smooth.