My kiddo loves music.  I actually use it as a distraction while I'm brushing her hair in the morning.  A couple of days ago she asked to watch music from The Lion King movie.   As I was brushing her hair and getting her ready for the day, I thought that it would be so much fun to pop some popcorn and have her first ever movie experience.  (We normally do not watch movies with her.  The few educational and fun music videos that we enjoy do not require a long attention span, so, this was our first time, full-length movie viewing.)
While I am not a popcorn lover, every now and then I enjoy a good crunch.  Last year I shared a fat free caramel popcorn recipe on Vegalicious.  At that time I used the old-timer method of popping corn in a pan.  This year I splurged a little and got myself a hot air popper. So far it has been one of the best expenses, even if it were just for this special time with Sprout.
It took me only 3-4 minutes to pop a bowlful of popcorn, and another 5-7 to make caramelized popcorn.  The result was fabulous and Sprout was in LOVE!  She was too cute to watch, so, instead of just watching the movie with her, I had to steal a few snaps of her first popcorn experience, before joining her on the couch with my own bowl of caramel popcorn.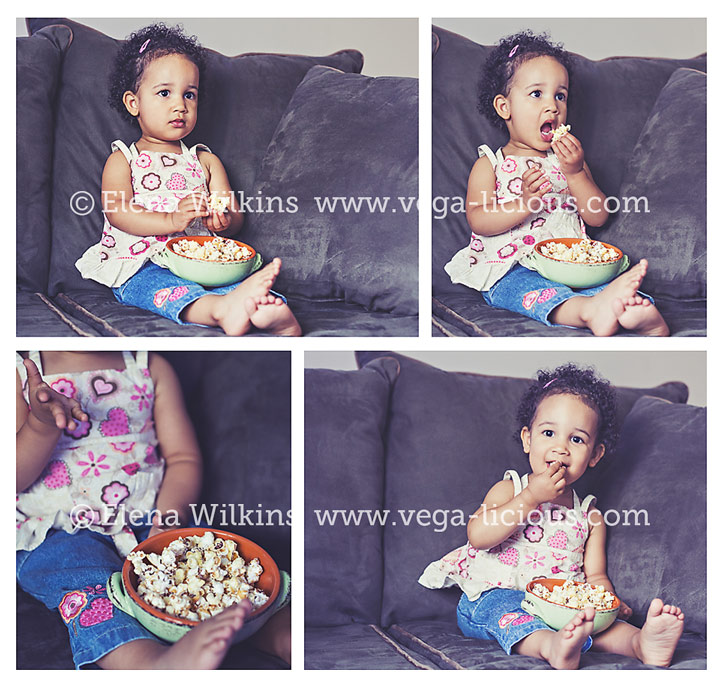 Easy Homemade Fat Free Caramel Popcorn Recipe
yields 2 servings
prep time 10-15 minutes
2-3 tbsp popping corn
1/3 cup honey
1 tbsp lemon juice
Tools
small cooking pot
baking sheet
parchment paper
cooling rack
Preparation
preheat oven to 275 F

pop corn based on which method you are using (if you do not have a popcorn popper, you can do it in a deep pan, as instructed in

this post

)

if you are using Nostalgia hot air popcorn popper, you will need to preheat it for 2 minutes, then turn off, place a bowl under the spout of the popper; pour popcorn into the popcorn machine, turn it back on, and let the machine work its magic
on the stove, heat honey and lemon juice in a pot until it is hot and runny (it takes only about 2 minutes)
pour liquid mixture evenly over popcorn, while stirring it with a spatula
transfer onto the baking sheet lined with parchment paper
place popcorn in the oven
bake for 3-4 minutes, take out, toss popcorn, if you see it lightly browned, it is done, otherwise place back in the oven for 2-3 minutes
take out of the oven and transfer corn, while it is still on parchment paper, to the cooling rack
let popcorn cool off, so caramel sets in (it should take only 2-3 minutes)
Enjoy it!
Share!
Make it and let me know how you like it. If you love it, and I know you will, share this recipe around the web and with your friends and family.