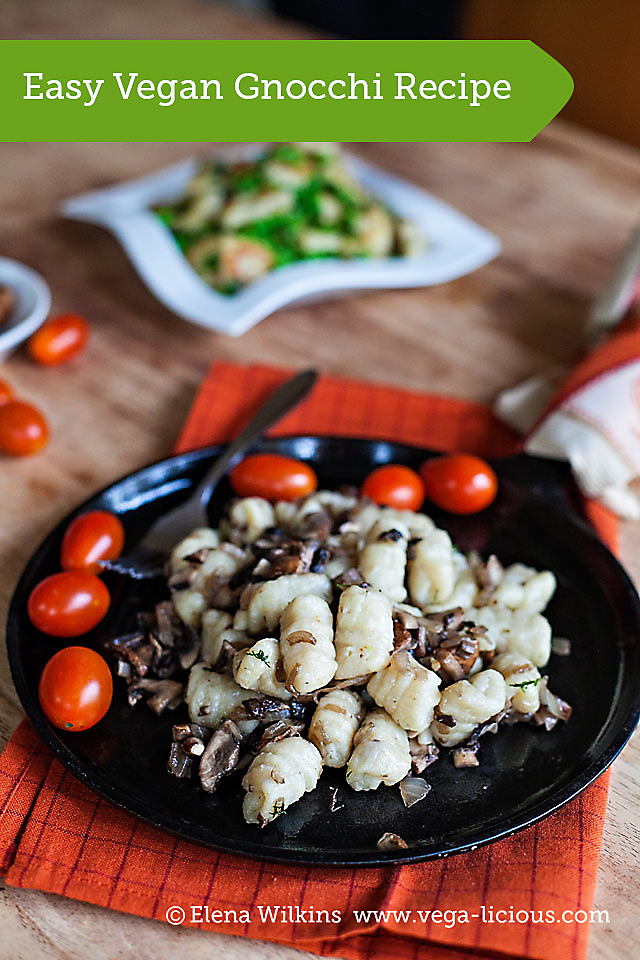 For the last several weeks I have been chained to the kitchen–almost literally.  While working on developing EAT, DRINK, SLEEP=SHRINK WEIGHT LOSS PLAN, I went way out of may way to create 4 weeks worth of brand new recipes.  From scratch!
Some days I've been in the kitchen for 3-5 hours straight, cranking out as many as 5-7 new recipes at a time.  Poor me! (my poor feet!)
Poor Sprout! She's been putting up with me.  Her only comfort is that she gets to be the first to taste everything I make and then tell me whether it is tasty or not.  Yes–she is my official taste tester! And, of course, because I am still a Mom, I get to be interrupted every 5 minutes because we still read, paint, draw and play, even if I'm cooking.  I guess that's why it takes me several hours to crank out those dishes :).
Easy Vegan Gnocchi Recipe
One of my proudest achievements (recipes), and by far one of my husband's favorites, has become the 3 ingredient easy (all vegan) gnocchi recipe I whipped up.  The last time I attempted to make gnocchi was before my vegan days–it was out of a box.  While it came out tasty, there was no way I was going to keep eating all those shelf-life approved ingredients.  So, I let gnocchi slide into the abyss of forgotten pleasures.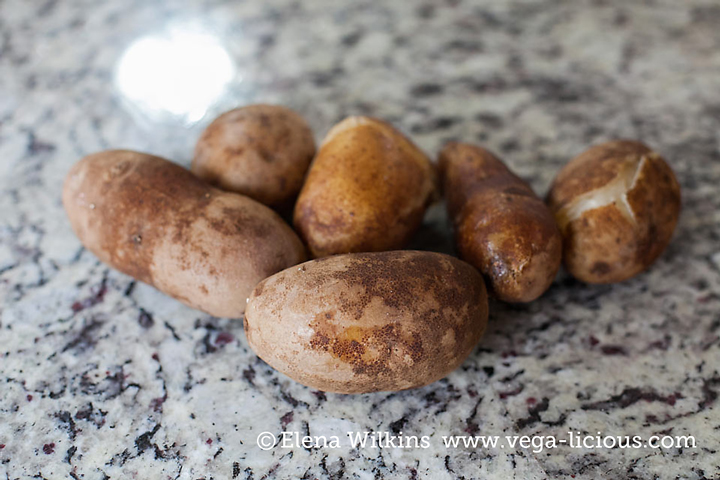 This time inspiration struck me.  I wanted something simple, tasty and totally pretty. I got all of that, and more, in this simple recipe, which can be made a thousand different ways.
I usually test my new recipes out at least 2-3 times before making it available here or putting in a cookbook, I got to practice this recipe more than I ever wanted.  Once to test it out, then to perfect the recipe.  Then, since my husband fell in love with it, to make him happy.  Then another time, so I could finally take pictures and record the process.  Then, because my husband's co-workers liked it so much too (yes, he shares his food!) and they were coming over, I made yet another batch of these heavenly, pillowey potato dumplings (because that's what they are!).
It's good! It is delicious! But I can tell you that I would not mind not seeing gnocchi for a bit.  Instead, I will give you that pleasure.
Today I will give you not only the vegan recipe, but also 4 delicious ways you can enjoy gnocchi.
You will find a detailed printable recipe at the end of this post, but here is my show and tell.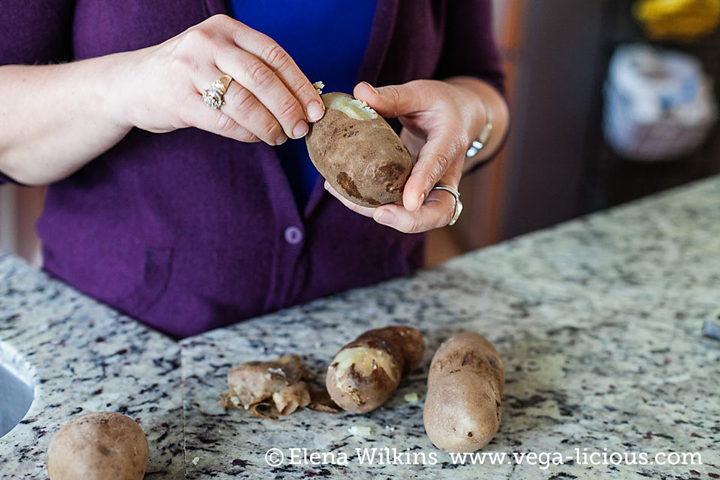 (lucky me–I hand a hand model. my sister was visiting while I was prepping the recipe, so I recruited her help–it made it so much easier to photograph the process.)
You precook the potatoes.  After you boil them, you need to give them only a few minutes to cool off, because for gnocchi to come out right, potatoes still have to be hot when you prep them to make the dough.  If they are too hot for you to handle, you can place them on a fork when peeling.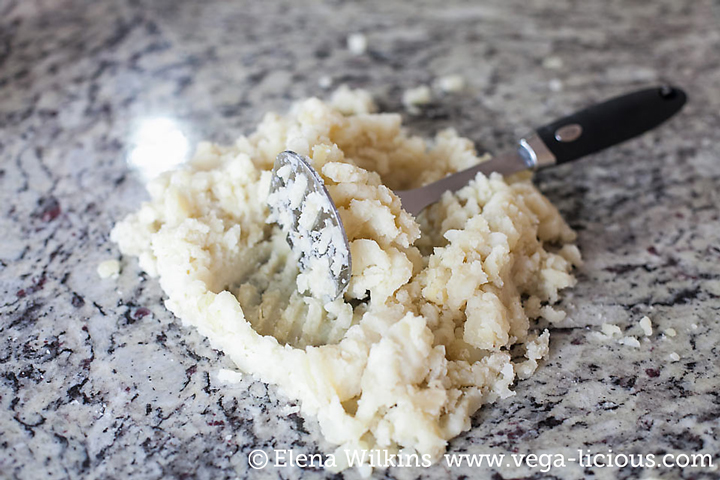 Mash potatoes thoroughly, so no chunks are left behind. You can even use a food processor to do the work for you.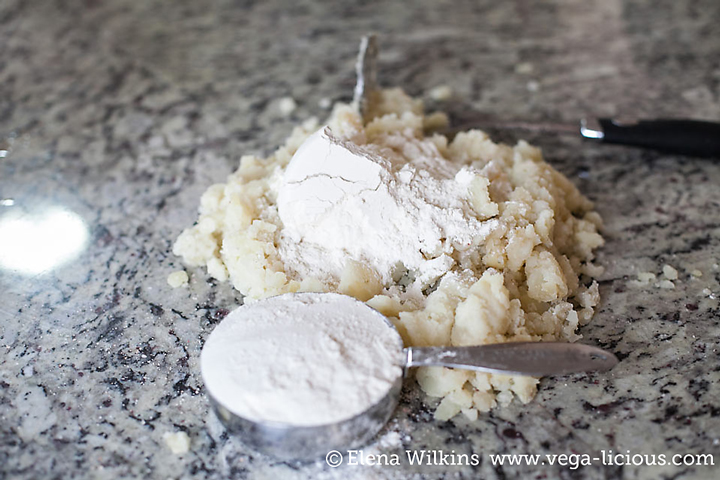 Flour to potato ratio, by volume (cup to cup), will end up being nearly 1:1.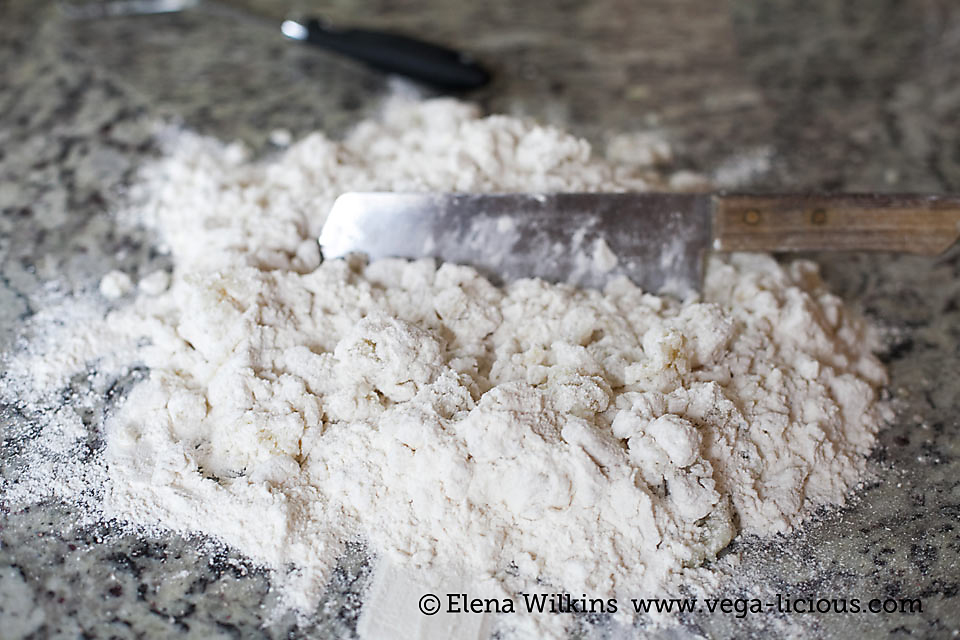 You can use your own pretty ten little fingers to start mixing your 3 ingredients (potatoes, flour and salt), or any other means that you fancy.
Now, a word about salt.  I read some remarks online, claiming that gnocchi comes out tastier if you do not salt it, until you serve it–don't believe the hype! I made a whole batch of it salt-less and let me tell you, it was one culinary regret I will live with.  Now I salt the water I cook potatoes in, and then add salt (to taste) to the dough too.  Much better results!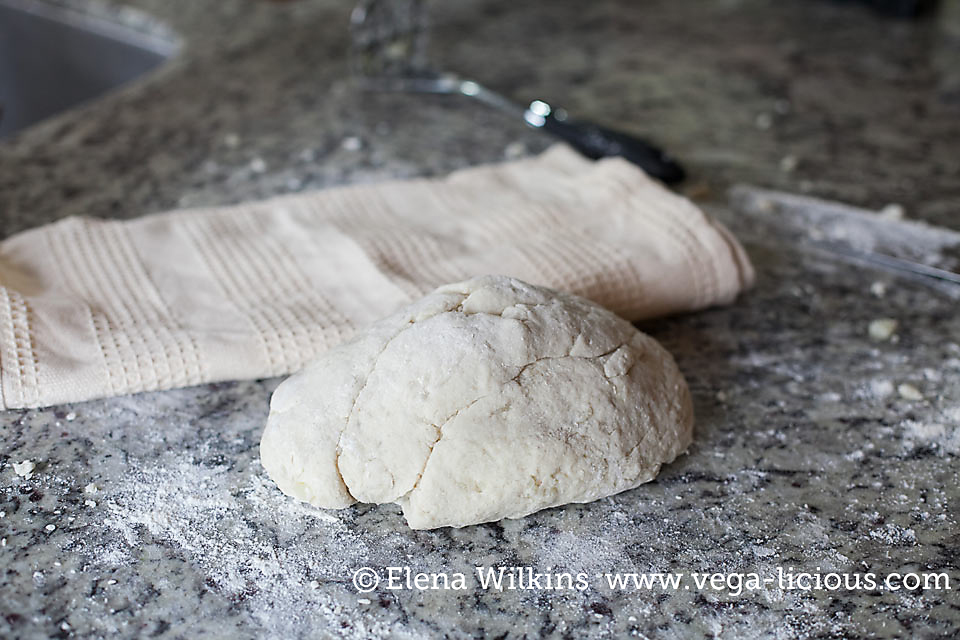 Knead the dough only long enough for it to look and feel like dough–no need to over-knead it.  It should be fluffy and light.
You will let the dough rest for about 10 minutes before creating dumplings out of it (I wish I could take a creak when the dough's resting, but I normally use that time to prepare whatever I will end up enjoying my dumplings with). Make sure to cover it with a towel or a bowl, so that it doesn't get dry and crusty on the outside.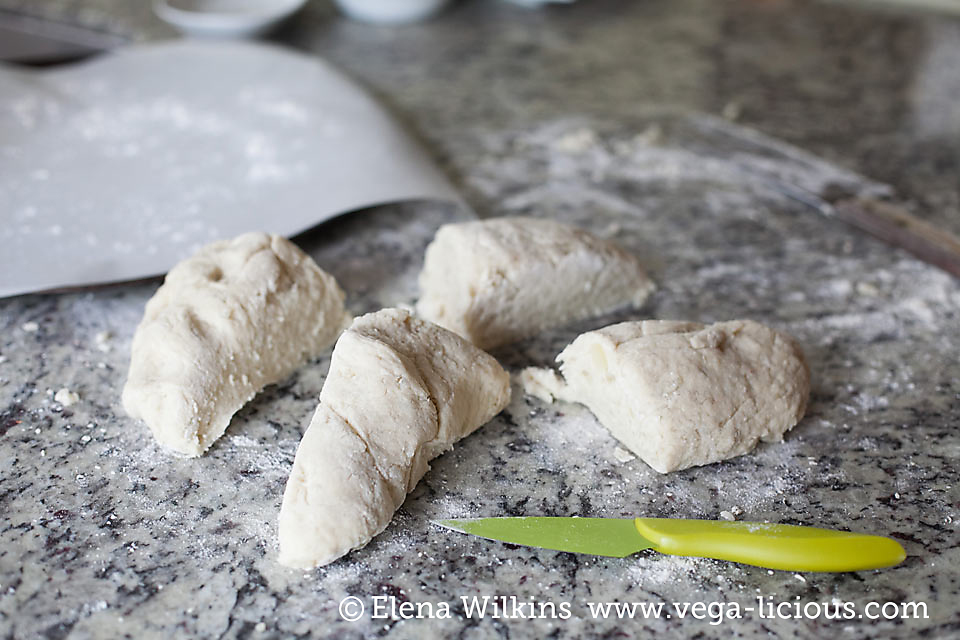 After that it is time to work!  And I know, I told you that the recipe is easy (and it is), but the rolling, cutting and shaping part of the process might take you about 30 minutes, if you are a novice, or 15-20 if you are an expert cook.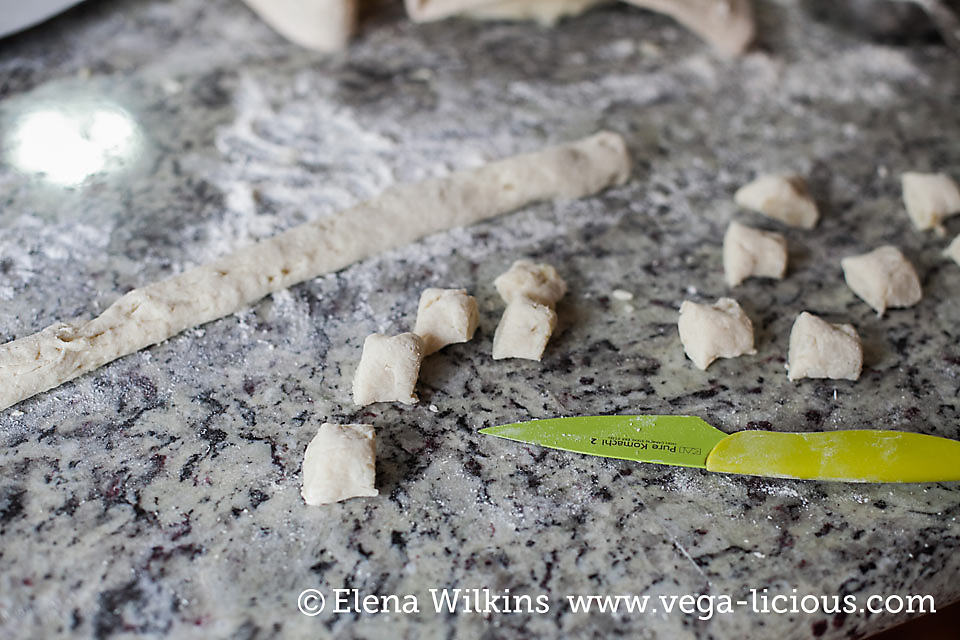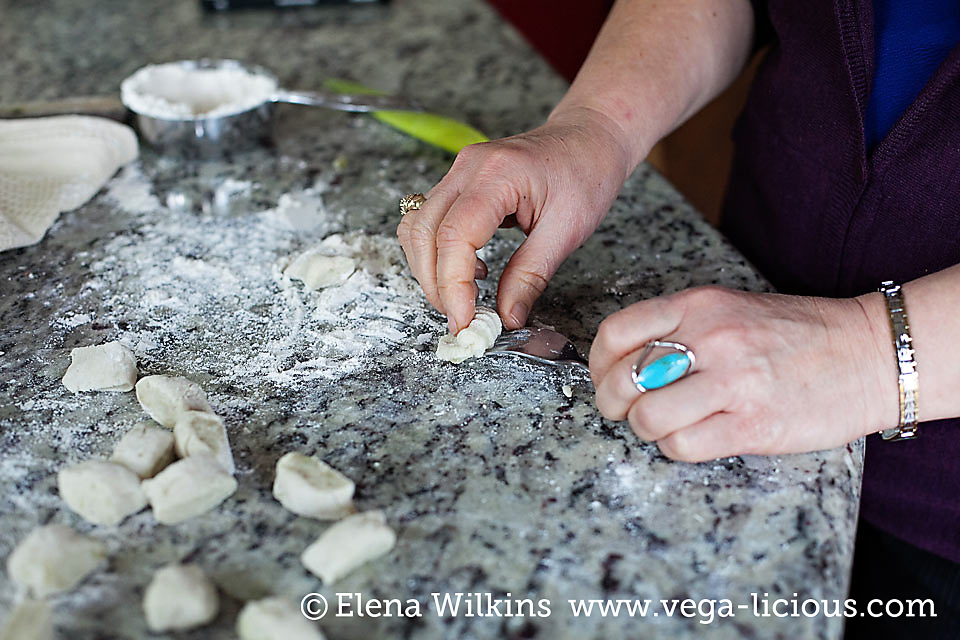 You can shape dumplings into their traditional shape, rolling them over a fork–they will look pretty, but will take you a little longer to make them.  Or, skip the "pretty" part and go for simple…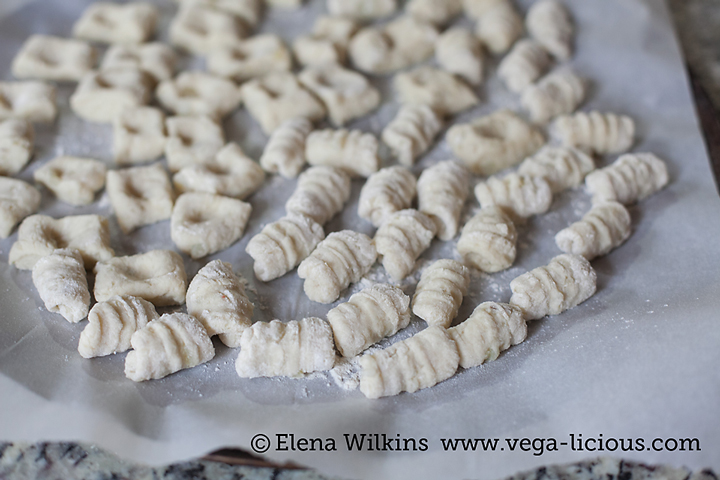 …like this. I especially prefer the rectangular shape for one of the ways I like to make my potato dumplings–pan seared, crunchy to perfection! You will see that in just a moment.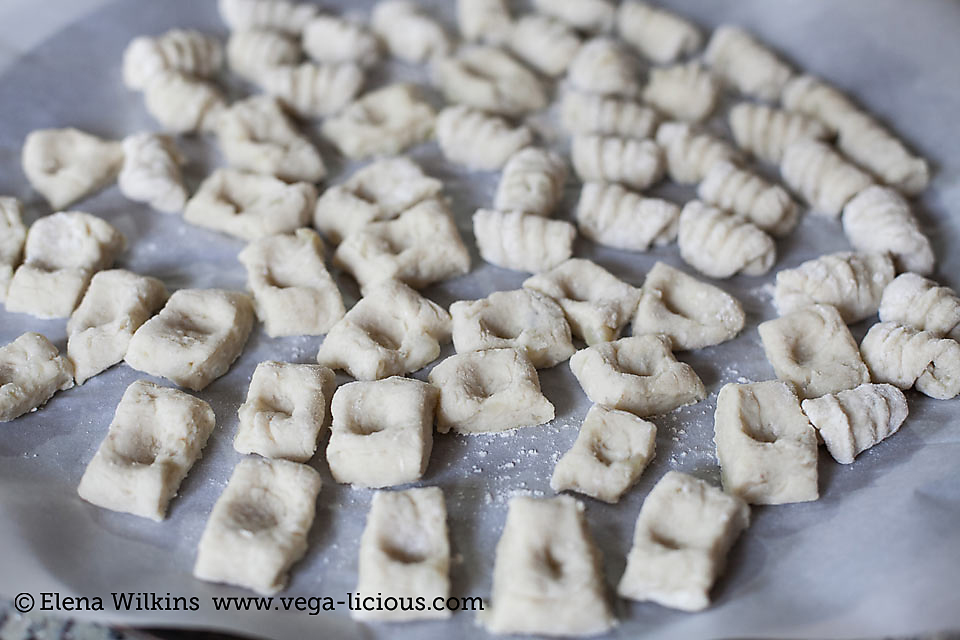 Now, when the time comes to cooking gnocchi–that's the easy part–it takes only about 2 minutes to get these babies "plate ready".  The moment they float to the top of the pot–you can remove them!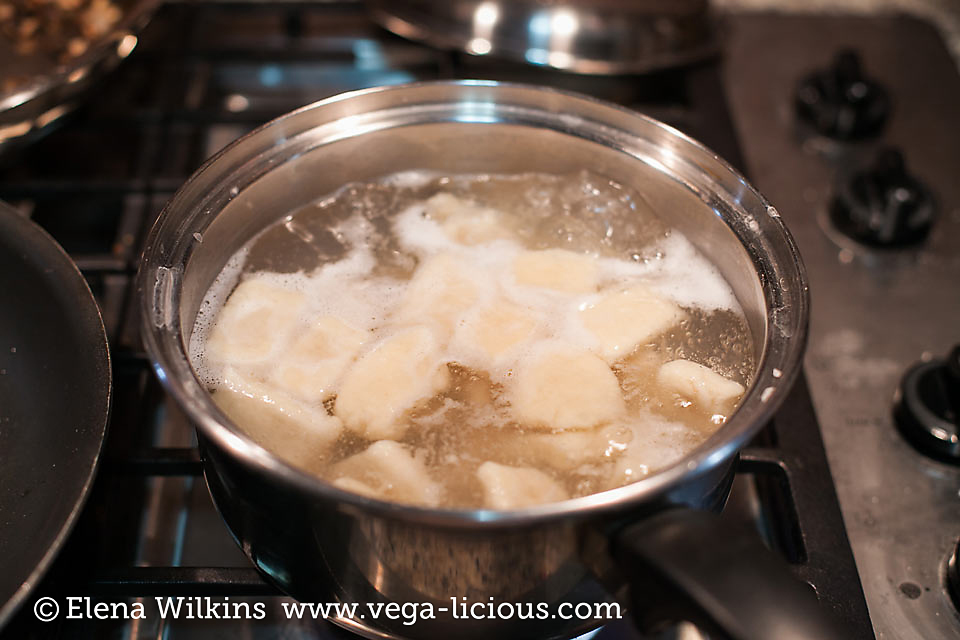 And now for the very fun part!
4 Ways to Have Your Gnocchi!
Seared Gnocchi with Peas and Herbs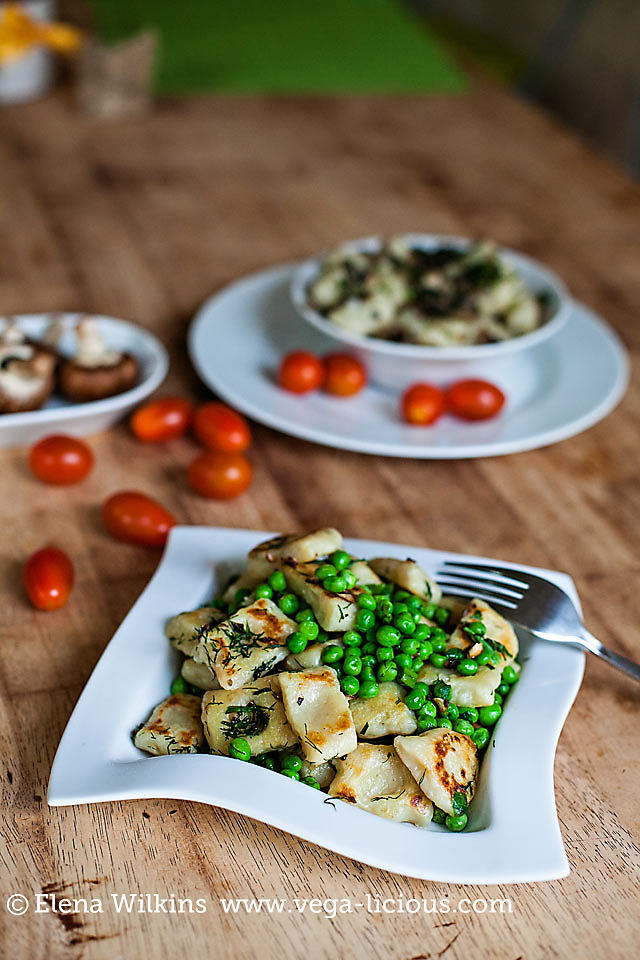 This is  where the simpler (read: lazier) shape of gnocchi comes in so handy.  You can flip 'em to sear each dumpling to perfection on each side.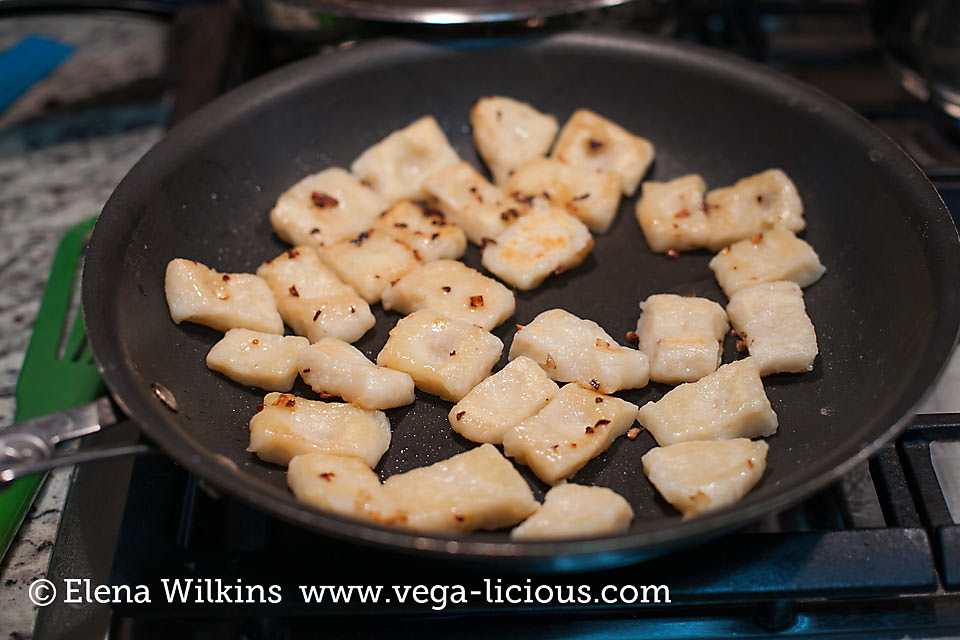 Gnocchi with Mushrooms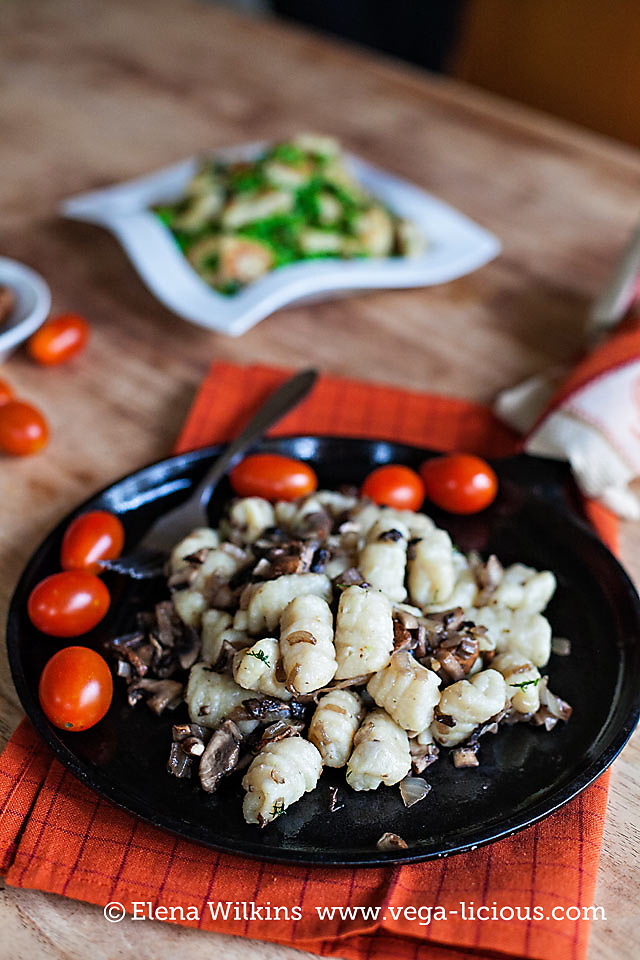 Gnocchi with Fresh Tomato Sauce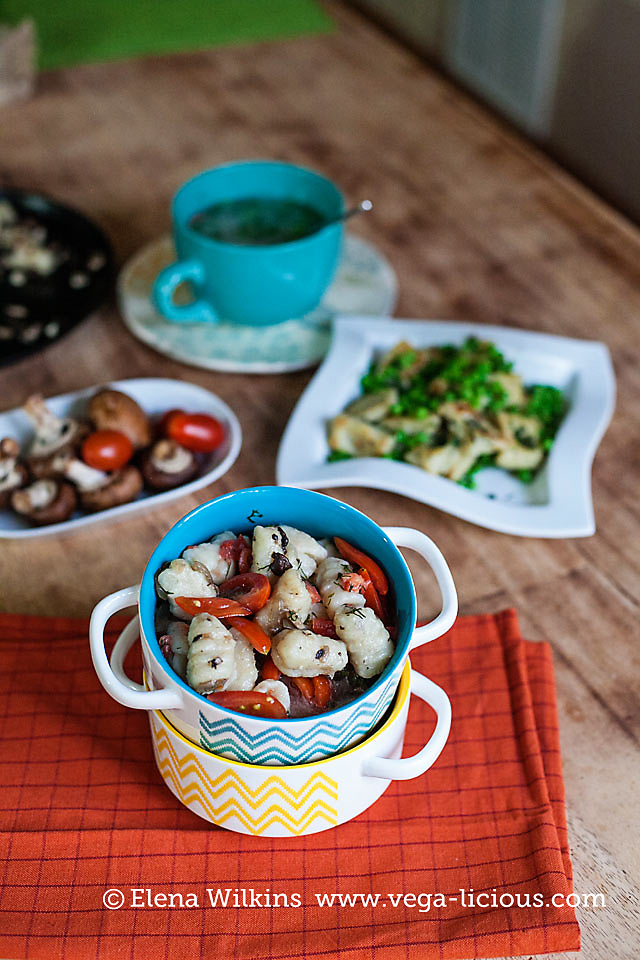 Gnocchi Soup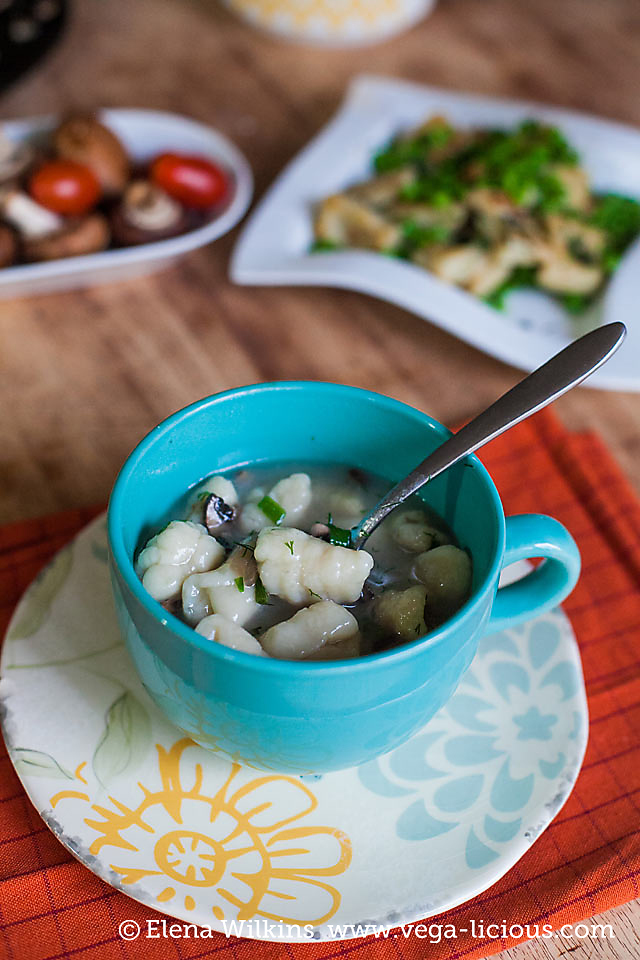 I know, I must be the only person to think of gnocchi soup.  I love soups! I could have soups every day, five times a day!
So, here is your recipe.  Make it. Love it.  Freeze extra for future 5-minute meals.   And tell me what you think of it.
Have your own favorite way to enjoy gnocchi? Tell me about it in a comment below.

Easy Vegan Gnocchi Recipe 4 Ways
Prep time:
Cook time:
Total time:
The simplest, most delicious vegan gnocchi recipe. The possibilities of how you can make it are endless--anything from being pan-seared, to covered in a sauce, or even being dunked into soups!
Ingredients
2 lbs. (5-6 medium to large) Russet potatoes
2.5 cups flour, plus ½ cup for kneading and dusting working surface*
salt to taste
water for boiling gnocchi
Seared Gnocchi with Peas and Herbs
1 tsp olive oil
3 cloves of garlic, minced
3-4 oz. of fresh or frozen green peas
2 tbsp of dill
salt to taste
Gnocchi with Mushrooms
4 oz. mushrooms of your choice
½ yellow onion
2 cloves minced garlic
salt to taste
2 tbsp of water to sauté vegetables
fresh herb of your choice
Gnocchi with Fresh Tomato Sauce
1 large tomato
2-3 cloves of garlic
salt to taste
handful of cherry tomatoes
¼ fresh basil
Gnocchi Soup
use cooking water from gnocchi as broth (as much as you desire)
add as much gnocchi as you like
add any herbs or ingredients to the bowl you like (peas, mushrooms, tomatoes, dill, green onions, etc.)
salt to taste
Instructions
boil potatoes with 1 tsp of salt in skins for 40-45 minutes, or until cooked (you can insert a fork or a toothpick into a potato to see if it if soft)
strain water and cool potatoes for only a few minutes—you need potatoes to remain hot
peel potatoes—if too hot to handle, place on a fork and peel with a knife
place potatoes into a bowl, or leave peeled on the counter, mash until smooth and without chunks
add salt to taste
add flour and start kneading, dusting the surface with flour, if needed
it is important not to overwork the dough, so only knead long enough to make the dough smooth
cover with a towel or a bowl and let it rest for about 10 minutes
divide dough into four parts, and roll each one into a long, cigar-like rope, about ¾ inch in diameter
cut each into 1 inch long pieces
you can either make simple gnocchi, my pressing your thumb in the middle of the dough (perfect for one of the ways you can have gnocchi—below); or a more traditional shape, with ridges
to make more traditional gnocchi, take each piece and lightly pressing down over a floured fork, roll into a ball
bring water to boil
add gnocchi and boil for 2 minutes, or until gnocchi begins floats to the top
remove with a slotted ladle
you can freeze uncooked gnocchi to enjoy later
now, here are four ways to enjoy gnocchi
Seared Gnocchi with Peas and Herbs
heat a nonstick pan on high heat; reduce to medium, then add minced garlic
fry until garlic begins to golden and add strained gnocchi
fry each side until golden
add peas (if frozen, sauté for a couple of minutes until they defrost)
add salt and dill and toss
Gnocchi with Mushrooms
chop mushrooms and onions; add to a frying pan with minced garlic
sauté, splashing with a little bit of water until onions are translucent and mushrooms taste cooked
add gnocchi, salt and herbs
toss and enjoy
Gnocchi with Fresh Tomato Sauce
blend tomato, salt and garlic in a food processor or blender, leaving only small chunks in the sauce
chop basil with a knife
add all ingredients and gnocchi into a bowl and toss to enjoy
Gnocchi Soup
use cooking water from gnocchi as broth (as much as you desire)
add as much gnocchi as you like
add any herbs or ingredients to the bowl you like (peas, mushrooms, tomatoes, dill, green onions, etc.)
salt to taste
Notes
*you can use white flour for traditional recipe and to spoil guests, or whole wheat flour. If using whole wheat flour, sift it through first, to remove larger particles, so that the dough would still come out soft and fluffy.
**for a Gluten Free option use
Bobs Red Mill Gluten-Free 1-to-1 Flour
FREEZING GNOCCHI
You can freeze premade gnocchi (without boiling them first) to enjoy later. Simply lay them flat over parchment paper, spread over a baking sheet, and pop gnocchi in the freezer until they are frozen. Then transfer into Ziploc bags, and you got yourself a 5 minute meal ready to be cooked.