I always loved homegrown tomatoes, but it was not until this season that I finally realized just how much I am obsessed with these things.  I ate them for the last month, almost forgetting every other food group out there, even my beloved fruit.  Then, when I could eat them no more, and they were still pouring in by basketfuls into our house from all of my relatives' gardens, and from our farm share, I knew it was time to do something about it…so, for the last week I have been canning like a crazy woman.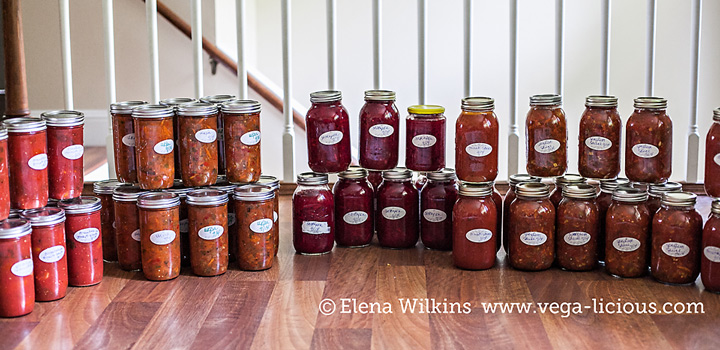 On Sunday I spent eight hours in the kitchen, just to get done and not let any tomatoes go to waste, but also to be able to move on with my life.  I canned tomato juice, tomatoes in tomato juice, spreads, spaghetti sauce and sauce for my beloved borsch. Now that I preserved all of the tomatoes I had, I am going to move on to making fermented vegetables.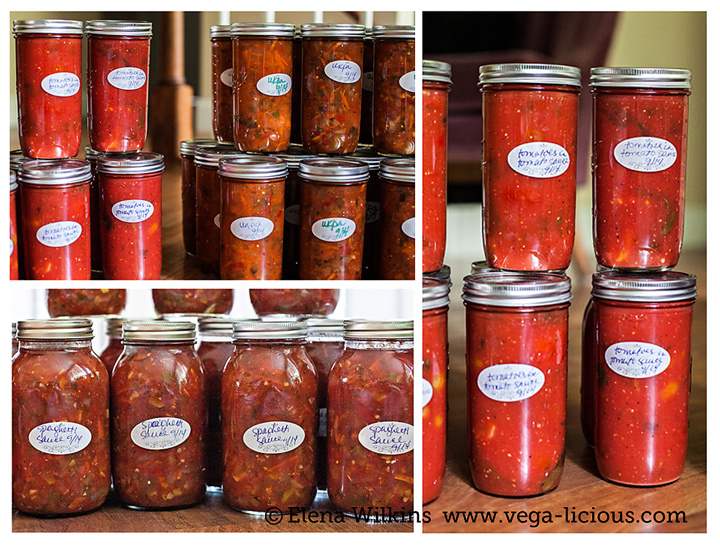 While I was working, like a whirlwind, in my kitchen, I whipped up a delicious, easy to make, fat free homemade spaghetti recipe anyone, regardless of their dietary preference, would love. It can be enjoyed with pasta, rice, buckwheat, quinoa and about any other grain you can imagine. It can be canned, enjoyed fresh or frozen for a quick, go-to meal. The best part is that anyone, on any cooking skill level, can make it.
I want you to make it, eat it, share it, and come back to tell me what you thought about it.
Fat Free Homemade Spaghetti Sauce Recipe
yields ~76-80 oz.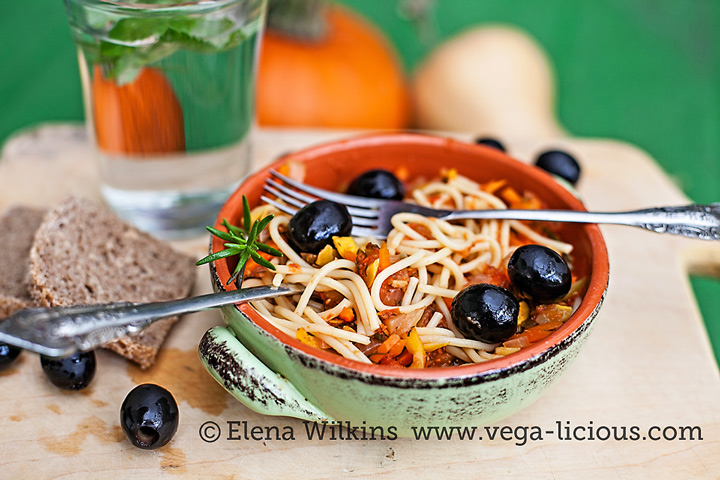 Ingredients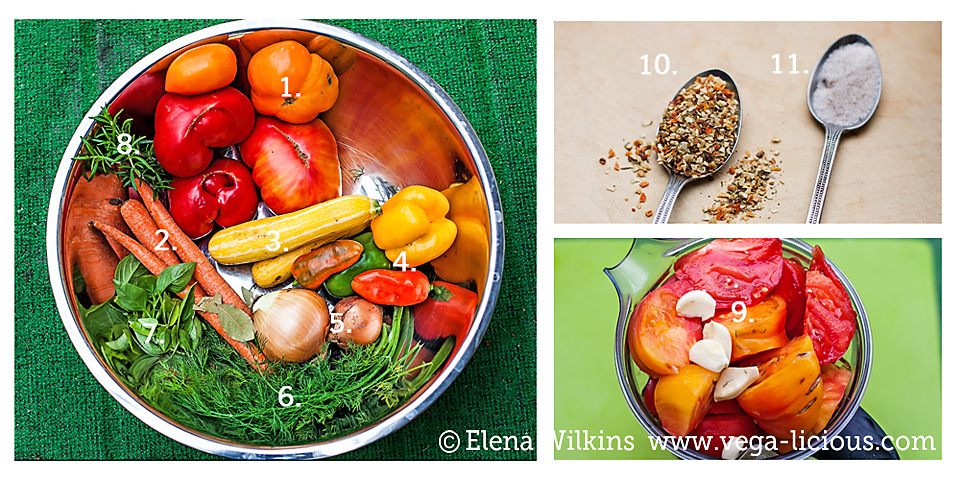 (believe it or not, all of the produce in this image, except for carrots, is homegrown; which means it is ripe and perfect for cooking!)
4-5 large ripe tomatoes
3 medium carrots
2 medium yellow squash or 1 medium size eggplant
3 medium-large bell peppers of any color (I like using one of each color for visual effect)
2 medium size white onions
7-8 springs of dill
a large handful of basil leaves
couple of springs of rosemary
5 cloves of garlic
2 tsp of your favorite seasoning (I used Organic Kirkland seasoning; Mrs. Dash is another good choice, or you can use Italian seasoning)
1 tbsp sea salt (or to taste)
1 tbsp red wine vinegar (optional–I like the extra kick)
4-5 bay leaves
(optional) black pepper or any spicy pepper of your choice to taste
Preparation
Using a mandoline slicer, or by hand, chop carrots, squash, bell peppers and onions into chunks. I like my spaghetti sauce chunky, so, I used 7 mm setting on my mandoline slicer, with julienne blade, for everything, except for carrots. I shred carrots on a smaller, 3.5 mm setting.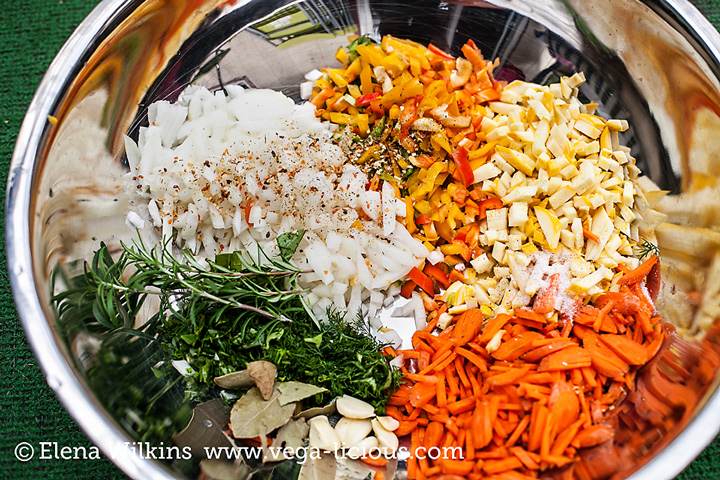 place all ingredients, except for tomatoes and garlic, into a sauce pan (any pan that is at least 5 quarts in size)
chop tomatoes, add garlic, and blend them in a blender or a food processor into a sauce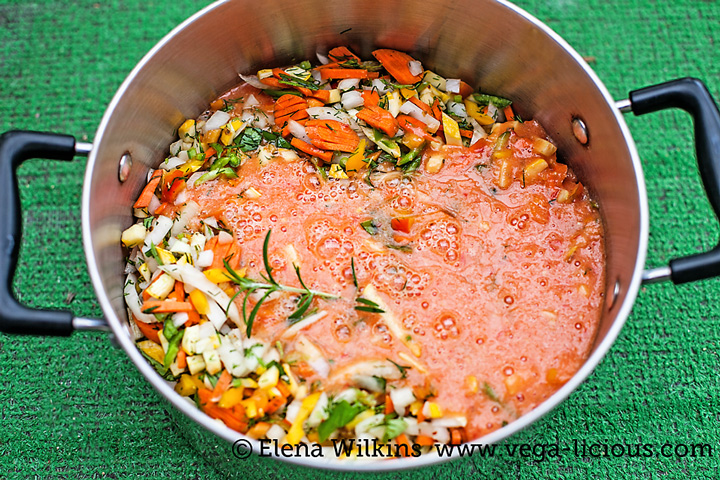 mix everything and place on a stove
bring to boil on high heat
reduce heat to medium-low and simmer for 25 minutes (30-35, if  you are planning to can this sauce)
serve over any pasta or grain you love–you simply cannot go wrong with this sauce!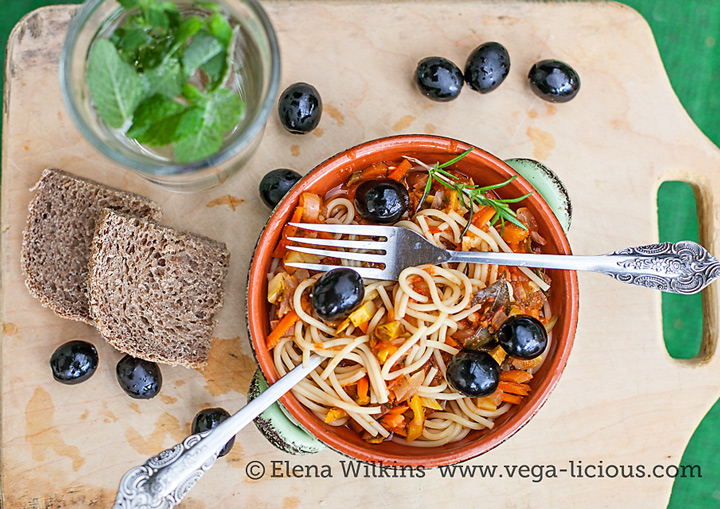 I do not know about you, but in my household, I would be lucky if this delicious homemade spaghetti sauce lasted longer than a day–yes, we love to eat! Sprout cleaned her bowl in a matter of minutes and wanted more :).
Share and Enjoy!
Make this homemade spaghetti sauce recipe, eat it, enjoy it, share the recipe (or even sauce itself, in a beautiful jar) with others, and remember to come back to let me know how it turned out.  Let's make this world a healthier place, one meal at a time.