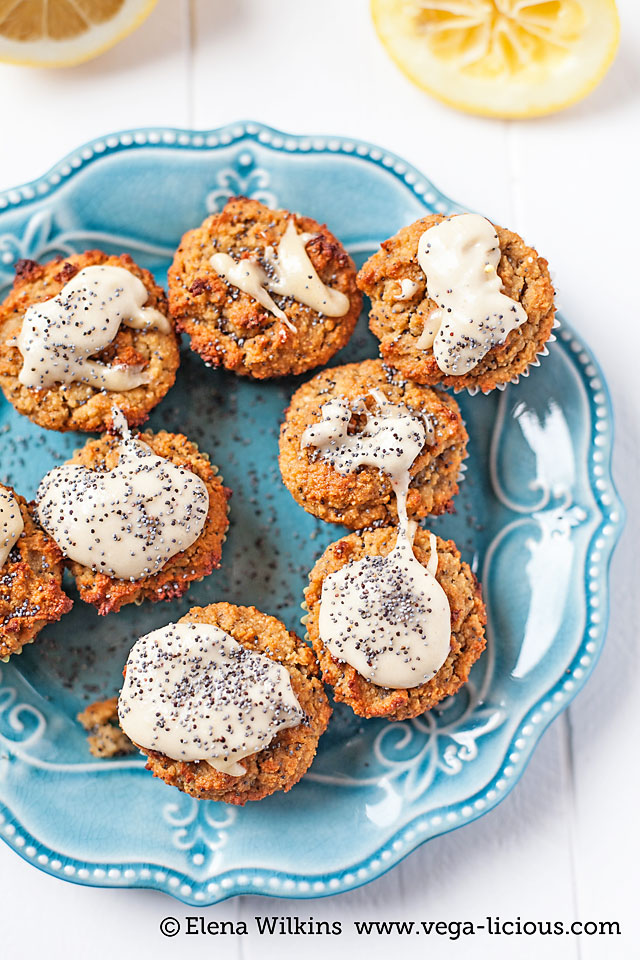 In the time of restaurants, fast food joints and packaged food, we all still long for that made-from-scratch, good-for-you, made-with-you-in-mind meal experience.
We imagine the mornings when we wake up and someone, other than us, whips us a delicious family breakfast of pancakes (or crepes), a glass of fresh juice, toast and scrambled…tofu; and that the aroma of that breakfast tickles our senses to awaken us from a restful slumber.
We long for family dinners, dreaming of made-from-scratch pizzas and potato salads–something that was not pulled out of a plastic box, filled with chemicals and additives.
We long for long-forgotten traditions that, although might have been very tiresome on the chefs of the family, were very beneficial for bonding, passing down traditions and creating an appreciation for foods that nourish us.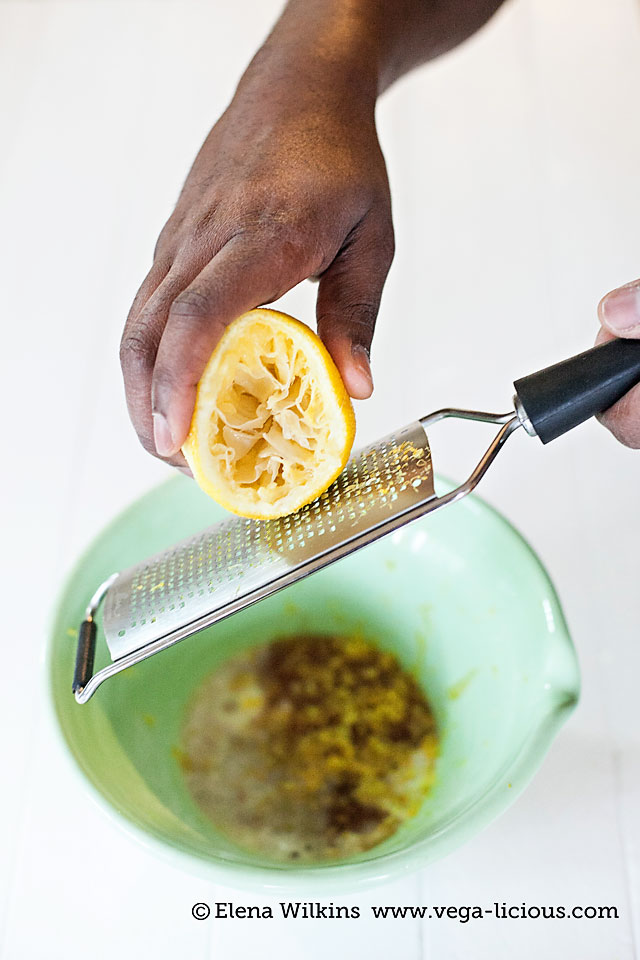 Maca Lemon Poppy Seed Muffins
I know how crazy our lives get, and how easy it is to reach for packaged food or swing by McDonald's on the way home.  I know that for some that kind of food is the only fare imaginable, because they have no time to sleep, let alone make a meal from scratch.  However, I still harbor hope that we can steal away time to create special moments for ourselves and for our children, connecting them to the necessity of slowing down, thinking about their nutrition and understanding what goes into every bite they take.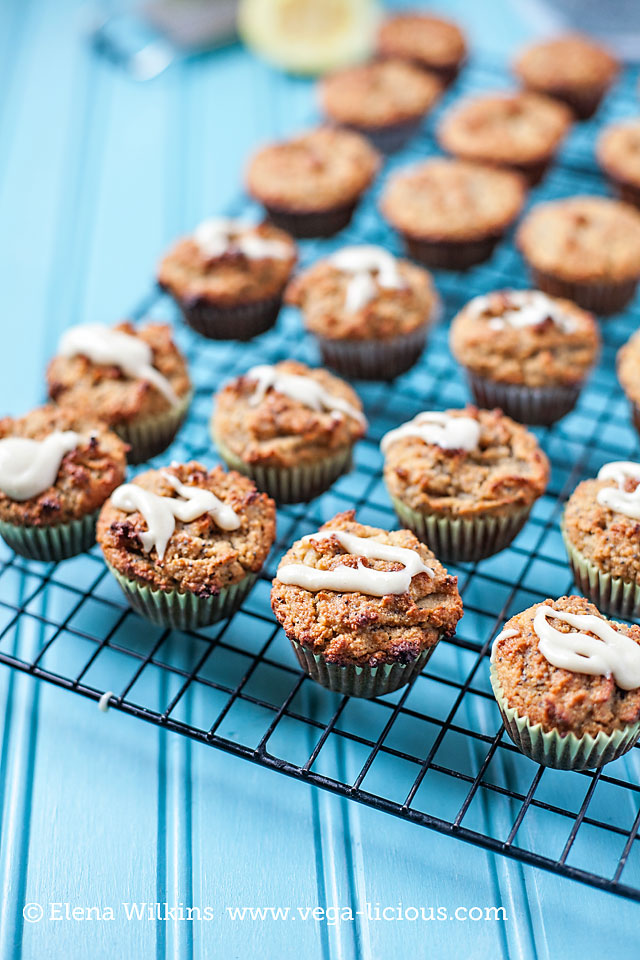 I create my own traditions with Sprout. I invite her to be a part of the cooking process, and serious spoon licking, so she can better appreciate the work I do for her. I teach her about the foods–what's good, what's bad, what will make her bones strong, and what could rot her teeth.  Not even four, she already understands why vegetables and fruits are good for us, and why we don't eat animals.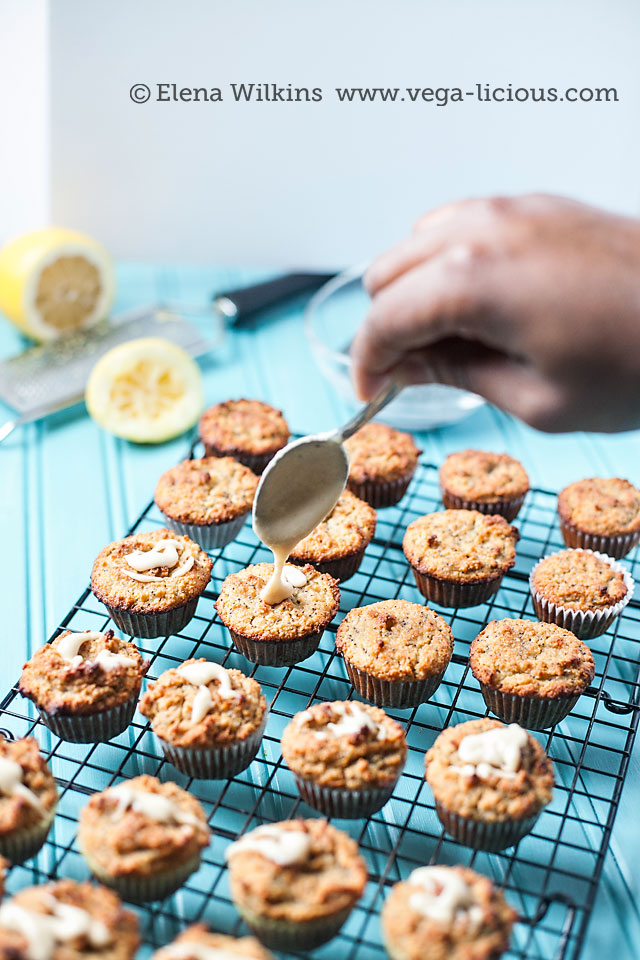 She also knows that food can be fun.  It can be tasty and healthy at the same time.  She will never feel left out because she is a healthy vegan.  On the contrary–we make her food so much fun that her friends want to eat her food, and ask for seconds.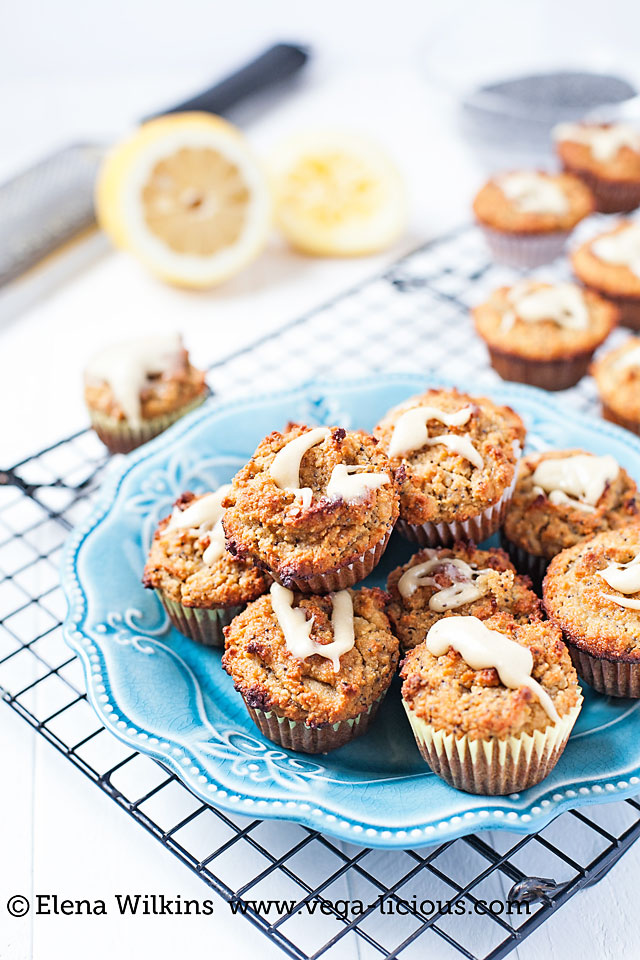 Yesterday she had a playdate. We planned some activities for her and her friend, we prepped a snack, and then she requested a treat.  So, I whipped up a kid, and adult, friendly gluten free, low fat, low sugar, nutrition-packed, and very much fun, mini muffin recipe.
I made half of the batch cute and kid friendly–topped with natural sprinkles, and half of the batch adult friendly–adding maca powder for an extra boost of health and energy.  As I hoped–the kids loved their treat, as did we.  Although gluten-free, my mini muffins turned out very moist and decadent–a perfect balance of taste and health.  They turned out so good that I have to share the recipe with you.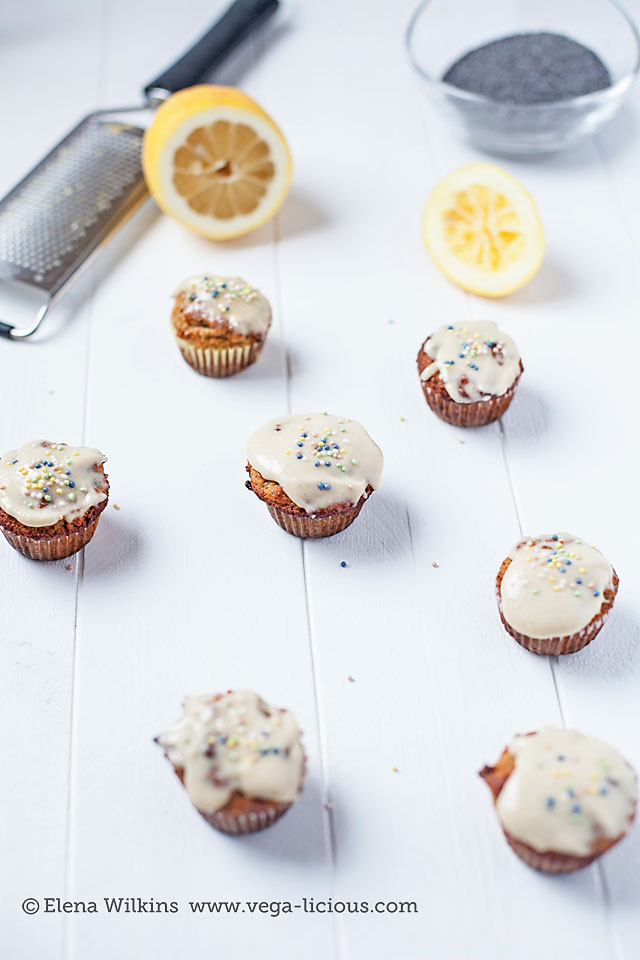 Gluten Free Maca Lemon Poppy Seed Muffins
Prep time:
Cook time:
Total time:
this recipe yields 24 MINI muffins
Ingredients
1 tsp baking soda
2 tbsp freshly squeezed lemon juice
1 tbsp egg replacer
2 tbsp poppy seeds
¼ tsp sea or Himalayan salt (optional)
3 cups almond flour
1 tsp pure vanilla extract
½ cup liquid plant sweetener of your choice or honey (non-vegan option)
1½ cup apple sauce
lemon zest of one lemon
2 tbsp gelatinized red maca powder (optional) [if you decide to use maca in only half of the batch, cut down the amount of maca by half]
Glaze
½ c cashews
1 tbsp honey or plant sweetener
2 tsp lemon juice
¼ c almond milk
Instructions
Preheat the oven to 375 F
Line muffin tin with muffin cups
Combine all dry ingredients, then add all wet ingredients and either fold in with a spoon, or use a hand-held blender to mix ingredients
Evenly fill each muffin cup (about 1.5 heaping tsp each)
Bake for 20 minutes until golden brown
Cool off for at least 10-15 minutes before glazing
Glaze
Blend glaze ingredients in a high speed blender until smooth