This is a very special salad recipe, because it comes with a story.  A couple of weeks ago I fell into a rut in the kitchen.  I felt uninspired to create any recipes…or to cook. While there are days, and even weeks, when I cannot stop creative juices from flowing, there are times when I feel completely blank and rely on my own web-site to keep food on the table. Yes, I go to Vegalicious blog to pull recipes!
Last Thursday, still uninspired, I cooked a couple of cups of buckwheat…but that is as far as it went. I could not come up with a sauce recipe to go with it. With Hubby only minutes from arriving from a hard day at work, I made roasted veggies–a very delicious dish, and we all slurped it up. Yet…still no inspiration.
Having sent him off to work the morning after, Sprout and I got to cleaning–she was making the mess, and I was cleaning. 🙂 With kitchen scrubbed and house shining top to bottom, it was time to make lunch.
I stood by the stove and stared at the cooked (now cold) buckwheat. Nothing! I opened the fridge…nothing! So, I decided to follow my taste buds. "What do you want to taste?" I asked myself.
I reached for an apple, celery…thought a little bit longer, grabbed green onions and dill. That was the beginning of my inspiration.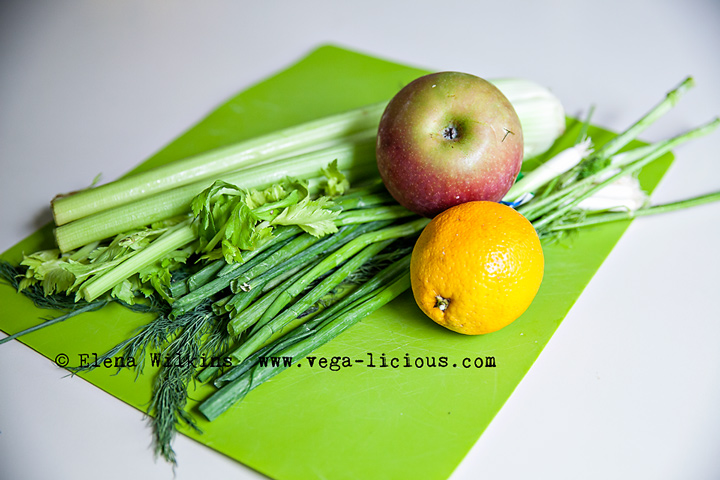 I knew that I had to use buckwheat–there was no way I was going to throw away a perfectly good food.
With a knife and cutting board on the counter, my inspiration would have to come as I got to creating…and it did not disappoint. With every stroke of the knife, with every taste of what was coming together, my tongue was firing off signals to my brain–the result was one of the most delicious recipes I've ever had. I was so excited over it last week, that I sent off the recipe to all email subscribers the very same day. (If you never want to miss a great recipe like this, or do not want to wait for it, make sure to subcribe —>)
Gluten Free Vegan Buckwheat Salad
(gluten free!)
yields 12 cups
NOTE: this dish can be also made with quinoa and other delicious grains.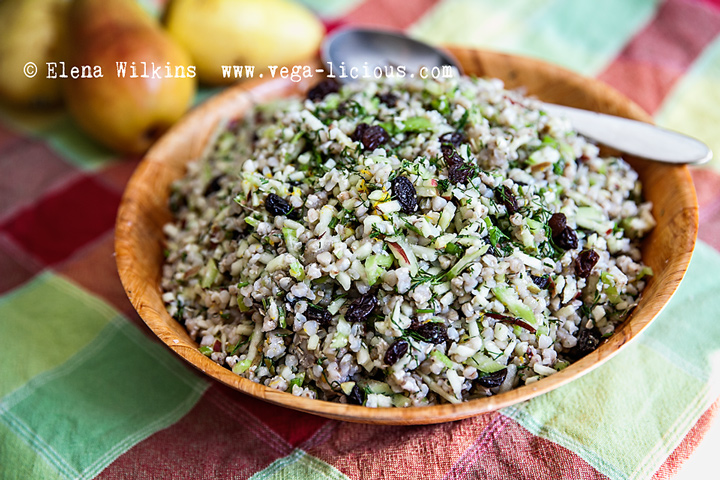 Ingredients
4 cups cooked buckwheat (it takes 2 cups of raw buckwheat to yield 4 cooked cups)
3 very juicy apples (Fuji, Pink Lady or a similar variety)
4 oranges
6 stalks of celery
2 cups raisins
1/2 tsp of sea or Himalayan salt (or taste)
6-8 green onion springs
6-8 dill springs (about 1/4 cup when chopped)
2 springs of sage (optional)
6-8 springs of mint (or to taste)
1 tbsp lemon juice (optional)
Preparation
Place cooked buckwheat into a large mixing bowl
Chop celery and apples into small cubes (I used Mandolin slicer for both, then finished chopping by hand–image below)
Add to the mixing bowl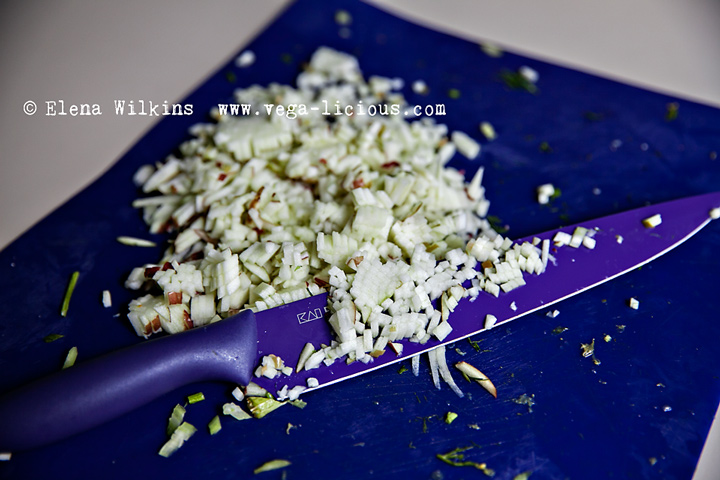 Cut oranges into halves, and, using a fork, press juice out over buckwheat
Use a small grater or a zester to get zest off all 4 oranges; add to the rest of the ingredients
Chop herbs, add to the bowl
Add lemon juice, raisins and salt
Mix everything together–flavors should EXPLODE in your mouth, and you should experience difference tastes with each bite
Let salad rest for 15-20 minutes before serving
Serve cold
The dish can be enjoyed as the main course or a side dish.
I guarantee that this will be your new favorite dish to enjoy.
Make it, leave a comment and let me know how it comes out.
Spread the love and share this recipe: pin it, facebook it, twitter it…and you know the rest.