Have you ever had a piece of bread so good that you wanted MORE?! Well, if I have one weakness when it comes to food, homemade bread is IT… that's the reason I try not to make it too often. But when I do it has to be PERFECT! Of course I am not tooting my own horn, but my bread will knock your socks off 😉 and have you asking for more — it is whole wheat, fat free, and, if you grind your own flour, like I do with my super power Vitamix 5200, can be whole grain. It is perfect for any soup, salad, to make delicious sandwiches with, or just have with homemade, sugar free jam with tea.
Salivating yet?!
Well, I am ready to share my secret (so no secret really) 😉 recipe.
Homemade Whole Wheat Fat Free Bread & Pizza Recipes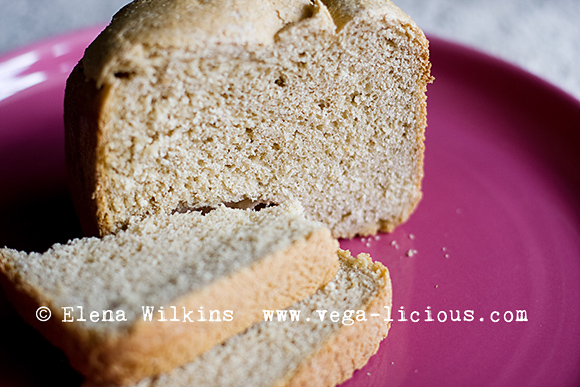 Option 1
2 cups warm water
1.5 tsp salt
2 tsp unbleached sugar (to help yeast rise)
1.5 tsp bread machine yeast
1 cup white organic flour
3 cups whole wheat organic flour
Bake on 3 hr 30 mins cycle or 3 hr 40 min, or whichever is closest to it.
Option 2
2 cups warm water
1.5 tsp salt
2 tsp unbleached sugar
2 tsp bread machine yeast
4 cups whole wheat organic flour
Bake on whole wheat cycle.
Don't eat too much of it! 😉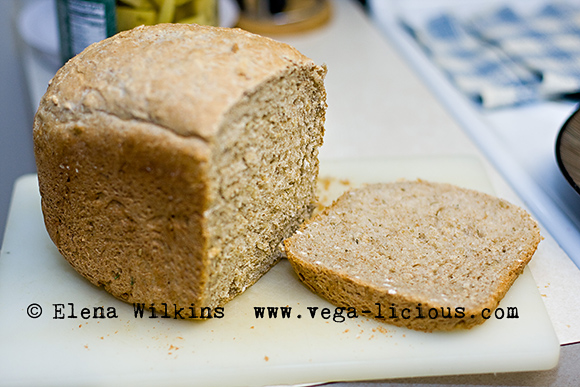 (I added rolled oats and sunflower seeds to this loaf)
Oven Bread Recipe
as provided by a very talented niece of mine–Anna 😉
4 cups warm water
1 tbsp yeast (you can add an extra tsp for whole wheat)
1 tbsp sea salt
1 tbsp honey or sugar (optional)
8 cups unbleached flour (use whole wheat as much as possible)
Preparation
Combine 4 cups of warm water and 1 tbsp of yeast and let stand for 5 min
Add the rest of the the ingredients, mix well cover with towel and let rise for 2 hours
Oil hands and split dough in 3 balls
Put in glass bread baking shells and let rise for 2 more hours
Preheat oven to 375 and carefully place dough in the oven for 30 min, or until bread is a golden color
Enjoy!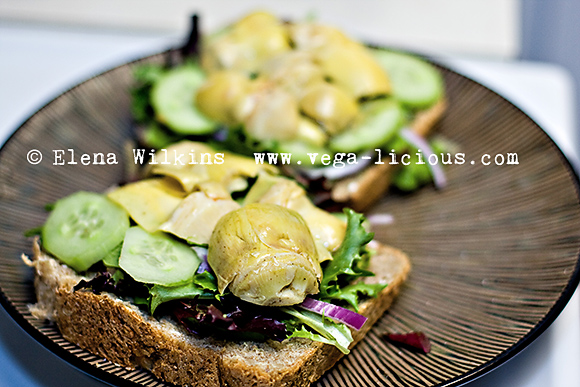 Vegan Pizza Recipe
Dough
To make pizza from Bread Machine recipe use the same exact recipe, reduce water volume to 1.5-1.75 cup, but prepare it on the DOUGH cycle, then follow steps below.
To make it from Oven recipe: scale it down a bit (about 3-4 times ;)) so you don't feed an army, then, when dough is raised and ready for baking, as per instructions above, then follow steps below.
Preparation
When ready, divide dough into two parts; roll out into circles, or stretch with hands, very lightly gresing your hands with olive/coconut oil
Preheat oven to 400F
Lay out dough on baking sheets
Spread pizza/spaghetti sauce on top
I like using Dayia cheese (mozarella style)–spread cheese over the sauce–you don't need to use too much, otherwise the sauce and cheese will run
Possible toppings: pineapple, thinly sliced apple, bell peppers, red onions, tomatoes, zucchini, mushrooms, and anything else you can imagine
Bake 5-7 mins on the bottom rack, and ~5 mins top shelf, or until golden brown on the bottom
For the last 30-40 secs, keep pizza on top rack, turn oven to broil to get "cheese" bubbling, but watch not to burn the crust.
Go ahead and lick your fingers clean. 😉