Inspired by my recent trip to see my family, with the help of one of my almost-vegan sisters, I whipped up this salt free, Low Sodium Recipe: Crunchy Marinated Vegetables. You will LOVE it! My entire family enjoyed it–I liked all veggies, Hubby favored mushrooms, and Sprout eaten anything she was offered :).  I served it with quinoa and beans.  MMMMMMMMMMMMM, good!
Low Sodium Recipes: Crunchy Marinated Vegetables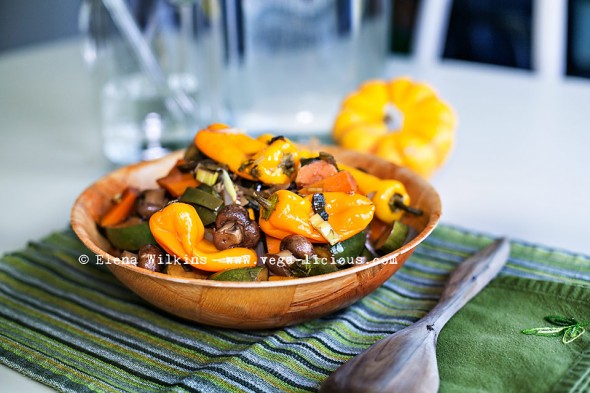 Ingredients
Part I: Cooking Water
3 quarts filtered water (you will need a pan large enough to hold it)
1 tbsp salt free seasoning, such as Kirkland Organic (sold at Costco)
3 minced cloves of garlic
1 cup chopped leeks (optional)
Once used, hold on to the cooking water–you will use a part of it in the marinade, and the rest can be used to make delicious soups.
Part II: Marinade
2/3 cup red wine vinegar
1 cup balsamic vinegar
3 cloves minced garlic
1 inch minced ginger root
1/4 cup cilantro
10 tbsp honey or a plant sweetener
1/3 cup chopped basil
1/4 cup chopped dill
3 cups of saved cooking water (make sure not to dump it!)
Part III: Veggie Mix
8-16 oz mini peppers
1 yellow onion (or you can use pearl onions–it will make it more fun!), sliced into long, thin shreds
5 small-medium size zucchini (or, if you find mini zucchini, use those), sliced into 2-inch chunks
1 lb of baby carrots* or 3 medium-large carrots, peeled and chopped into 2-3 inch chunks
1 lb of crimini mushrooms (I picked the smallest ones possible, so they were bite sized)
Preparation
Bring Part I mix to boil
Drop peppers, zucchinis and onions into the pot for 1.5-2 mins
Remove from water
Drop carrots into the same water for 3-4 mins, then remove
Drop mushrooms in and boil for 4-5 mins, remove
Mix Part II, add 3 cups of the boiling mixture
Add all lightly cooked veggies in, placing everything into a large enough container to handle them
Cover and place in refrigerator for 8-12 hours before serving
Before serving, drain marinade, but make sure to keep it–you can use it on the next batch of veggies, to make an amazing bean & tomato salad with it, or serve over any salad of your liking!
Enjoy!