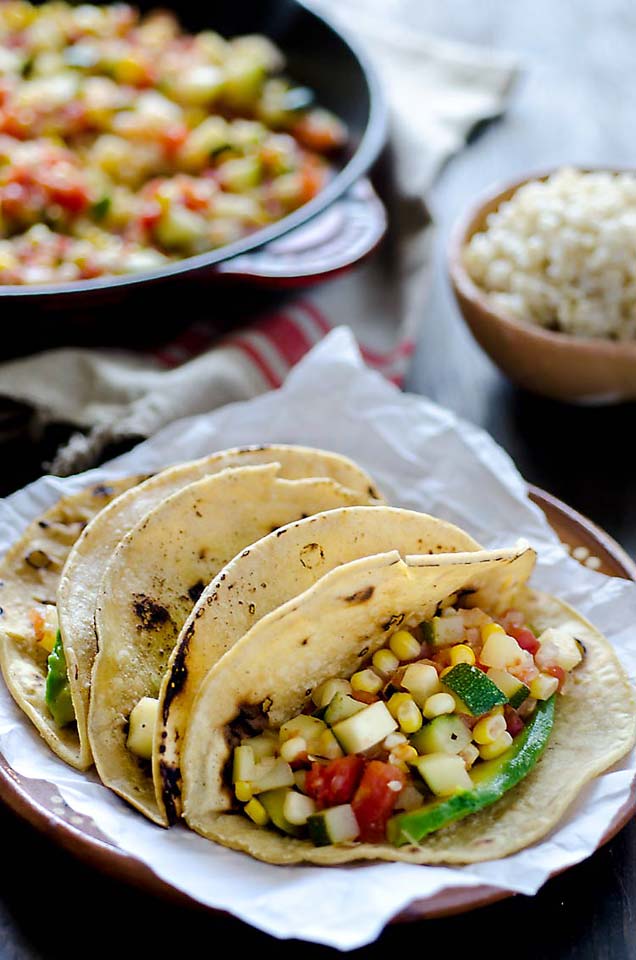 I'm a sucker for simple, scrumptious recipes. After all, who's got time to spend all day in the kitchen?
And you know my policy–health should be simple!
It is with this mantra that I am happy to bring you an easy, simple, yet very delicious recipe by a guest author who's at home with Mexican cuisine…made healthy and vegan.
About Dora 
Dora is the founder, recipe developer, and photographer at Dora's Table and Mi Mero Mole. Born and raised in Mexico and a graduate of the Culinary Institute of America in New York, she adopted a vegan (plant-based) diet to take control of her health. She is passionate about teaching others the benefit of a plant-based lifestyle while preserving the beauty and richness of the different regional cuisines of Mexico and what they represent.
---
I will make anything into a taco, and I mean anything! That is just a part of life in a Mexican household.
There's never a taco night. Every day is taco night, and these Mexican zucchini corn tacos are the perfect summer dish.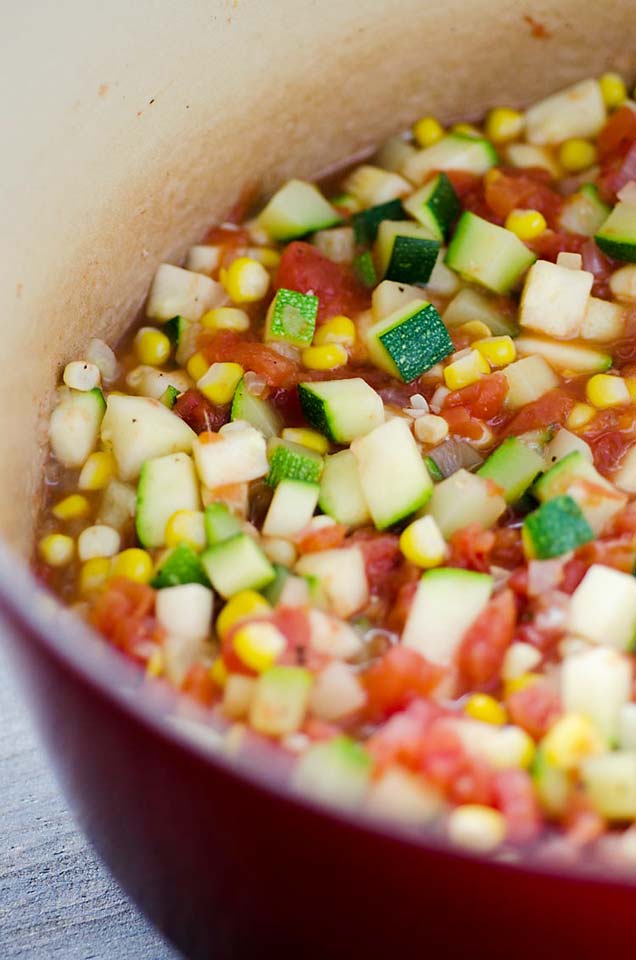 Sweet corn, zucchini and tomato are stewed with onion and garlic to make a satisfying, delicious, and healthy taco filling.
This summer stew is also known as calabacitas a la Mexicana, and it is a common side dish in many Mexican households. It has always been one of my favorites, and I make it when I miss home. It is often topped with cheese or crema.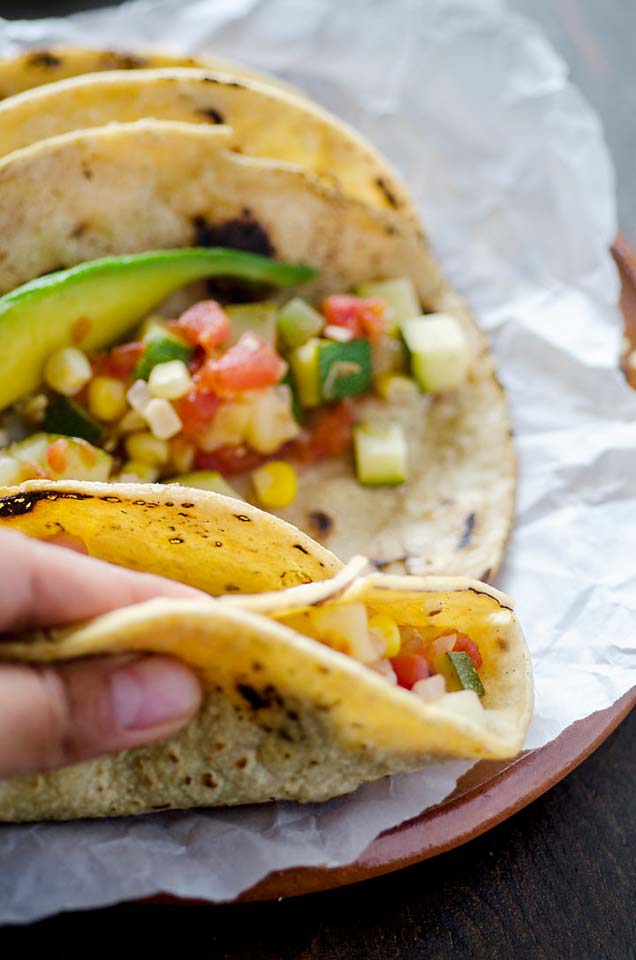 After adopting a plant-based diet to regain my health I struggled to stop eating cheese. I just could not find any substitute that would do, but the longer I ate a plant based diet the less and less I craved it. Now I top my tacos with a bit of sliced avocado for some creaminess, and a spicy salsa.
My kids really enjoy this zucchini-corn filling on tortillas, but also mixed with pasta, or served over rice. I guess the best part of this recipe is that it is easy to make, and who can say no to easy!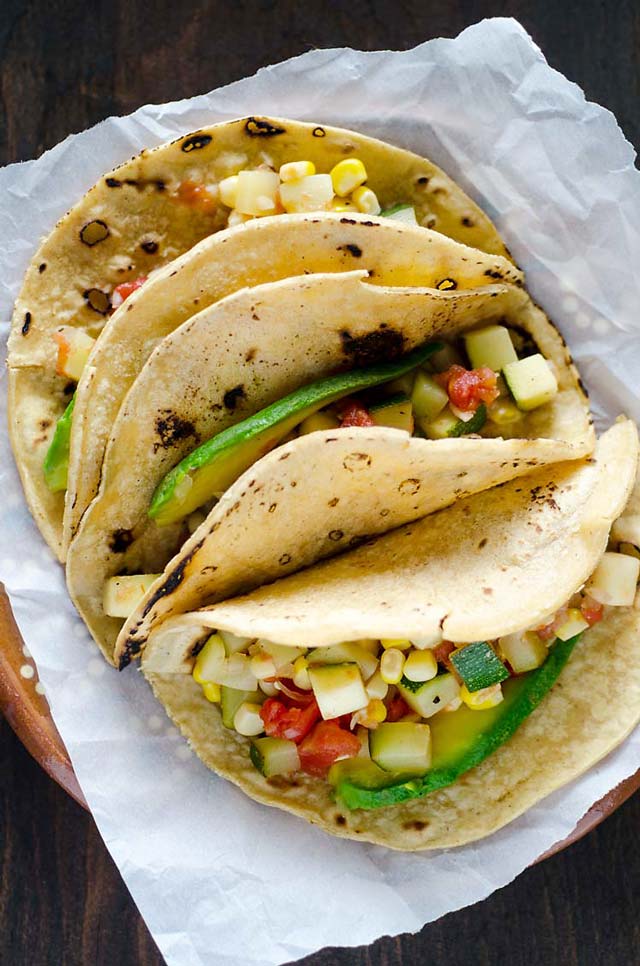 If you would like to make this a more hearty meal you can add baked tofu cubes or black beans to it.
Enjoy!

Mexican Zucchini Corn Tacos
Prep time:
Cook time:
Total time:
Ingredients
½ cup vegetable broth
1 cup onion, white, finely diced
3 cloves garlic, minced
2 ears of corn, large, cut into kernels
¼ cup vegetable stock or water
2 zucchini, large, cut into dice
2 cups tomato, diced (fresh or canned)
10 corn tortillas
1 avocado, sliced
1 cup of your favorite salsa
Instructions
In a large heavy bottomed pot, set to medium heat; sweat the onion in ¼ cup of vegetable broth for 2 to 3 minutes until onion is translucent.
Add corn and garlic and pour in remaining ¼ cup of vegetable broth, cover and let steam until corn is tender, about 3 – 4 minutes.
Uncover, add zucchini and cook for 3-4 minutes, until it begins to soften.
Add tomato and cook for 5 minutes more, or until all the vegetables are tender.
Season to taste, and serve on warm tortillas with avocado slices and salsa.
Notes
To make this a more hearty meal you can add baked tofu cubes or black beans.