I do not know what you define as baby food. In our household it is NOT what you will find in stores–brown mixtures stored in tiny jars!  Not at all! In our household baby food is anything that is healthy, vibrant, and mostly raw. In our household it is EVERYTHING, 🙂 which makes feeding Sprout easy and fun. We do avoid salt in her foods altogether, but outside of that, if we eat it, she can eat it too. We do have to mash/blend foods, since she barely has a tooth now (still teeny tiny), however, it takes only a second to do.
She is now going through a new stage–she wants to hold her own food.  Most of the times she does not know what to do with it, so she mashes it in her hands, and throws it down. It is funny, since she grabs any object around her and always takes it into her mouth first, but not with food. Not a big deal–she needs to start and learn somehow. In the last couple of days, however, with Mommy's assistance, she has been learning to take her little hands to the mouth. We start with things she won't choke on, like bread.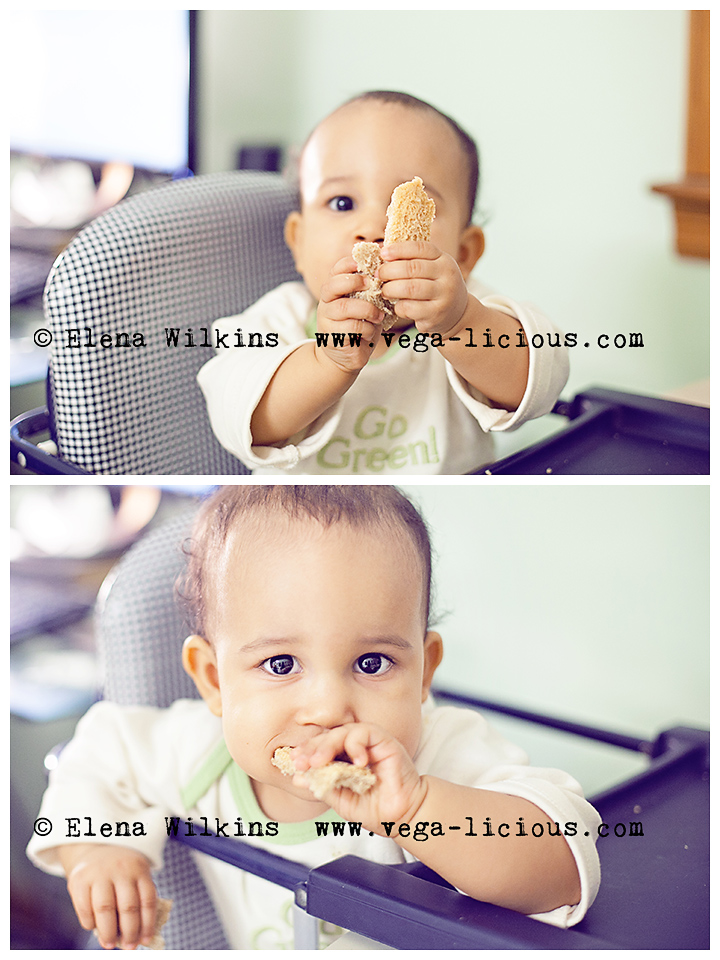 (She loves bread! When we go to Whole Foods shopping, we always stop by the bakery, to see if they have bread samples.  A tiny piece at a time, keeps her happy the entire trip :)! )
Sprout's food repertoire is quite large–anything we eat, she can too. I do have favorites, of course :). Things like sweet potatoes, green smoothies, fruit smoothie and whole grains (cooked and mashed). I personally love to incorporate all the colors of the rainbow into her diet.
She is a pro at green smoothie drinking. A smoothie like I posted a couple of days ago("Spring Freshness") is on her favorites list. And she loves drinking out of her glass straw too. (It took me less than 2 minutes to teach her how to use it!)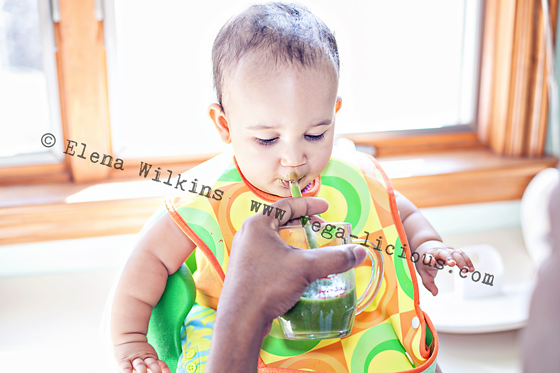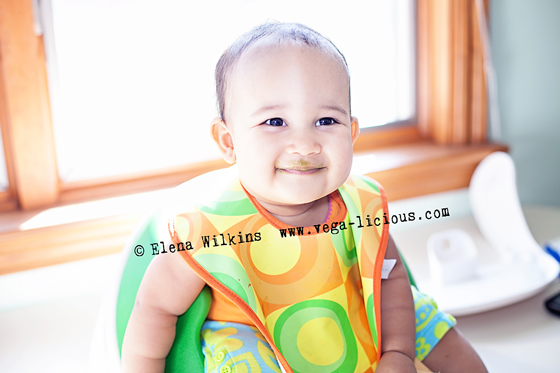 (got greens?!)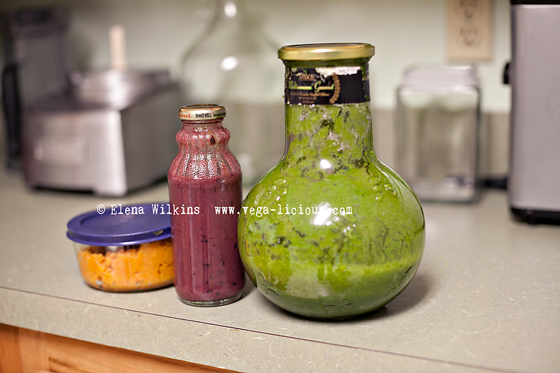 (boiled and mashed sweet potato; cherry and strawberry smoothie; Spring Freshness green smoothie)
Mixing any of the foods in the image above with each other is not a problem. I love to mix-and-match them–that is what's so wonderful about a whole foods vegan diet–it is all good and safe. When Sprout does not feel like drinking a smoothie out of a straw, while this could be a sign of a "peaky eater" for some, I don't see it that way, I go with the flow and simply pour some of it (fruit or green smoothie) on her sweet potato and spoon feed her–she LOVES IT! (I also make sure to offer the same food to her several times. There are moments when she does not feel like opening her mouth, and moments when I cannot go fast enough for her.  There is also a possibility of her being full. If she refuses any foods, I offer it to her later, and, normally, she gobbles it up.  So far there hasn't been a food that she refused permanently.)
Making Sweet Potato
There is nothing more simple!  Simply peel, chop, boil in plain (filtered water). When cooked, strain most water, leaving some to give potatoes a creamy texture, and mash or blend. That's it! When my cooked potatoes cool, I place them in a glass container and refrigerate. One large potato normally lasts Sprout about 3 days, since we incorporate other foods too.
Cherry Smoothie
1 cup cherries (fresh or frozen)
1 cup strawberries (fresh or frozen)
1-1.5 cups coconut water
2 dates, if additional sweetness is desired
Blend in a blender until smooth.
These foods can be enjoyed by babies and their parents a like, so make sure to make enough for the whole family! We do! 🙂