Good morning, loves! Happy Valentine's Day! I hope you and your loves have something special planned to celebrate each other today. I know, I know — we should be celebrating love every day, but why not do it today as well?! 🙂 I am taking my Hubby out to a very special place tonight (hopefully I can grab a few pics to show off here later).
But we do celebrate each other each day.  Every time something new and different.  Just spending time together is a great gift for me.   Last night we whipped up Vegalicious Raw Bars together, and then cuddled up on a couch to talk and watch a movie.
(click to enlarge images)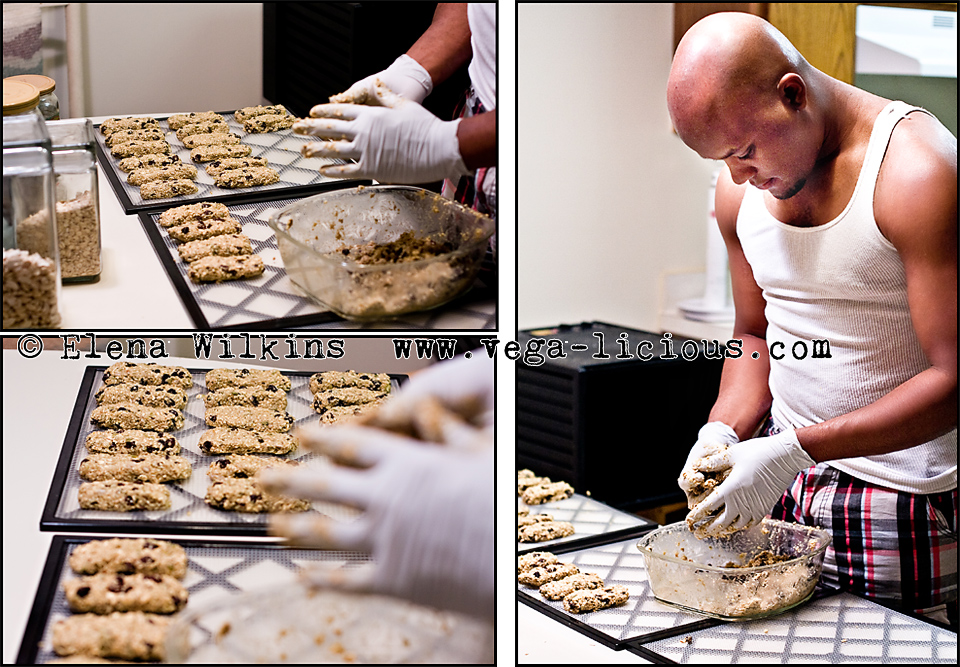 Today's Recipes
I'm sharing a couple of new recipes with you today. Very easy to make and taste great on any day. The only catch for making the first recipe is that you have to have a Steamer, be it metal or bamboo.
Steamed Vegan Potato Strudels Recipe [Fat Free]
serves 8-10 people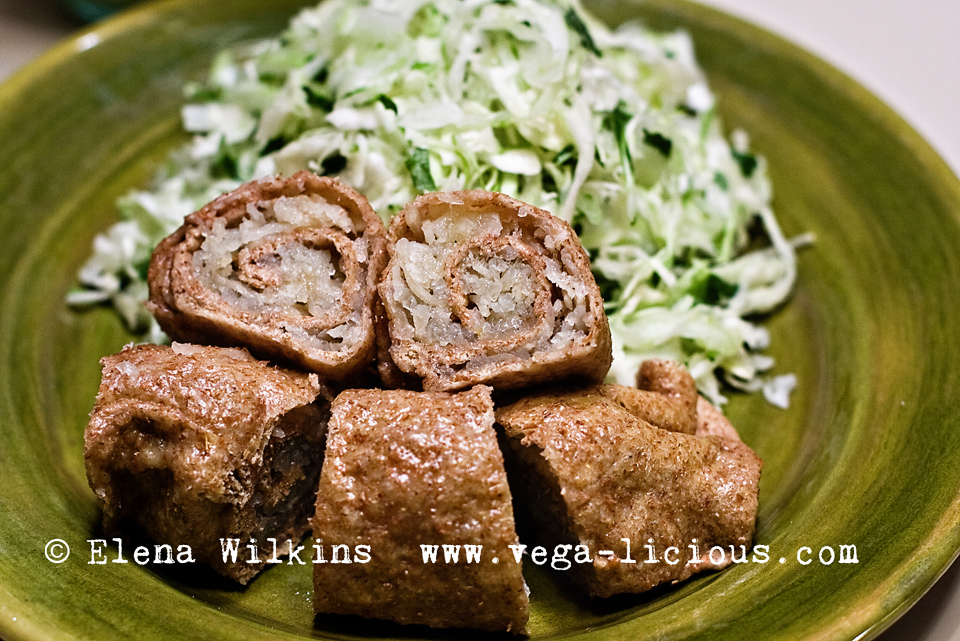 Ingredients
Dough
3.5 cups whole wheat flour+1/4 cup for dusting the surface
1tsp tsp baking soda
2 tsp lemon juice
1 tsp salt
1 cup warm water
Filling
12 medium-large potatoes
1 large onion
salt to taste
organic seasoning, like Kirkland organic, to taste or about 1.5 tsp
Preparation
Dough
Either by hand, or using a food processor, combine all ingredients and kneed until dough is firm (if you choose not to use baking soda/lemon juice, you can still enjoy the dish, but the strudels won't be as fluffy)
Set the dough to rest under a glass dish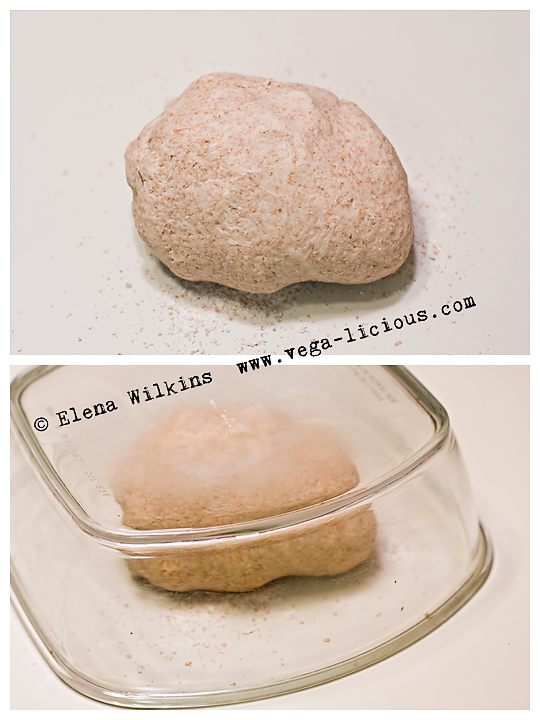 Filling
Peel and grate potatoes and the onion with a large grater or a food processor
Add salt and seasoning (image below)
Fill steamer pot with water 3/4 of the way, add 3/4 tbsp salt, cover and place on the stove on high
While water is warming up, divide dough into 5-6 equal parts
Roll out each part into a disk
Grab a couple of handfuls of the filling, squeezing out as much liquid out of it as possible (see image way below with a dish full of liquid–those are potato juices that you want to keep out), then lay out on the dough, leaving about 1-1.5 inch of dough on each side (image below)
Roll filled disk into a tube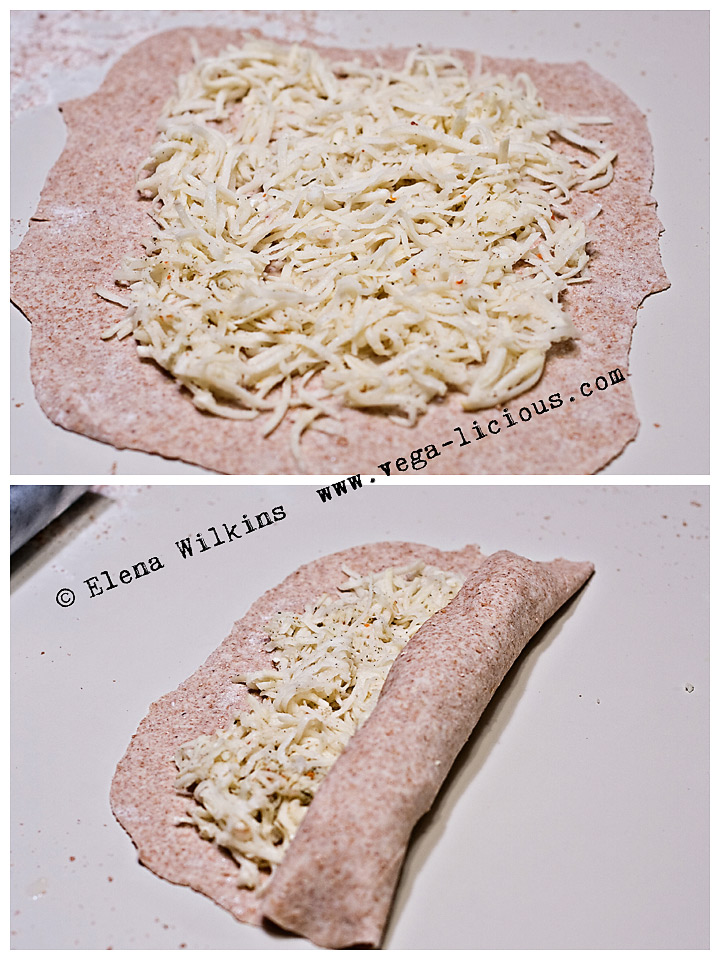 Pinch it on each side, sealing the roll like an envelope (image below)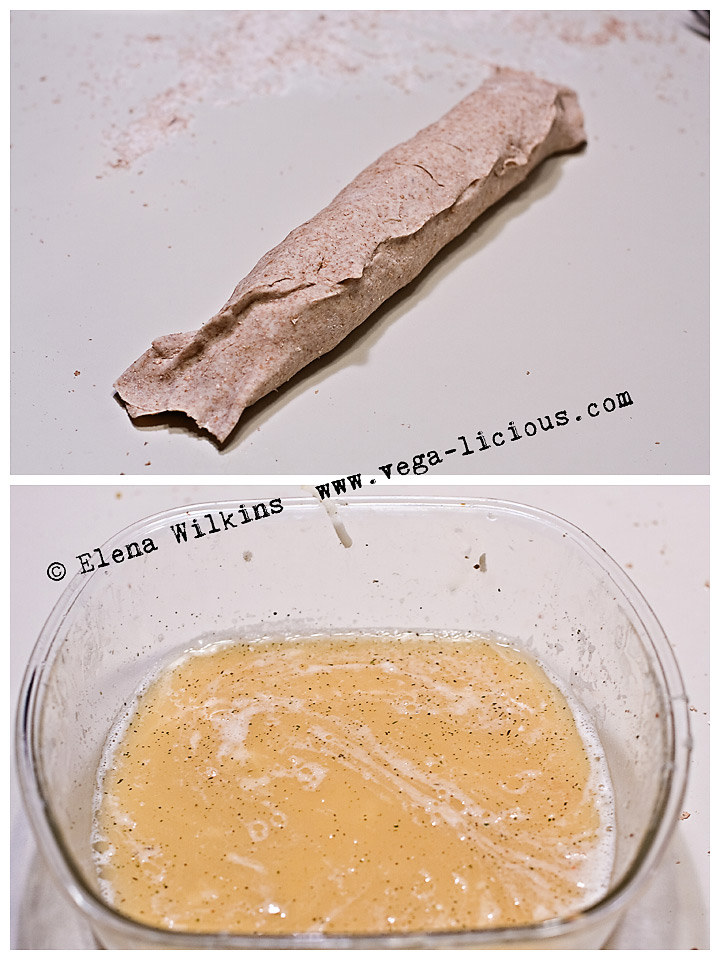 Very lightly oil each steamer pan (you will end up needing less than 1 tsp of oil) to prevent dough from sticking, although you can try doing without oil
Lay each roll of filled dough on the pan–I was able to fit two on each one of mine
When water begins to boil, place steamer pans over it, one over the other, and reduce heat to medium
Steam strudels for 30-35 minutes to make sure potatoes cook through (bottom image)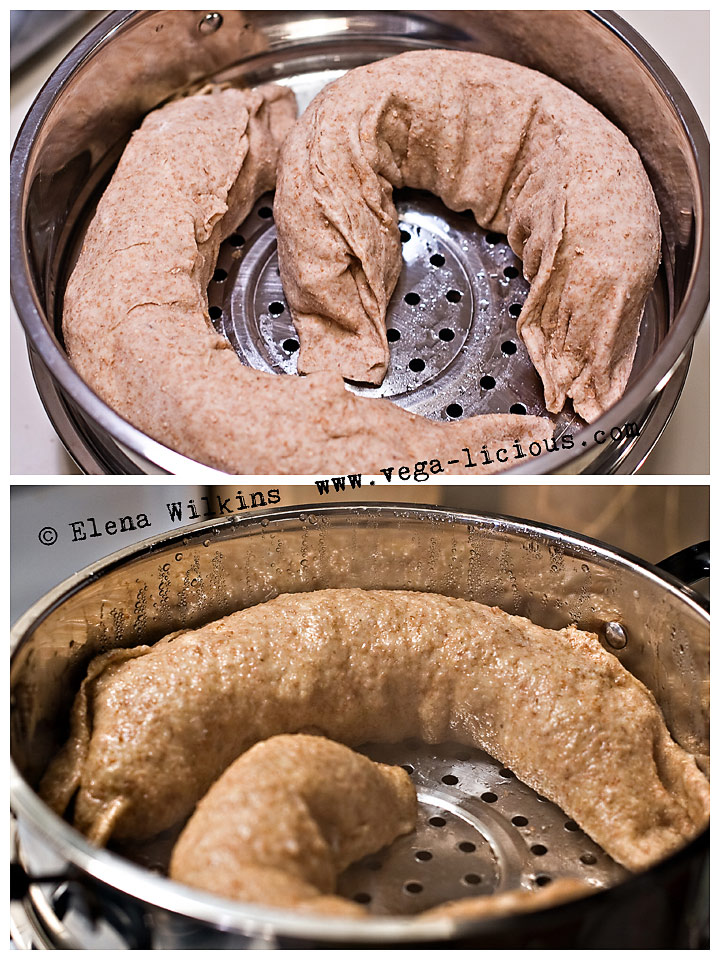 Serve with your favorite salad–I served with Savoy Cabbage and Bock Choy salad, a dollop of sour cream and freshly made garlic tomato sauce.
If you have leftovers, reheat over hot water in a steamer.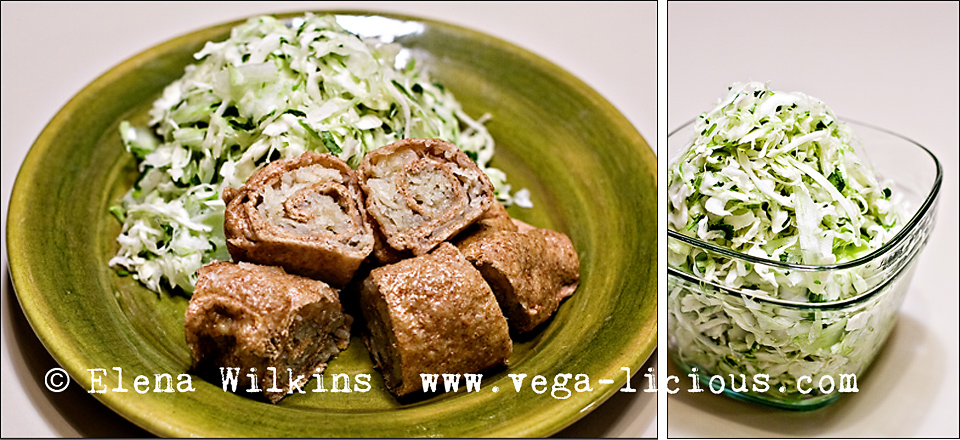 Savoy Cabbage & Bock Choy Salad (Fat Free)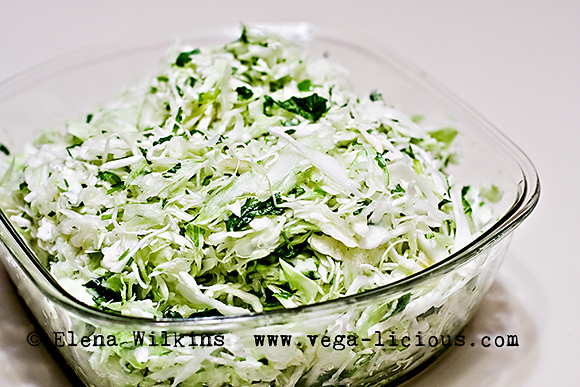 Ingredients
1 head of savoy cabbage
1 bottom half (the hard white part) of bock choy head (I used tops in green smoothies)
1/3 cup chopped cilantro
sea or Himalayan salt to taste
Preparation
By hand, using a mandolin slicer or a food processor, cut cabbage and bock choy into long, thin strips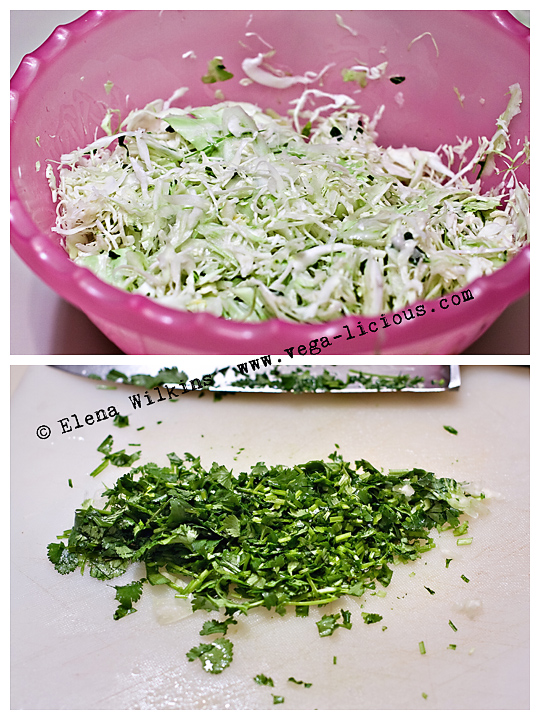 Add salt and massage with your hands until juices begin to show
Add cilantro, toss everything together, and the salad is ready to be enjoyed!
Garlicky Tomato Sauce
Ingredients
5-6 Roma tomatoes, or 3 -4 large heirloom tomatoes
2 cloves garlic
1/4 cup finely chopped cilantro
1/4 cup finely chopped dill
salt to taste
Preparation
By hand, in a food processor or a blender chop tomatoes and garlic
Add remaining ingredients; combine and enjoy