A couple of days ago Sprout woke up, snuggled next to me and gently uttered: "Cookie."  As I did not respond, she repeated: "Cookie, cookie, cookie!" Each time a little stronger.  By the time I got her ready for the day and we stepped into the kitchen to make breakfast, she was not only asking, she was furiously saying and signing "COOKIE!"
I caved in…
The last thing I want in my 20 months old kiddo is sugar. I had to quickly think of an alternative. Lately I have been inspired by those who are doing the Daniel Fast, so, being creative was not a problem. In 20 minutes I created a perfectly delicious, fluffy as a a cloud, fat free, sugar free oatmeal cookie recipe to live for.  By the time I pulled cookies out of the oven, however, Sprout was not too happy, having been forced to wait that long. She snatched one out of my hands, as I was placing cookies on a cooling rack and ran around happily squealing: "cookie" between each bite. It only made me smile, since I knew that what was going into her was going to do her no harm, but flood her body with lots of nutrients instead.
Warning: if you are a sweets eater and eat processed sugar, these cookies will not seem very sweet to you. If your taste buds had time to detox, however, you will enjoy gentle sweet taste of these sugar free but sweet oatmeal cookies.  
Vegan Sugar Free Oatmeal Cookie Recipe
yields 12 large oatmeal cookies
2 cups of rolled oats or 2 cups of oat flour
1 cup whole wheat flour
1/8 tsp sea or Himalayan salt
3/4 tsp baking soda

1.5 tbsp lemon juice

2 ripe bananas
2 oranges
4-5 pitted Medjool dates (if you want your cookies sweeter, add more dates)
1/2 cup almond milk
1 tsp vanilla extract
Preparation
Preheat oven to 375 F (190-200 C)
If using rolled oats (I used quick oats), place oats in a high speed blender, like Vitamix and grind them into a fine flour (I choose to leave some chunks in for texture, as you see on the image)
Transfer oat flour into a mixing bowl, add wheat flour and salt and whisk together (you can use a hand or a standing mixer as well)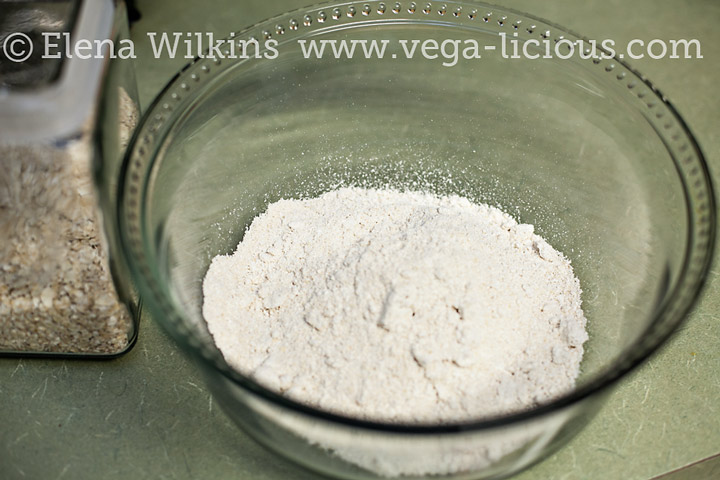 In a cup or a bowl, mix baking soda and lemon juice together (juice will activate soda), then transfer into the mixing bowl containing flours
Place bananas and pitted dates into a blender, squeeze juice from 2 oranges over them, add vanilla and almond milk; blend until smooth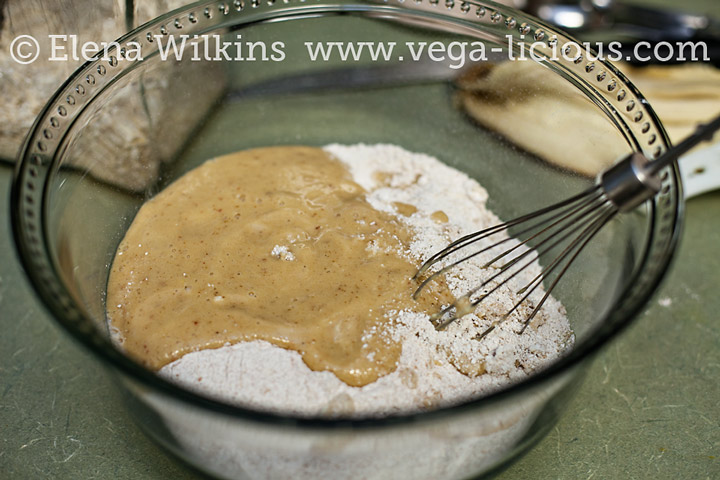 Pour blended mixture over the flour mix and fold everything together to create your sugar free oatmeal cookie batter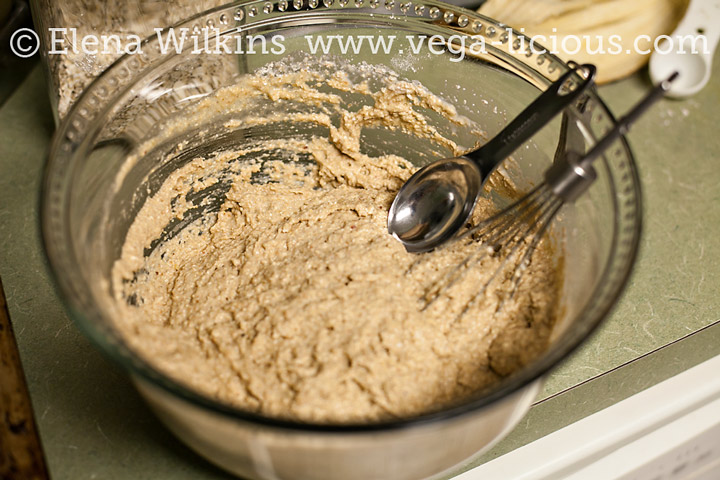 Line a baking sheet with parchment paper
Using a tablespoon place batter on the sheet (I used 1.5-2 tbsp of batter per cookie)
Form batter into disks, spacing cookies about 1-1.5 inch apart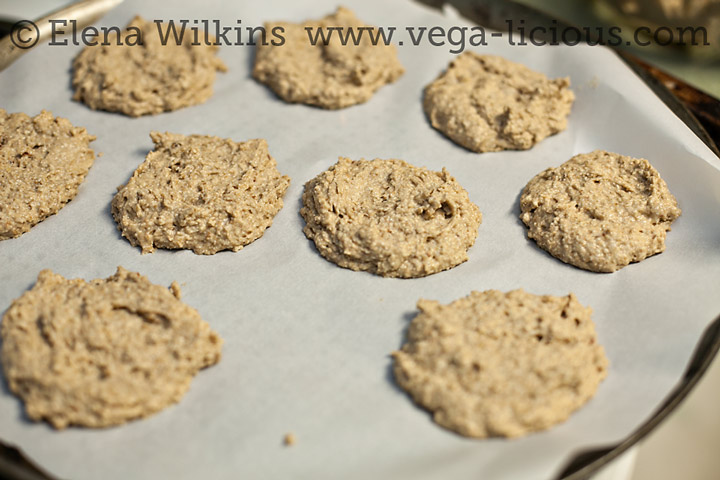 I ended up with two baking sheets. If that happens to you, place one on top rack and one on the bottom in the oven.
Bake for 7 minutes, then switch racks (bottom cookies go to the top rack, and top to the bottom)
Bake additional 6-7 minutes
The cookies will be well set and golden on the bottom; the top, however, might look a little pale
Set your oven to LOW broil (meanwhile you might have a little one impatiently waiting for her treat–do not give in!)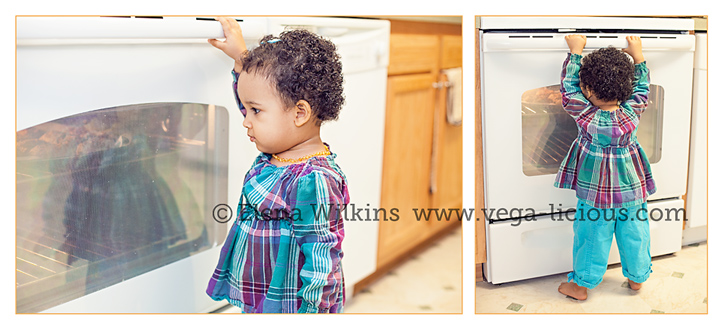 Place both baking sheets on the bottom rack and give them 2-3 minutes, until the top looks nice and golden. If they are still a little pale, pop them on the top rack for a minute, but keep an eye on them
Remove from the oven and place on a cooling rack, but watch out for cute little thieves!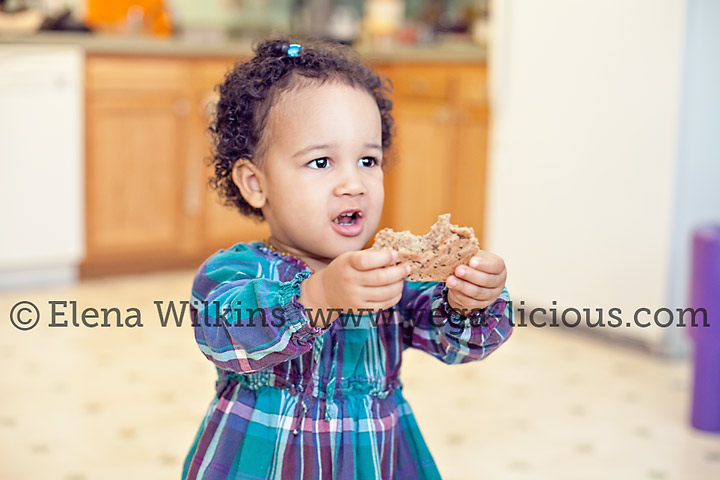 Let your sugar free oatmeal cookies rest for 5-10 minutes before enjoying them.  Be patient!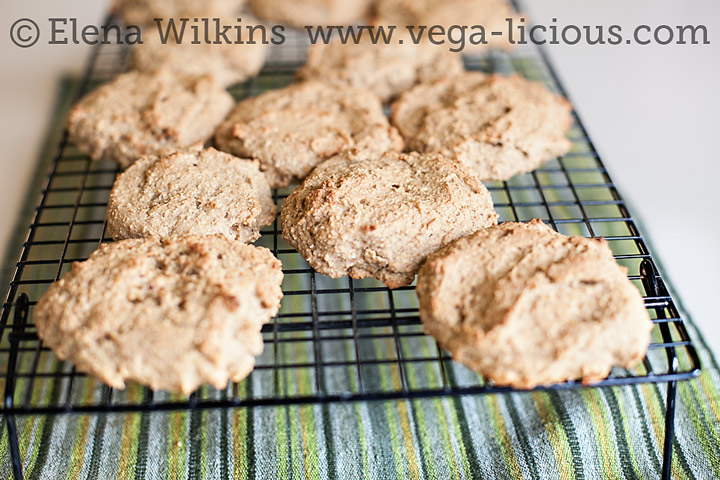 When cookies cool off, they should look nice and fluffy on the inside.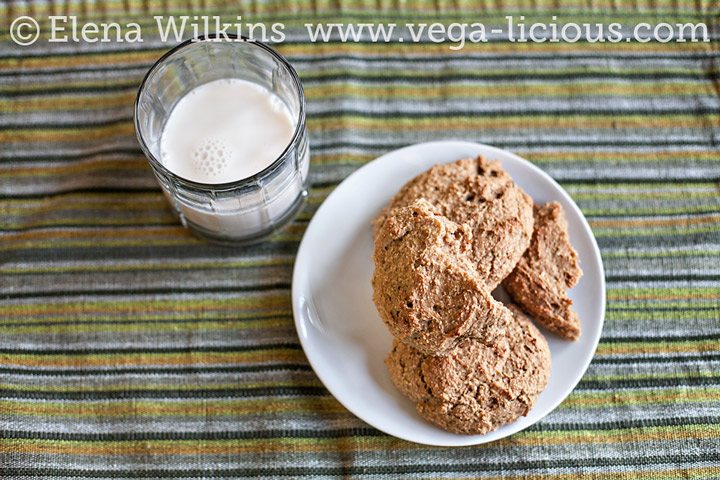 Enjoy them with a cup of cold almond milk!
Cookies will store well for a few days refrigerated. In my household, with a cookie loving kid and sweets loving husband, they lasted only a day and a half.
You can add any variation of ingredients to these cookies: walnuts, chopped dates, raising, lemon/orange zest, etc. They should come delicious!
When you do make this oatmeal cookie recipe, please come back and tell me how it turned out and how you enjoyed the cookies.  Meanwhile…
SHARE!
Share this recipe via social network buttons (top and bottom of the post) with your friends, family, and followers.