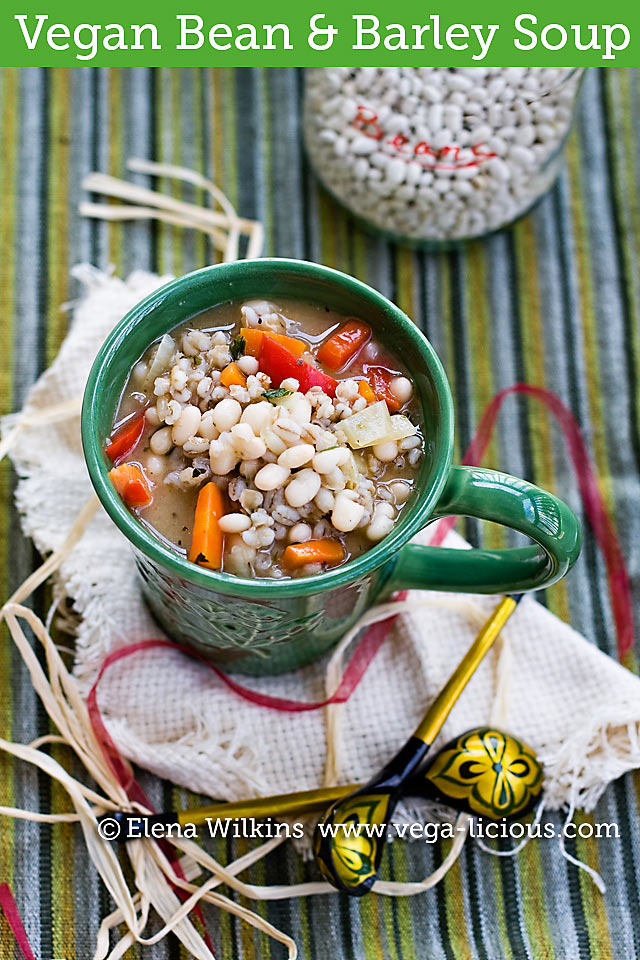 Soups, soups, soups! It is cold outside and my body craves soups for warmth and comfort.  In fact, I can live off soups! Indeed, I would do just that, if my faithful did not crave other foods (like the BBQ Cauliflower Wings I whipped up this week). However, since I'm the cook in the family, I get to call the shots, and still make plenty of soups.
My Bean and Barley Soup is one of my favorite creations.  In addition to being delicious, it also comes with more benefits–it is healthy, and will help you get (or stay) skinny! The soup is high in fiber, minerals and nutrients, making it a perfect candidate for weight loss…and taste bud enjoyment.  
Here it is, for you, my friend, in all of it's soul warming, vegan, oil free glory, in case if you love soups as much as I do!

Healthy Vegan Bean & Barley Soup Recipe
Prep time:
Cook time:
Total time:
Delicious, warming and totally fat free bean and barley soup. Great for your taste buds and easy on our waist line.
Ingredients
2 cups barley, soaked in water for 1-5 hrs
2 cups white beans, soaked in water for 1-5 hrs
8-12 cups water (if you want your soup thicker, use less water, otherwise use all 12 cups)
¼ cup water to sauté veggies
4 medium size carrots, cut into half and then chopped
3 large cloves garlic, minced
1 large red bell pepper, chopped
1 large yellow onion, chopped
½ cup chopped parsley
2 tbsp cumin powder
3 tbsp tomato paste (optional)
Himalayan or sea salt to taste
black pepper to taste
Instructions
Having soaked barley, strain water and rinse, place into a cooking pot, add 4 cups of water and salt; bring to boil, then reduce heat to medium and boil for 30 minutes
Strain water from beans, rinse; add beans to barley and add remaining water; boil on medium heat for additional 30-40 minutes
Place garlic and onions in a skillet, sauté in water for 3-5 minutes on high heat, stirring
Add carrot and sauté for 5 more minutes on medium heat
Add bell pepper and sauté for additional 5 minutes
Add cumin and tomato paste, stirring to incorporate into the mixture
After cooking beans and barley for indicated time, taste to see if both are well cooked; if they are, add vegetable mix, increase heat to high to bring soup to boil, then reduce heat to medium-low , cover and cook for another 10-15 minutes;
Add parsley and let the soup sit for about 5 minutes before serving
Notes
If you decide not to add tomato paste, your stew is going to look lighter.
Have it with a slice of homemade whole wheat,
no knead bread.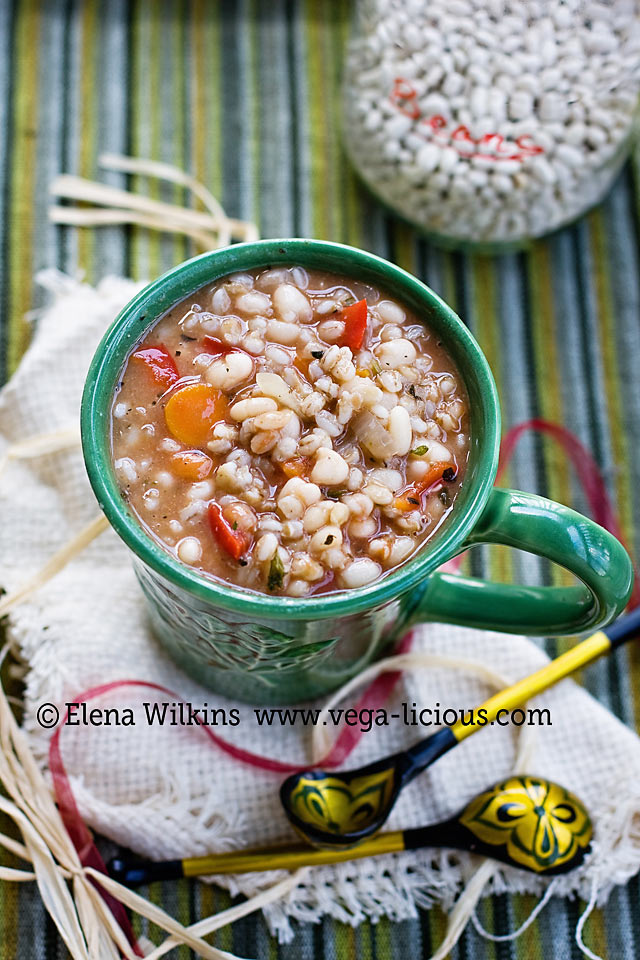 Make it. Share it. Let me know what you think about it.