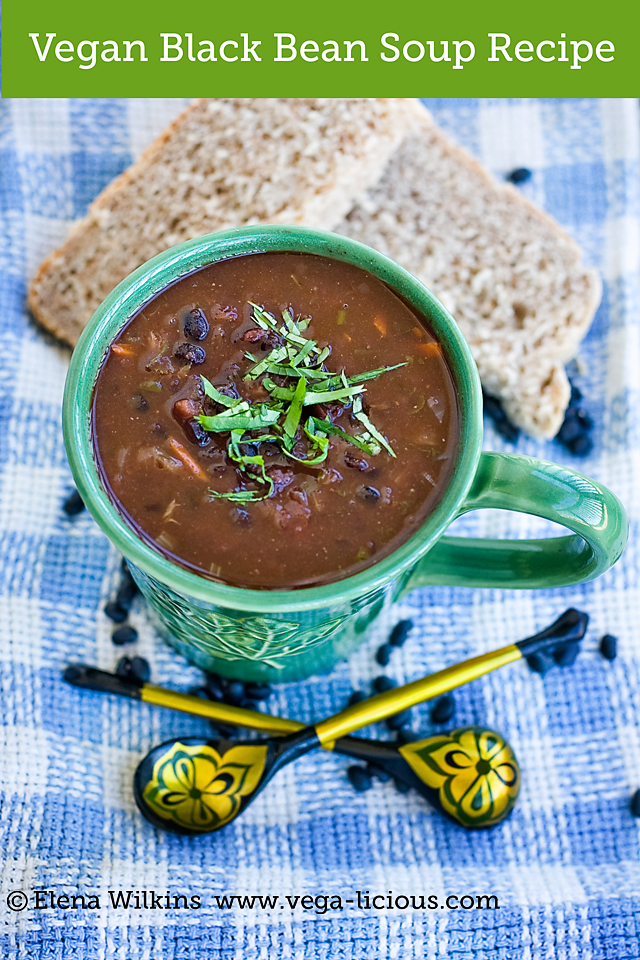 Have you ever tried something that was almost good and knew immediately that it could be great? I have…many times.
A few days back Hubby and I stopped by Whole Foods to grab a few things, and wandered into their soup-bar section.  Some of the smells coming from soups were amazing, while others not so much.  After checking out a few options I made my way to a pot of Adobo Black Bean Soup.  It smelt divine. I asked their friendly staff for a taste–it was good. I wanted some! However, I wanted better ingredients and an improvement on the taste of what I had.  I wanted to take what they had and make it better.
$4.00 later I was munching on a small cup of soup.  However, the more I had of it, the more I was turned off by its sweetness–a couple of culprits responsible for that were molasses and sugar=YUCK! Adding sugar to soups should be illegal.  (Not to mention that combining beans and sugar put me at a risk of experiencing a "gas attack"–when high fiber food, such as beans, is combined with simple sugars, such an outcome is unavoidable!).  The soup was also a bit too spicy for my taste.
As with anything else that is almost good I had to make this soup REALLY GOOD. I got home, pulled my ingredients together, brainstormed my cooking strategy and three hours later* a masterpiece was born! It is DELICIOUS! It is perfect without any sugary additives.  So, for your indulgence and mine, here is the…
*it does not take 3 hours to make the soup–the time was spent preparing everything, getting ingredients ready and taking care of life in between.

Fat Free Vegan Black Bean Soup Recipe
Makes about 4 quarts [16 cups] of soup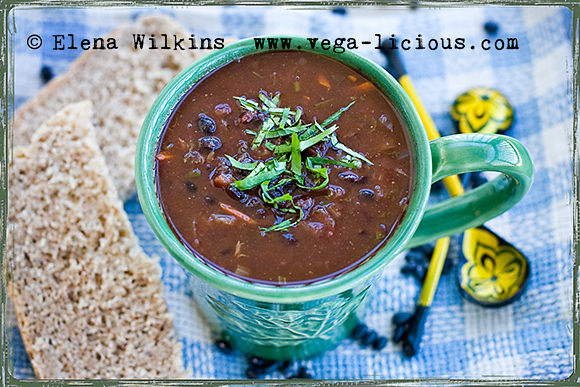 Fat Free Vegan Black Bean Soup Recipe
Prep time:
Cook time:
Total time:
Ingredients
4 cups black beans
12 cups water
2 bay leaves*
28 oz crushed tomatoes, jarred or canned
1.5 tbsp soy sauce
1.5-2 tbsp Himalayan sea salt (or to taste)
½-1 tbsp chili powder (depending on how much heat you want)
⅛ tsp cayenne pepper
3 tbsp cumin powder
2 carrots, finely chopped
4 springs of green onions, including white parts, finely chopped
½ large onion, finely chopped
4-5 stalks of celery, finely chopped
1 green bell pepper, finely chopped
½ cup finely chopped cilantro
Instructions
Pre-soak beans overnight and rinse before cooking. If you don't have time to pre-soak them, it will increase cooking time, but make sure to wash them thoroughly before cooking anyway.
Pour 10 cups of water into a large cooking pot, add beans, salt and bay leaves and bring to boil.
Cook until beans are tender, almost falling apart (pre-soaked beans cooking time might be 60-90 mins, while unsoaked beans will take 2-2.5 hrs. to get there)
Add tomatoes and remaining 2 cups of water.
Add: soy sauce, salt, chili powder, cayenne pepper and cumin powder, and continue cooking.
Meanwhile, preheat a skillet on medium heat, add remaining ingredients: onions, carrots, celery and bell pepper. When you hear them sizzle, use ¼ cup of water, splashing as needed, to sauté. Bring to medium-high heat, sauté, stirring, for 1-2 minutes, reduce heat to medium and sauté for another 5 minutes.
Remove ingredients from the skillet and add to boiling soup.
Bring everything to boil.
Add cilantro.
Cover cooking pot, reduce heat to low and continue cooking for another 20-30 minutes.
Cover cooking pot, reduce heat to low and continue cooking for another 20-30 minutes.
Notes
*pre-soaking, boiling beans with bay leaves, and removing white foam off the top, while boiling occurs--all reduce the "gas" effect of beans.
Enjoy! Soup is at it's best after sitting for a few hours or overnight, and when served with whole wheat homemade bread, and possibly a spoonful of vegan sour cream.  Mmmmmmmmmm!!!!!!  GOOD!
If you make the soup, let me know what you think.  Adjust ingredient quantities as needed.
Bone Appetite!
Cookware: I cook my meals in my favorite World's Finest 7-ply cookware set. Compare it to compatible products sold at only private demos (I have been to those too!) that would cost you thousands of dollars more.  This is a winner!  I've had my set for over 9 years now and love it! 
Share!
Enjoy the recipe, and make sure to share it with other via social share buttons around this recipe.  Let's make this world a healthier place one delicious spoonful of soup at a time.