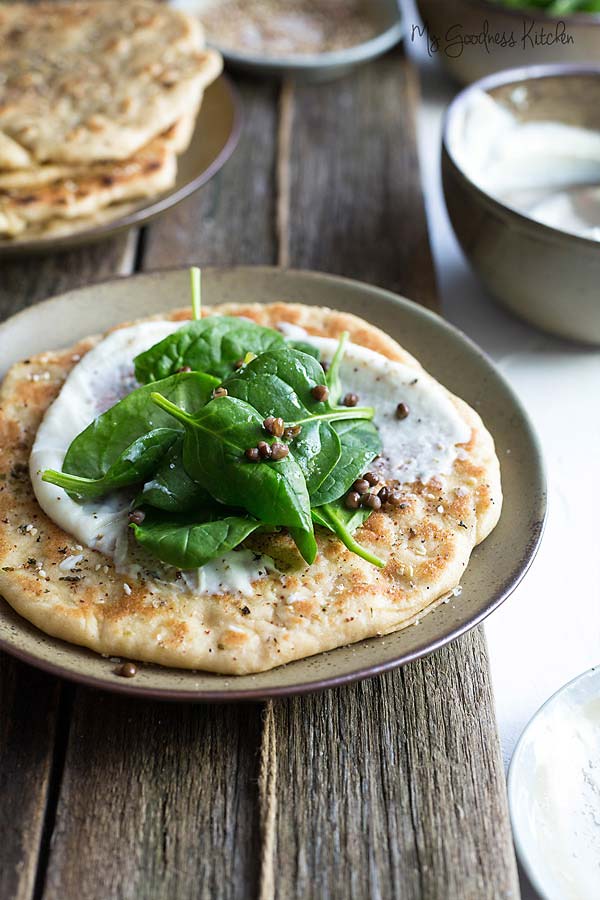 You all know that I'm a bread baby.  I am disciplined (so, I won't eat a whole loaf of bread in one setting), but I LOVE bread.
So, when a fellow vegan blogger, Amanda Logan and I chatted about recipes, and she mentioned Zataar Pizza, I was all over it.  I asked her to write up the recipe and to take shots of it to share with you.
She's amazing.  So, she agreed.  And let me tell you–I'm making this pizza recipe this weekend.  I might end up overdoing on bread, and Sprout, Hubby and I might be fighting for the last piece, but it will be so worth it.  I 'm salivating just looking at the pictures.
Don't let me hold you back from enjoying Amanda's amazing vegan creation.
A little about Amanda…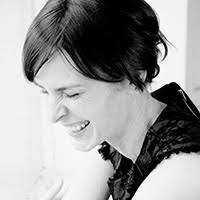 Amanda is a writer, photographer and recipe developer from Australia. Living in the treed Hills of Southern Australia, Amanda is inspired by local produce and creates seasonal plant-based recipes. Living with a family of omnivores, Amanda's blog My Goodness Kitchen is a diary of her attempts to placate a meat eating family with her vegan dishes.
---
I love it when my daughter can help me in the kitchen. She's two and a half so it's not always possible but when we make Lebanese Zataar Pizza she can knead with the best of them.
Zataar is an incredibly versatile spice mix. It is a perfect counter to smooth nutty hummus, roasted potatoes or even sprinkled on soup. I have bought zataar from the store before but I find I prefer a little more kick in my mix so I created my own recipe. My zataar spice recipe has a real citrus zing from the sumac and a good hit of sea saltiness. Never fear, a little goes a long way and the mixture keeps beautifully.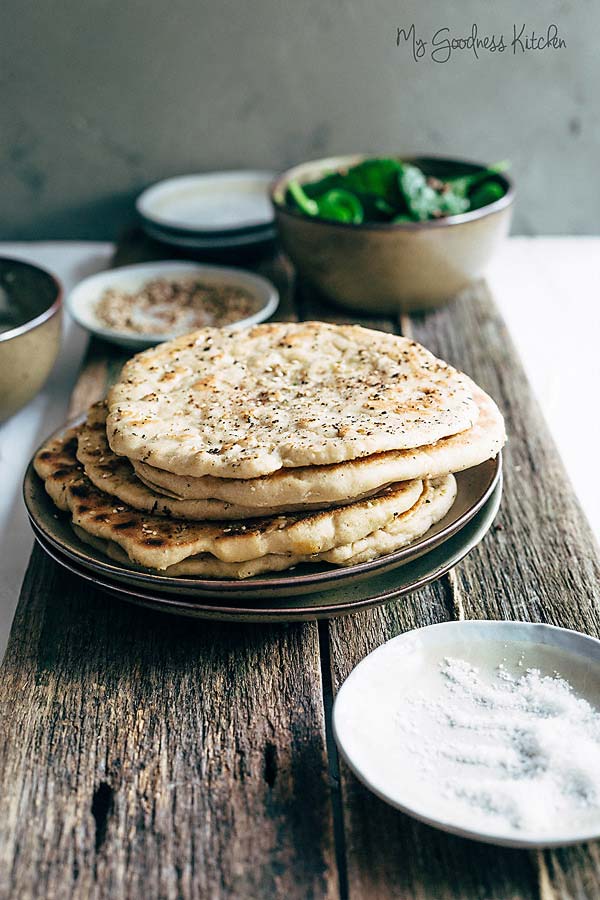 Not too many dishes are more popular in Lebanese breakfast than the manoosheh, or the plural Manakish, round flat discs of bread covered with zaatar, brushed with olive oil and grilled. My family, however, enjoy Lebanese Zataar Pizza for brunch, lunch and sometimes a light dinner.
We use spelt flour and unprocessed sugar to create a healthier recipe and fill the rounds with whatever takes our fancy on the day. A favorite in our house is a good dollop of hummus or my silky cauliflower puree with dressed baby spinach leaves and lentils.
Lebanese Zataar Pizza is a deliciously different pizza experience packed with spiced flavor that will leave you wanting more.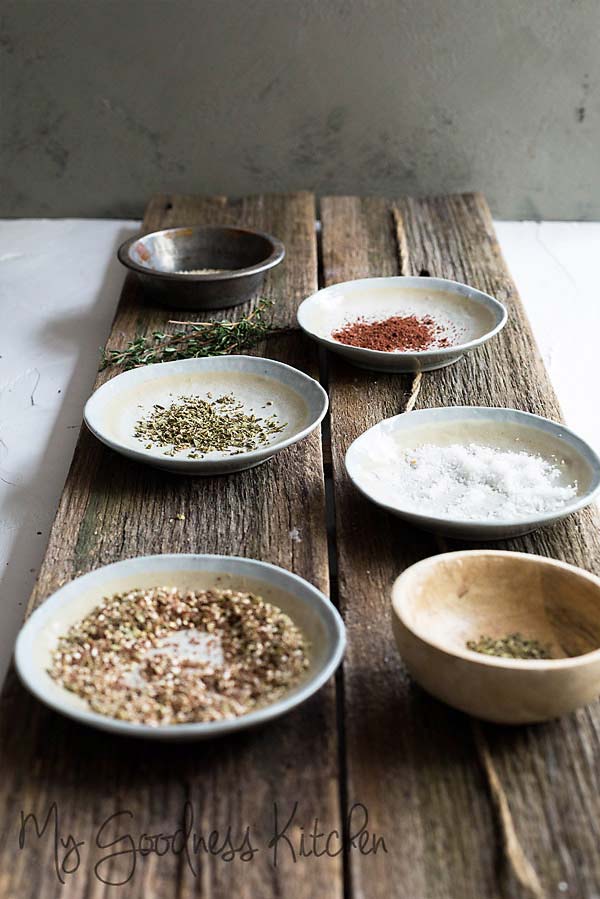 Enjoy it!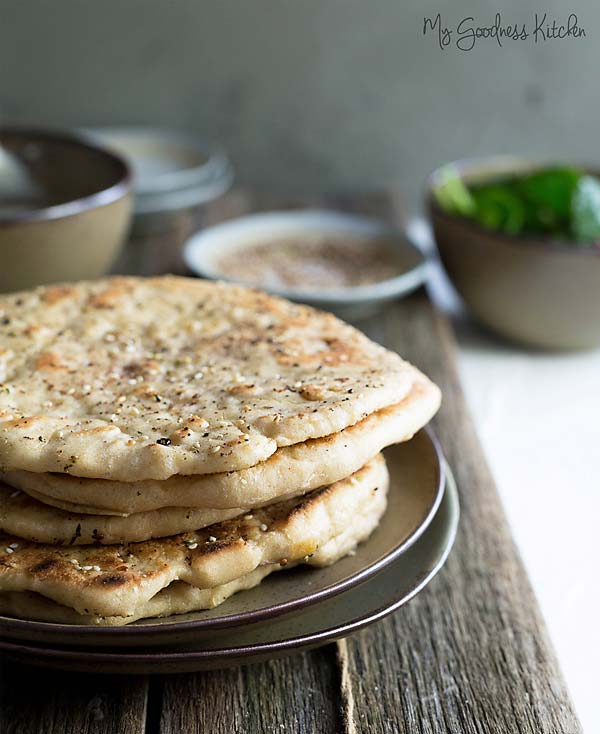 Vegan Lebanese Zataar Pizza Recipe
Prep time:
Cook time:
Total time:
Ingredients
Pizza
1 ½ teaspoon dried yeast
3 cups (750ml) spelt flour, sifted
2 teaspoon coconut sugar
1 teaspoon olive oil plus more for brushing
4 tablespoon zataar spice mix
Zataar Spice Mix
2 tablespoon toasted sesame seeds
1 tablespoon cumin
1 tablespoon marjoram
1 ½ tablspoon sumac
1 tablespoon dried oregano
1 teaspoon sea salt
leaves from 5 sprigs of thyme
Instructions
In a medium bowl, dissolve yeast in 250 ml of lukewarm water. Set aside in a warm place for 10 minutes or until mixture bubbles.
Combine sugar and flour in a large mixing bowl before creating a well in the middle.
Add the olive oil to the yeast mixture and slowly pour in to the flour well using your fingertips to bring it together.
When roughly combined, tip the dough out on to a floured countertop and knead until soft and no longer sticky. Add small amounts of flour to the dough if needed. Kneading will take around 10 minutes.
Make dough in to a ball and place in a lightly greased bowl and cover with cling film. Set in a warm space for around 1 hour or until the dough doubles in size.
Punch down dough and cut into 6 equal pieces. Roll into balls and place on a lightly floured tray.
Cover with a clean tea towel for 30 minutes or until slightly risen and smooth.
Place a sheet of baking/parchment paper on the counter and press each ball down with the palm of your hand, spreading out until around ¼ inch thick.
Heat a griddle or frying pan on medium heat. Working one at a time, brush one side of the dough round with oil and place on griddle, oiled side-down. An easy way is to flip the dough round on to the pan using parchment paper and pealing the paper away.
Cook for 2 minutes or until golden.
Brush the top with oil and flip over. Sprinkle liberally with zaatar and cook for a further 2 minutes or until golden and cooked through. Keep warm. Repeat with remaining rounds, zaatar and extra oil.
Zataar Spice Mix Process
Place lightly toasted sesame seeds and fresh thyme leaves (not stems) in a food processor and pulse a few times to combine.
Place all ingredients in a small mixing bowl and stir well to combine.
Keep zataar spice mix covered in a cool dry place for up to one week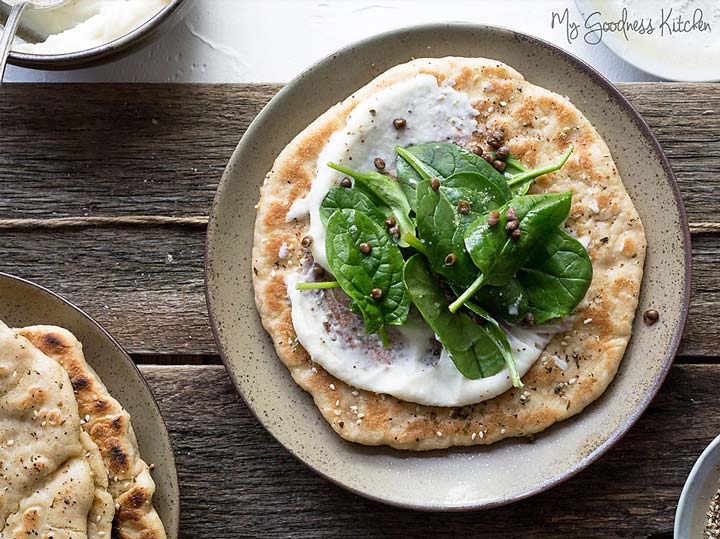 Make this beauty and let me know what you think about it.
Many thanks to Amanda for sharing it with us.