With our last guest gone, and last dish put away, I am now ready to show off my Vegan Thanksgiving Meal spread and share a few new recipes. My table looked much like the Vegan Thanksgiving Menu I posted before Thanksgiving.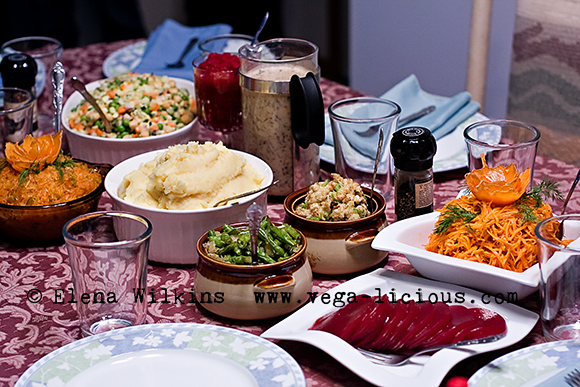 Here is a close-up: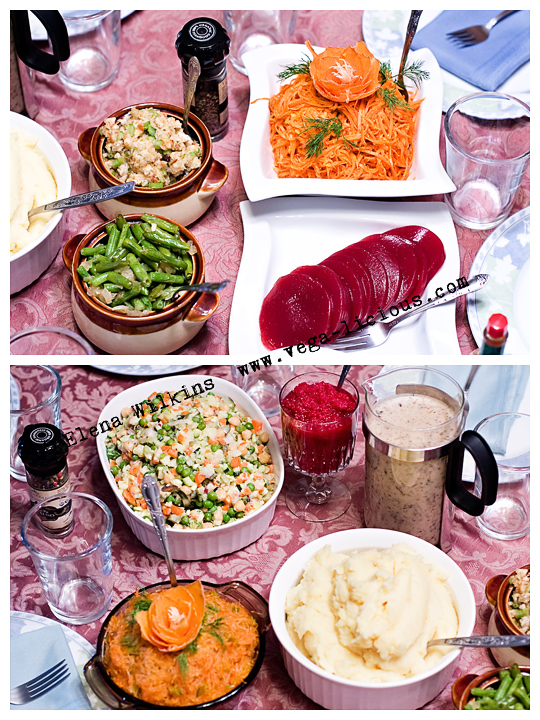 On the menu we had:
Mashed Potatoes [recipe below]
Mushroom Gravy [recipe below]
Carrot Salad [instead of oil I used 2 tbsp of vegan mayo for 10 carrots]
Freshly made cranberry sauce [recipe below]
Canned organic cranberry sauce [for our guests, just in case]
Vegan Stuffing [I bought a prepackaged stuffing and then added celery and raisins]
and, of course, just for my hubby, the Apple Pie!
Green Beans and Stuffing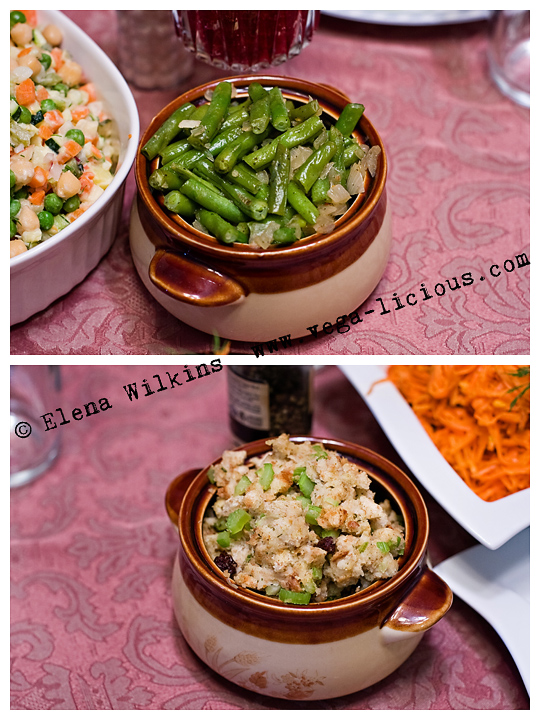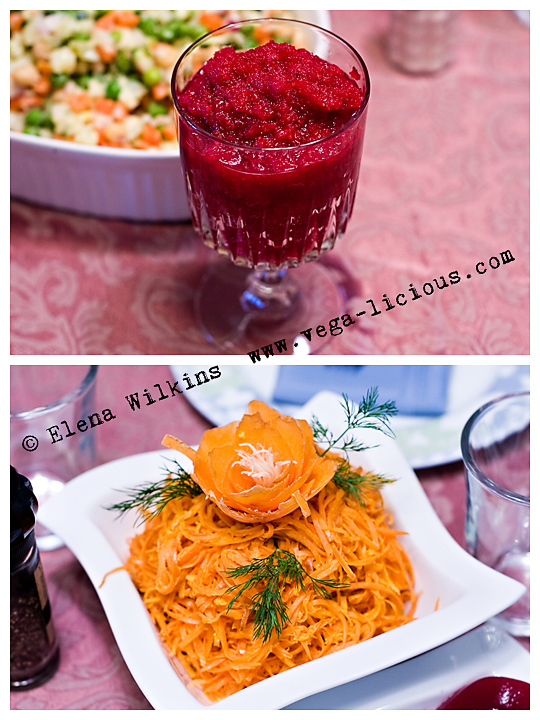 THE APPLE PIE!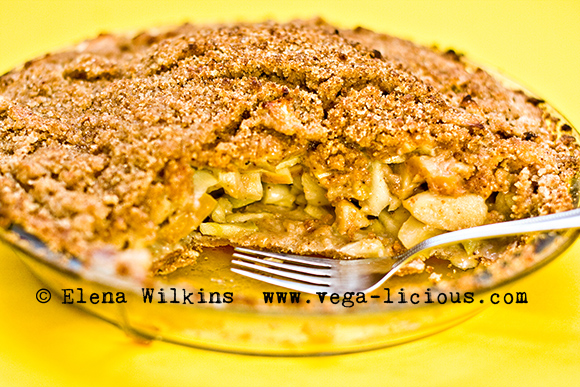 Now for a few new recipes.
Vegan Mashed Potatoes
serves 4
Ingredients
5-6 large potatoes, peeled and chopped into 2-3 inch chunks
sea or Himalayan salt to taste
water for cooking potatoes
2-3 oz vegan cream cheese
3-4 oz vegan sour cream
1/2 cup almond milk
Preparation
Boil potatoes until soft, with salt [I use my waterless cookware, so I end up needing very little water, which makes for richer tasting potatoes]
Strain potatoes from water
Add remaining ingredients and mash potatoes by hand or with a food processor/hand mixer until there are no clumps
Vegan Mushroom Gravy
serves… an army 😉
Ingredients
12-16 oz white or crimini mushrooms
1 large onion
4 oz vegan cream cheese
4 cups almond milk
favorite seasoning to taste
sea or Himalayan salt to taste
1 -2 cups of water, if needed, depending on how thick or thin you want your gravy to be
2 tbsp of flour dissolved into pancake-like mixture with a bit of water
Preparation
shred mushrooms and onions into smallest pieces possible
preheat a skillet on high
throw in veggies and add a splash of water to start frying
reduce heat to medium, keep stirring and adding splashes of water as needed
saute for 5-10 minutes [I use my waterless cookware, so I add little water, cover the skillet and leave it on low-medium heat for 5-10 mins stirring only a couple of times]
add seasoning and salt
stir in cream cheese, stir until melted and integrated
add milk, increase heat and bring to boil
once gravy is boiling, reduce heat to low-medium heat and slowly stir in flour mixture, constantly stirring, so no clumps would form
remove off the heat and enjoy over delicious mashed potatoes
This gravy was a hit with my non-vegan guests. 🙂
Home-Made Raw Cranberry Sauce
this is delightfully simple and delicious recipe–you won't go back to canned cranberries after this!
Ingredients
12-16 oz fresh cranberries, washed
5 tbsp honey [non-vegan option], or maple syrup [you can add more, if needed, depending on your happy place] 😉
zest of 1 lemon or orange
Preparation
place cranberries and honey/maple syrup into a food processor and blend until nice, homogeneous texture is achieved
place into a container and add zest of lemon or orange
Enjoy!
Well, I hope you had fun checking out my meal pictures.  Remember that you don't have to wait until next Thanksgiving to give these recipes a try! They are great for any day of the week and any occasion, especially if you are hosting a dinner for your non-vegan friends. They will be impressed by your culinary skills and will sure have another reason to go plant based. 😉