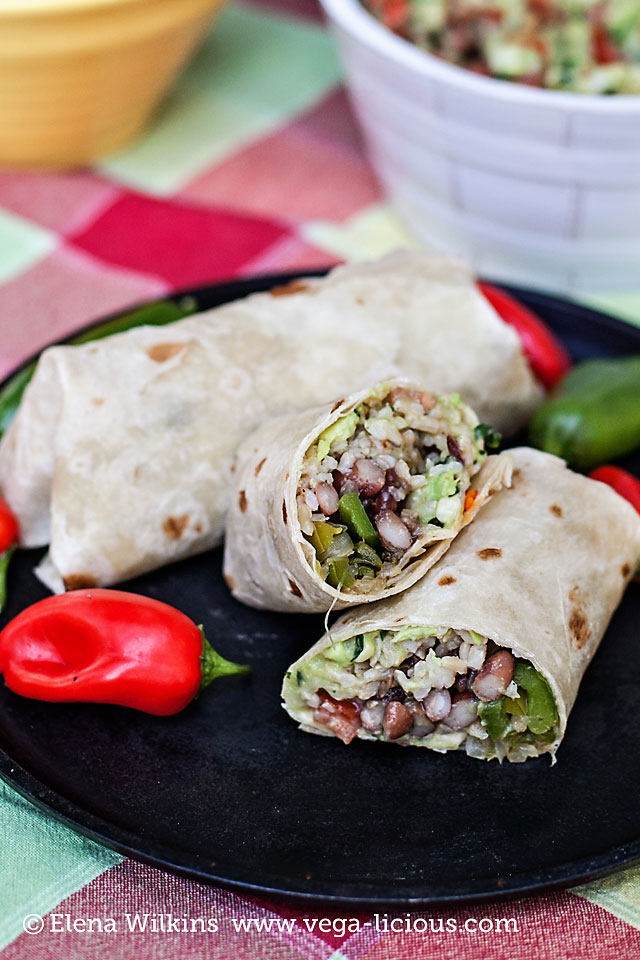 I remember when I was pregnant with Sprout, especially toward the end of pregnancy, I felt hungry all the time, curiously mostly at night.  I will never forget my night trips to the fridge. Between hunger pangs and Sprout kicking my ribs, I don't think I ever slept.
When Sprout came, as a new parent and a business owner, I was tired all the time.  I was not getting enough rest. My midwives' recommendation to "sleep when your baby sleeps" were nothing more than a distant dream.  When I would get super tired we would pack into our car and head out to grab a bite, because I needed a break from cooking, at least one night of the week. So, Chipotle became our go-to place for a satisfying, quick veg meal. Their veggie burrito became my meal of choice.
Thankfully for me, Chipotle kindly offers, at least then,  as much food as you can fit into a tortilla.  I was nursing, so, one honking burrito, packed to the brim with extra vegetables, was inhaled in one meal.  I remember the surprised stares from Chipotle's service personnel–"how could such a small person eat so much!"  I think they probably changed their "no limit on veggies" policy after they had me for a customer. 
However, as good as their burritos tasted, you know, the best and the healthiest foods you can find are those made in your own kitchen.   So, I began to make my own  Chipotle style vegan burrito. It is so much better than the original!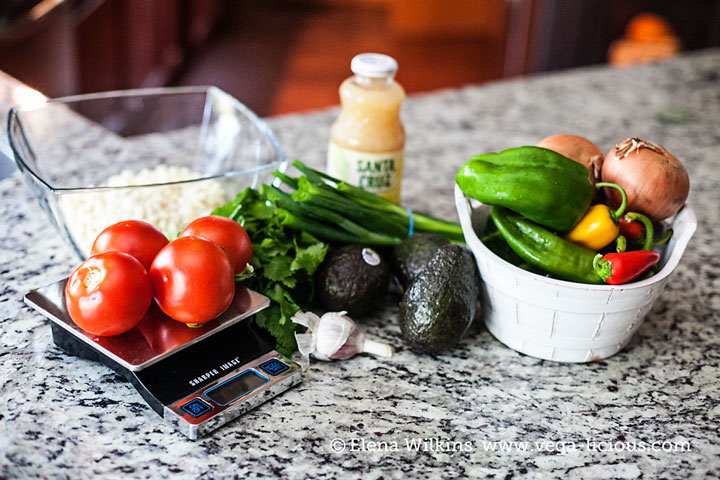 Made with fresh, organic, GMO free ingredients, with the amount of salt I can control, and without any oils, my burrito recipe is much more delicious.  It is one of Hubby's favorite meals.  In fact, I have to be his portion controller, because he easily gets carried away by enjoying bursts of flavors of my veggie burritos that he forgets to stop eating until it is one bite too much. (Don't tell him I told you this :).)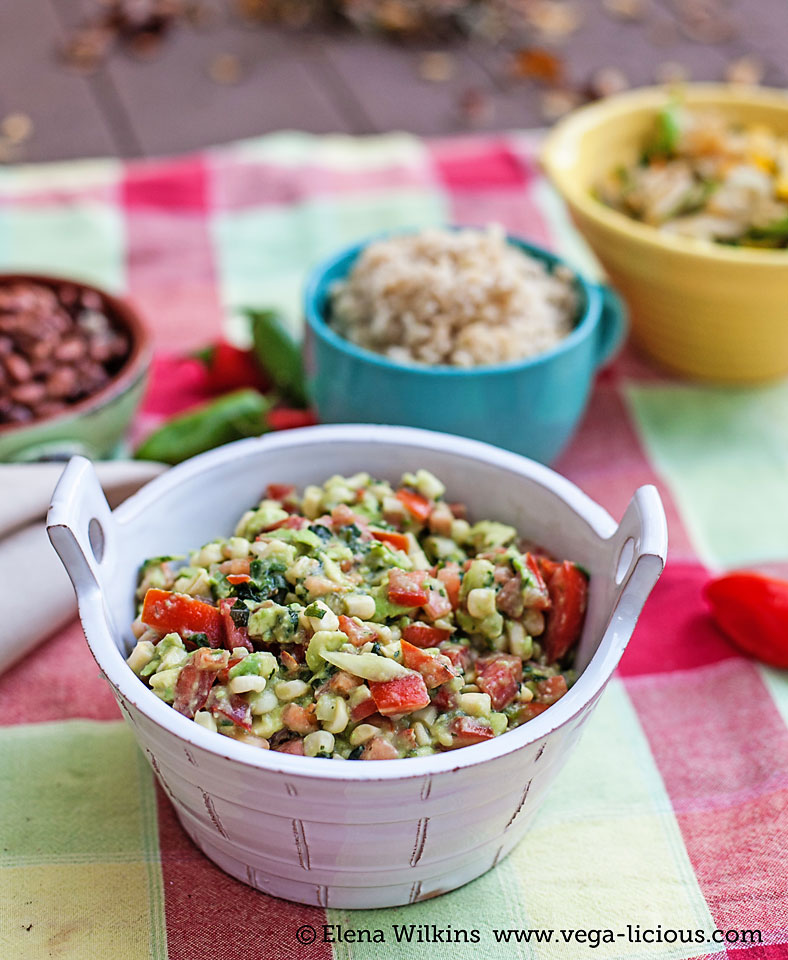 The best part of my "Better than Chiopotle's" homemade burritos is that I can pre-make some of the ingredients and freeze them to be used in a moment's notice–brown rice, beans, and even tortillas can be prepped and frozen to be enjoyed at any time, to reduce the time you would spend in the kitchen later.  This way you never have to go hungry, or stand staring into the abyss of your fridge wondering what you should have for dinner.  With these ingredients defrosting, you can get straight to making fresh burrito salsa, then warming up beans and rice–the two time consuming ingredients that otherwise would take up to an hour to cook.
Burrito Salsa-Mole
So, let's start with my burrito salsa recipe.  At Chipotle's they offer guacamole, salsa and corn separately.  But who wants to dirty so many dishes?  So, I combine all of these into one simple one-pot salsa.
Freshly made salsa+guac (should I call is salsa-mole?) is the key ingredient in this burrito.  Cilantro, which is rich in antioxidants, essential oils, vitamins, and dietary fiber, will pop in your mouth and bring the breeze of summer into your entire being.
Veggie Burrito Salsa
Ingredients
4 medium-large size tomatoes (1.5+ lbs.)
3 ripe medium or 2 large avocados (~20+ oz.)
½ medium size onion (1/2 cup)
5 cloves minced garlic
1 cup chopped cilantro
1 cup chopped green onions
2 cups fresh or frozen corn
2 tbsp lemon juice
1 ¼ tsp salt or to taste
Instructions
use a large mixing bowl
dice onions and tomatoes
cut avocados in half, then slice with a knife lengthwise, then across; scoop out with a spoon, creating small cubes
place ingredients in a ball, add corn, garlic, cilantro, green onions, lemon juice and salt
mix all ingredients and let marinate for 5-10 minutes before enjoying in a burrito wrap, or over a bowl of brown rice and beans
Better Than Chipotle's Veggie Burrito Recipe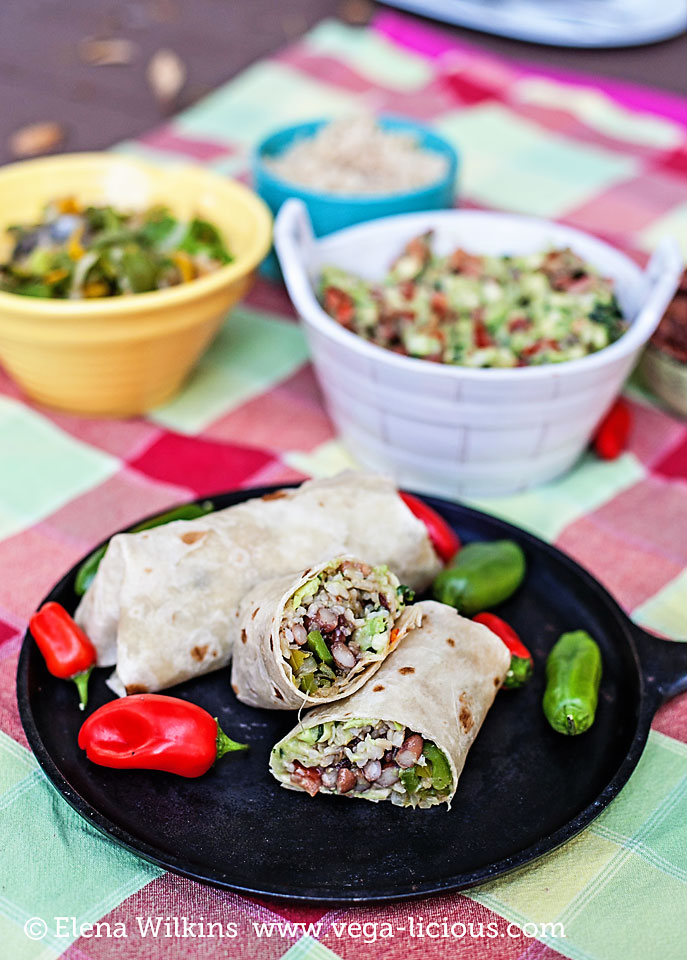 Better Than Chipotle's Veggie Burrito Recipe
Ingredients
low fat, whole wheat (or gluten free) tortilla
burrito salsa
cooked kidney beans or other bean variety
pre-cooked brown rice
2 medium size onions
3 large size bell peppers of any color combination
¼ cup water
all-purpose seasoning
salt to taste
Instructions
cut onions and peppers into thin long slices
preheat a skillet on high, throw veggies on it
add salt and spice
reduce heat to medium, splash with a little of water as needed to sauté vegetables for 5-10 minutes
warm tortilla on a hot skillet for 30-60 seconds
layer rice, beans, salsa and veggies on one side of tortilla
use hot sauce to spice things up, if desired
roll the burrito up and enjoy
Veggie Burrito Bowl
If you want to make this dish gluten free, it's very simple to do–skip the tortilla and make a veggie burrito bowl instead.  That's my favorite way to indulge.  It's low in calories, high in fiber, and rich in nutrients.
This is one of our favorite meals, and I am sure it will become yours too. Rich in flavor, low in calories, and full of nutrition–a perfect health and weight loss formula!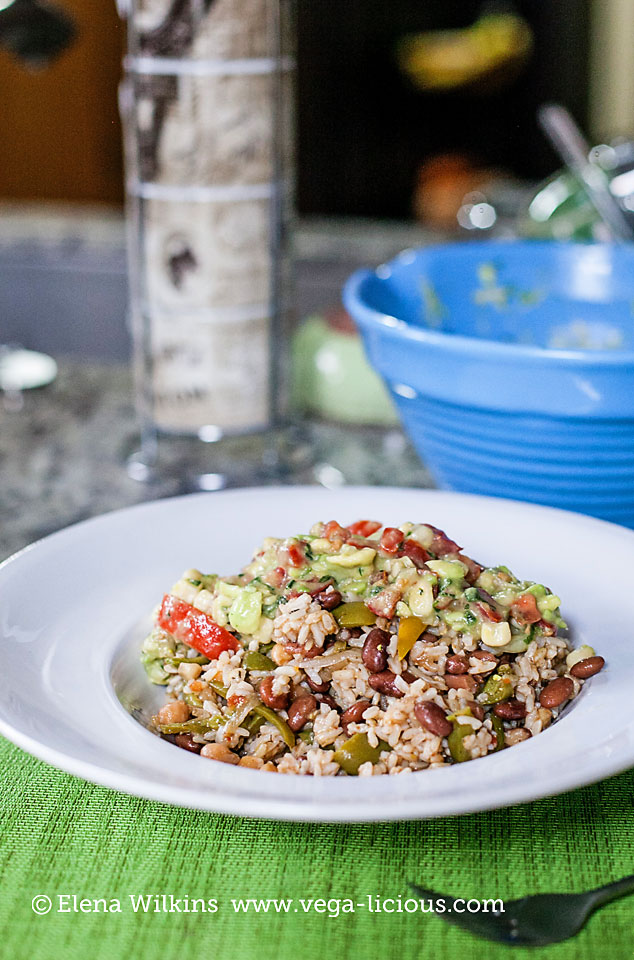 I wish you bon appetit!