"Waste not, want not," goes the saying.   In nutrition, there are times when food scraps have more, or as much, nutrition, as the parts we love to enjoy. Throwing them away would not only be wasteful, but would mean that you would miss out on loads of health promoting nutrients, minerals and vitamins. Today I will tell you about one such jewel, which, instead of making your trashcan a wasteful treasure trove, should be included in your regular food intake.
Medicinal Uses for Watermelon Rinds
Watermelon Benefits
I do not know of anyone who does not like a good, fully ripened watermelon. I loved it since I could remember myself. I could eat a 10-pounder in a day all by myself.  Given, I would probably have to stay home, for reasons you might guess, but eating watermelon makes me VERY happy.  I love mine with a slice of homemade whole wheat bread.
Sprout loves her watermelon too. She requests it regularly. When I give her a slice, she tares it out of my hands and runs around the kitchen, enjoying it, while watermelon juice drips off her chin onto her tiny belly. (I have to strip her down to a diaper in such cases, since watermelon stains are a pain to remove).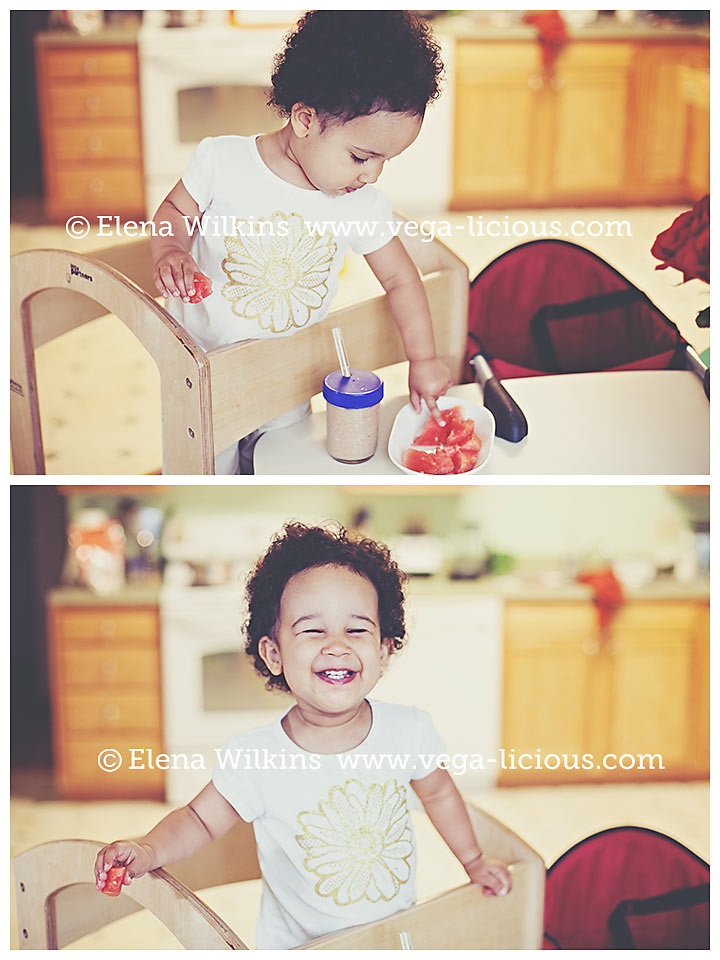 Sprout loves to help me, so we use our new favorite addition–Little Partners Learning Tower–daily to keep her as close to me as possible
Watermelon is filled with health benefits. It is nature's perfect food, boasting a healthful balance of proteins, carbs and fats. It brims with beneficial vitamins: B complex vitamins, vitamins C, A, beta carotene, lycopene, vitamins E and K, and is a great source of minerals:  boron, calcium, copper, iron, magnesium, manganese, phosphorus, potassium, selenium, sodium, and zinc. (1)
Colorful watermelon is anti-inflammatory and is a great antioxidant.
Lycopene, a carotenoid, which becomes more abundantly available as watermelon get more ripe, is an inhibitor of many inflammatory processes.  One of the things lycopene does is inhibit the production of pro-inflammatory messaging molecules.
Lycopene also neutralizes free radicals. Lycopene content of watermelon remains very stable over time. Researches found that even when cut and refrigerated, up to seven days, lycopene levels remained stable. Even when freeze-dried, watermelon still exhibits high levels of antioxidant activity. (2) This is good news, since if watermelon can resist oxidation that long, it can help our bodies fight off free radical effectively as well.
While watermelon flesh is not only delicious and nutritious, we would be amiss to miss out on the benefits offered in watermelon seeds and grind.
Watermelon Seeds Benefits
Seeds are a source of iron and zinc, fiber and protein.
Watermelon Rind Benefits
Agricultural Research Service (of USDA) study has found that the watermelon rinds
contain citrulline, an amino acid that plays an important role in the human body's urea cycle, which removes nitrogen from the blood and helps convert it to urine. That's where citrulline helps create arginine, another amino acid–one in which some people are deficient.
USDA states that a medical research
has examined whether the citrulline-arginine relationship can be exploited to create treatments for vascular tone problems associated with sickle-cell anemia.

Arginine boosts nitric oxide, which relaxes blood vessels and thus may help treat angina and other cardiovascular problems.

Arginine has also been credited with boosting muscle growth, improving wound healing, combating fatigue, stimulating the immune system, curing impotence and fighting cancer. (3)
Ways to Enjoy Watermelon
It's really easy to think of how we can enjoy the mouth-watering red flesh of watermelon: eating it by itself, enjoying blended as a frozen drink, in smoothies or other specialty drinks. However history shows that humans are very creative in preserving watermelon and its parts too–pickling not only the flesh of watermelon, but also the grind and the seeds.  The grind has been pickled and candied, and, and the recent past and present time, juiced.
I personally prefer to blend it into a delicious smoothie! Sprout and I whipped up a Watermelon Grind smoothie today and enjoyed it for dinner.  It was so good that we wanted to share it with you. The smoothie is loaded with nutritious goodness.  Watermelon alone will give you more than you will find in a bottle of supplements, add to this chorus the mix of remaining ingredients and you have yourself a full meal.
Watermelon Rind Smoothie Recipe
yields ~70 oz.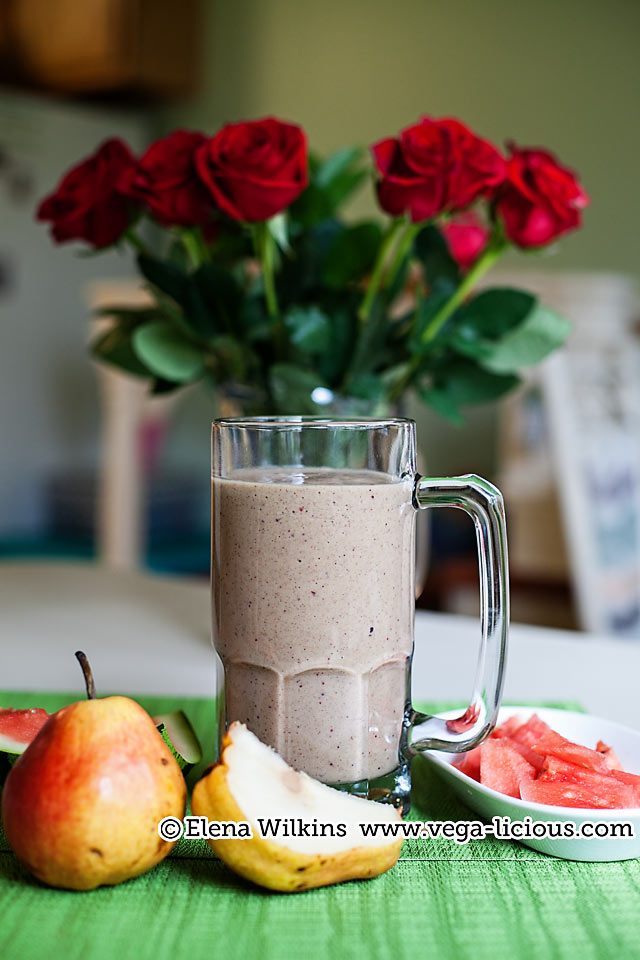 Ingredients
3 cups filtered water
3-4 cups organic* watermelon rind
2 tbsp chia seeds (optional)
1 ripe red bartlett pear
4-5 pitted medjool dates
2-2.5 cups frozen mango cubes
1/3 cup pumpkin seeds (optional)
1 tbsp black maca powder (I use The Maca Team's maca)
1/2 tsp fresh cinnamon powder
1 scoop of Ancient Wisdom superfood (optional)
1 cup frozen cherries or strawberries
Preparation
Place ingredients 1-9 into a high speed blender, such as Vitamix 5200, and blend until smooth.
Add frozen cherries (strawberries); blend for additional 20+ seconds, until well integrated.
Refrigerate leftover smoothie in a glass container for up to 2 days.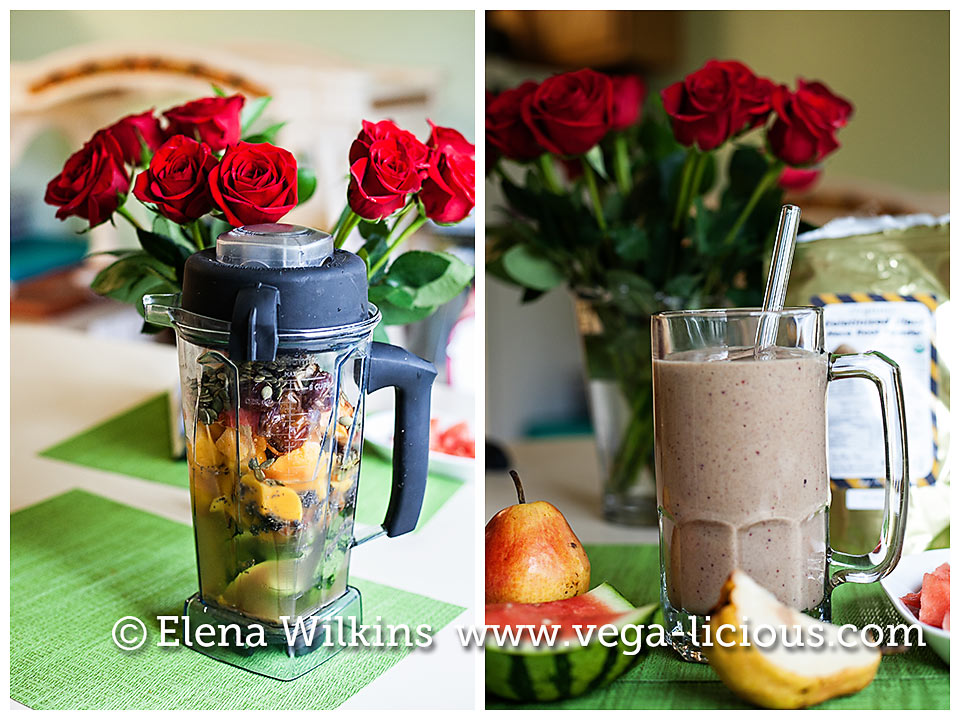 *if you are going to enjoy watermelon rind for the health benefits it has to offer, make sure it is organic, so you do not load up on pesticides and other chemicals instead. 
Share!
Make this recipe, take a picture, then come back, post it under this article and let me know what you thought of it.
Don't forget to share this post with others–let's make this world a healthier place one delicious watermelon smoothie at a time!
References
(1) http://www.whfoods.com/genpage.php?tname=nutrientprofile&dbid=4
(2) Norshahida Mohamad Shofian, Azizah Abdul Hamid, Azizah Osman, Nazamid Saari, Farooq Anwar, Mohd Sabri Pak Dek, and Muhammad Redzuan Hairuddin. Effect of Freeze-Drying on the Antioxidant Compounds and Antioxidant Activity of Selected Tropical Fruits. Int J Mol Sci. 2011; 12(7): 4678–4692.
(3) http://www.ars.usda.gov/is/pr/2003/030221.htm