Top of the morning, loves! I hope you are having a great week. I kicked off mine by getting ready for the gardening season–planted more seeds, worked in the garden, preparing the soil, and planned a new layout for Mom's garden, while also prepping for a serious DIY project.  I will be refinishing an entire dining room set–a table and six chairs.  Wish me luck on this endeavor, since it's been about 20 years since I tackled a similar project. Sprout and I already went shopping to get all the supplies we need for sanding the chairs and the table, now I just have to find time to do the deed.  With running a business, chasing a kid, gardening and house hunting, finding time for it should be no problem…right?!
While I am excited that the weather is permitting many of my outside activities, it is still a bit chilly in the great state of Washington.  The last few days have been so cold that all I've been wanting was a bowl of delicious, hot soup and curling up on a couch.  While the latter is not an option, I have no problem meeting my taste buds' desires.  WE LOVE SOUPS!
Today I want to share one of Hubby's favorites with you.  It has never been published on Vegalicious before, as it a part of the Soup-o-licious eBook.  However, since today is absolutely the last day you can buy the eBook, filled with 27 mouthwatering soups, I decided to share this delicious vegan broccoli cheese soup recipe with you, because I know that you will love it.
While it is not fat-free, it is amazing as an occasional treat, especially for those times when you miss the warmth and the creaminess of broccoli cheese soups of your bygone omnivorous days.
Make it, enjoy it, share it with others, and do share the recipe around the web–let's make this world a healthier and a kinder place one spoon licking bowl of soup at a time.
Delicious Vegan Broccoli Cheese Soup Recipe
yields 6-8 servings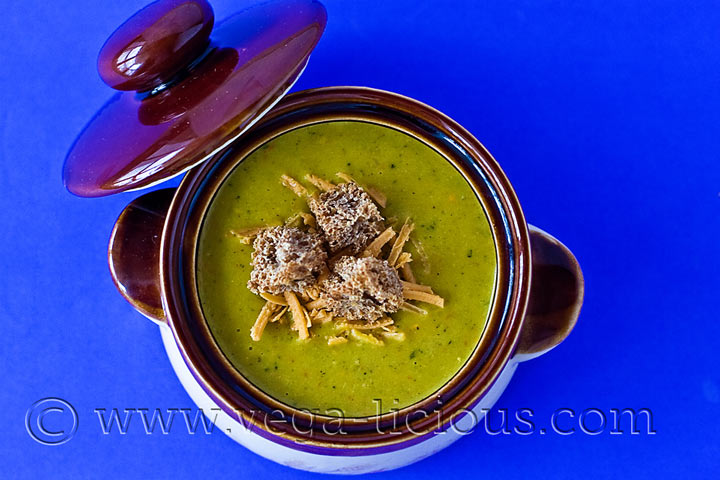 Vegan Broccoli Cheese Soup Recipe
Prep time:
Cook time:
Total time:
Who said that vegans can't have fun? This Broccoli Cheese soup is a healthier version of its counterpart and will leave you wanting for more.
Ingredients
1 medium-large size white onion
2-3 large cloves of garlic
½ cup water to saute veggies
3 medium potatoes
1 tbsp all-purpose organic seasoning (I use Kirkland Organic sold at Costco)
1-1.5 lbs broccoli (fresh or frozen)
2 medium size carrots
4 cups almond milk
sea or Himalayan salt to taste or ¾ tbsp
14-16 oz Daiya vegan Cheddar Cheese
1 tbsp Dijon mustard
1 tsp honey or maple syrup (optional)
1 tbsp ground turmeric
¼ tsp ground nutmeg (optional)
Instructions
Peel and chop onion into small cubes
Peel and dice garlic
Preheat a medium size pot on high heat and throw in onion and garlic, reduce heat to medium andsaute with water for 2-3 minutes, by adding little splashes at a time, as needed
Peel and chop potatoes into small cubes; add to the pot, adding remaining water
Add seasoning, and stir occasionally
Peel and slice carrots into thin slices (I used a Mandoline slicer)
Chop broccoli into 2 inch pieces; if you are going to use the stem, peel the hard outer skin off first
Add carrots and broccoli to the pot and stir, adding salt
Add almond milk, turn stove to high and bring to boil
Reduce heat to medium or medium low/low, depending on your cookware, and simmer for 15-20 minutes, or until potatoes are done
Add remaining ingredients, except for cheese, stir in and transfer mixture into a blender or a food processor
Give the mixture a whirl–you can either puree it or leave soup a bit chunky by giving it just a few whirls in a blender (I use VitaMix 5200 for this task alternating speed a few times)
Transfer soup back into the pot, turning heat to medium or medium low
Add cheese, cover and let the pot sit so the cheese melts; occasionally stirring
Garnish with cheese and vegan whole grain croutons (I make my own, by slicing homemade, whole wheat bread and toasting in the oven at 400 F until golden and crisp)
More Vegan Soup Recipes
If you would like more delicious plant based soup recipes to lick your spoons over, make sure to get the Soup-0-licious eBook–it's filled with 27 mouthwatering vegan soups to drool over.