Cabbage is good for you!
I have eaten cabbage my whole life (I don't know if it's the Russian in me, or because our family really likes cabbage).
Did I already tell you that I like cabbage?  I like it in soups, I like it fermented (think sauerkraut), I like cabbage rolls, and I like it in salads. I could probably come up with 101 ways to enjoy cabbage.
So, today I am going to share one of my absolute favorite cabbage salad recipes. It's so easy to make, you will slap yourself silly for not thinking of this recipe yourself.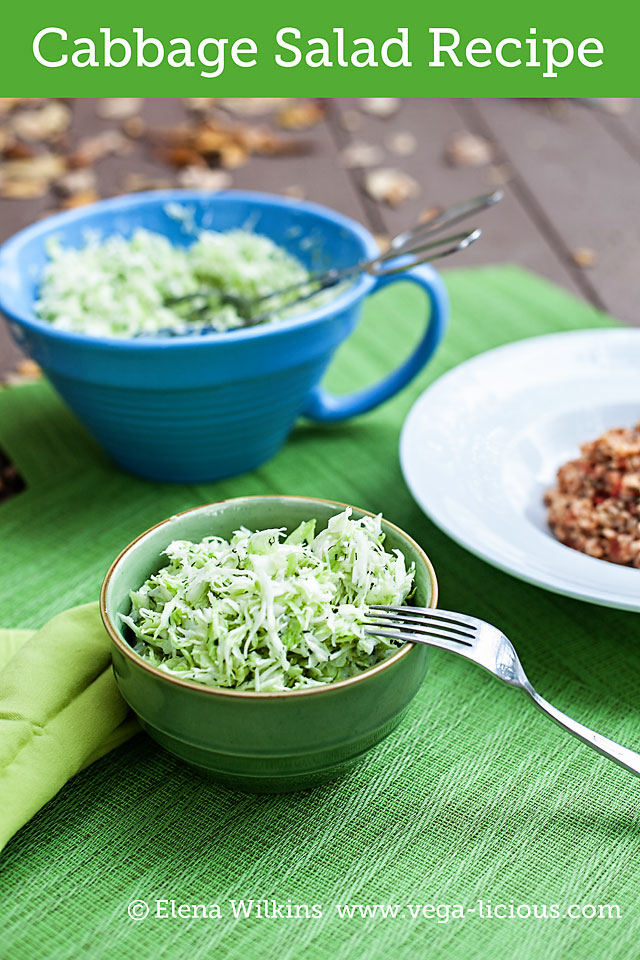 So, why is cabbage so great for us?  It's high in vitamin A carotenoids, vitamin C, vitamin K, folic acid, manganese, B-complex vitamins, omega-3 fatty acids,  fiber and other good stuff. (yes, I just said "stuff")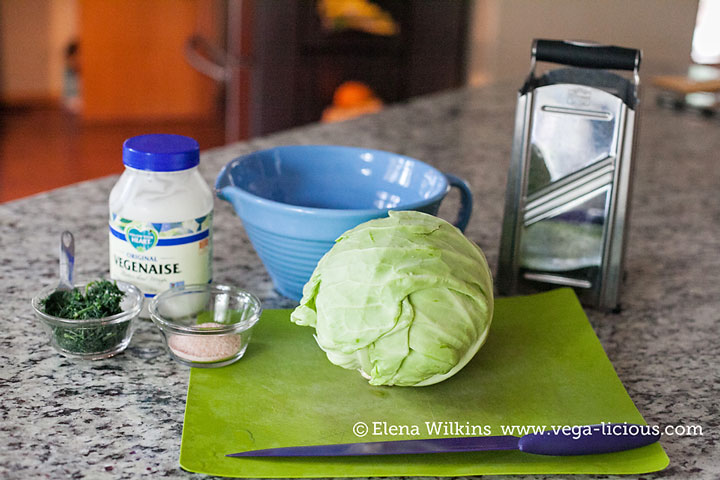 Only 100 calories of cruciferous vegetables (cabbage is of the cruciferous family) provides a whopping 25-40% of our daily fiber requirement!
When it comes to protein, you get over 25% of the DV in just 3 cups, with a low calorie content. (For example, 200 calories of steamed broccoli will yield 20 grams of protein!)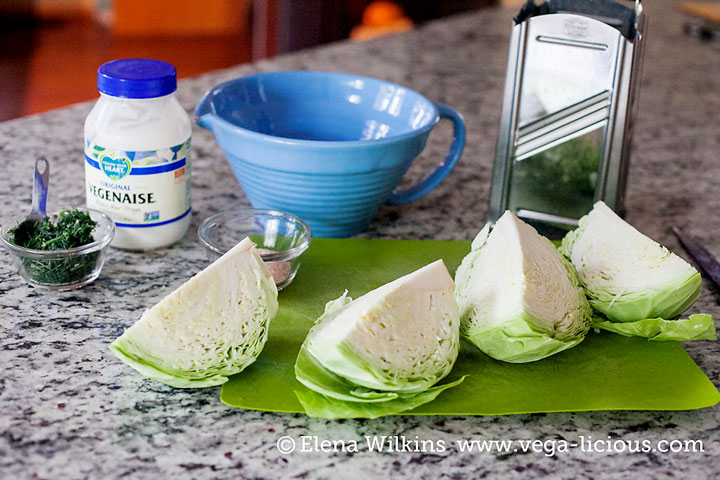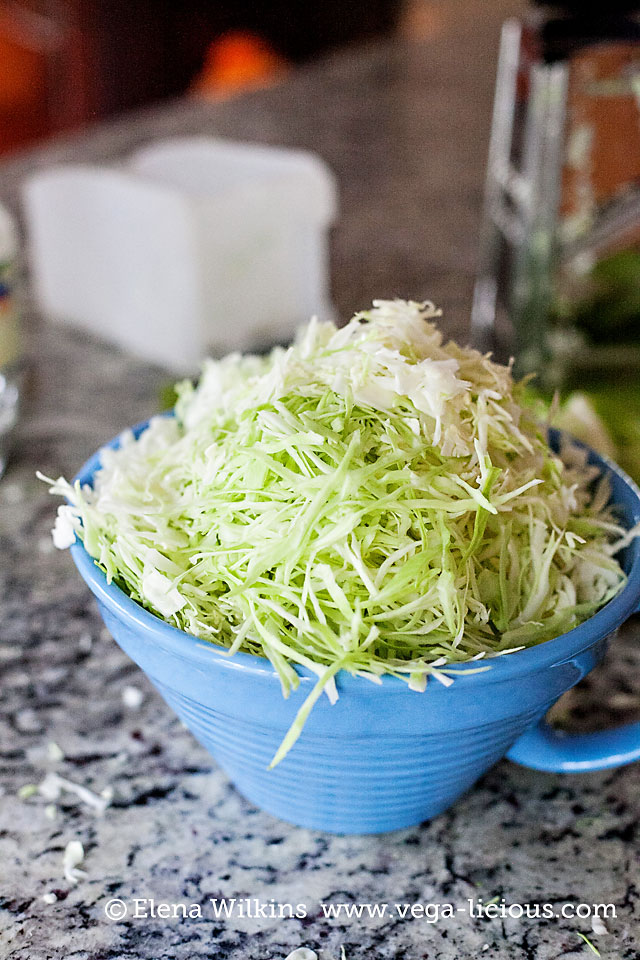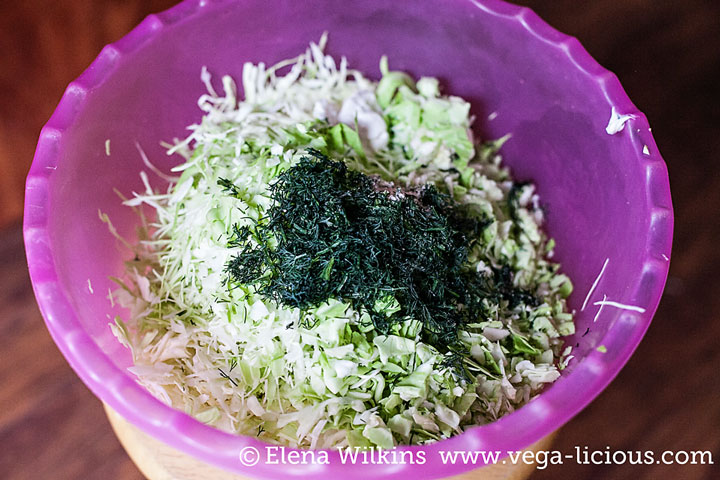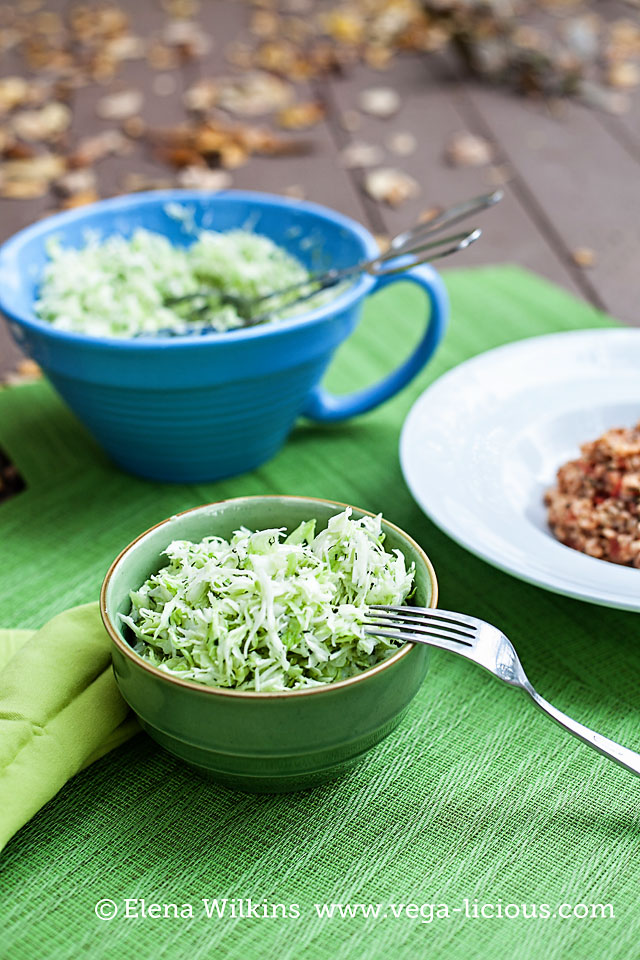 So, I say, have your cabbage and eat it too! Here is the recipe that will make you fall in love with cabbage eating.
Note that I do use a "forbidden" ingredient in the recipe — Veganaise, which has higher fat content than desired — but no matter how many different versions of this I tried, the only way to get this specific taste profile that will make your taste buds do the River Dance is to leave it in. Ah, sorry, all of the health purists out there — my heart aches for you as it aches for me, but this one time I am willing to compromise.

Vegalicious Cabbage Salad Recipe
Disease fighting, taste buds pleasing, nutrient packed salad that takes only moments to make.
Ingredients
2 lbs. green cabbage (1 head)
½ cup green dill, chopped
3 tbsp Veganaise (vegan) mayo
¾ tbsp sea or Himalayan salt (or to taste)
Optional
1-2 cups fresh of frozen green peas
Instructions
cut the head of cabbage into 4, so it is easier to hold it while shredding
use amandolin slicer to cut cabbage into thin strips
place into a large mixing bowl; add salt and mayo and massage with your hands for about a minute to allow juices to begin coming out--cabbage should shrink in size by at about half when you are done, and it should look and feel moist (juicy)
add dill and toss to incorporate it
if adding peas, add them in and toss (if frozen, allow to defrost before enjoying the salad)
refrigerate leftovers
with leftovers, toss before eating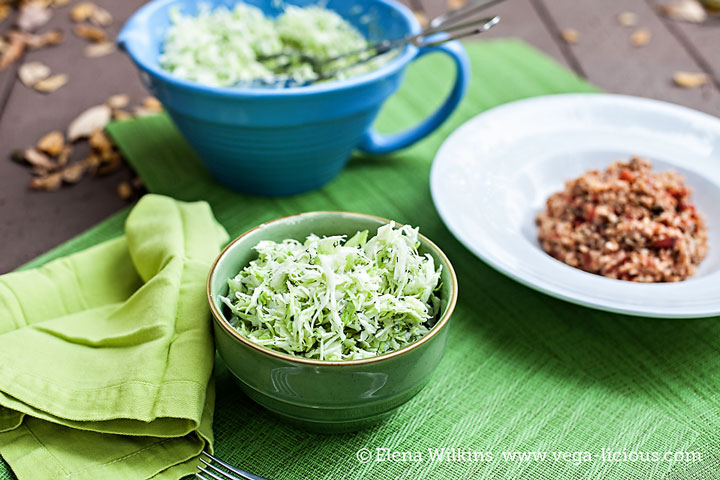 Make it! Love it! Share it!