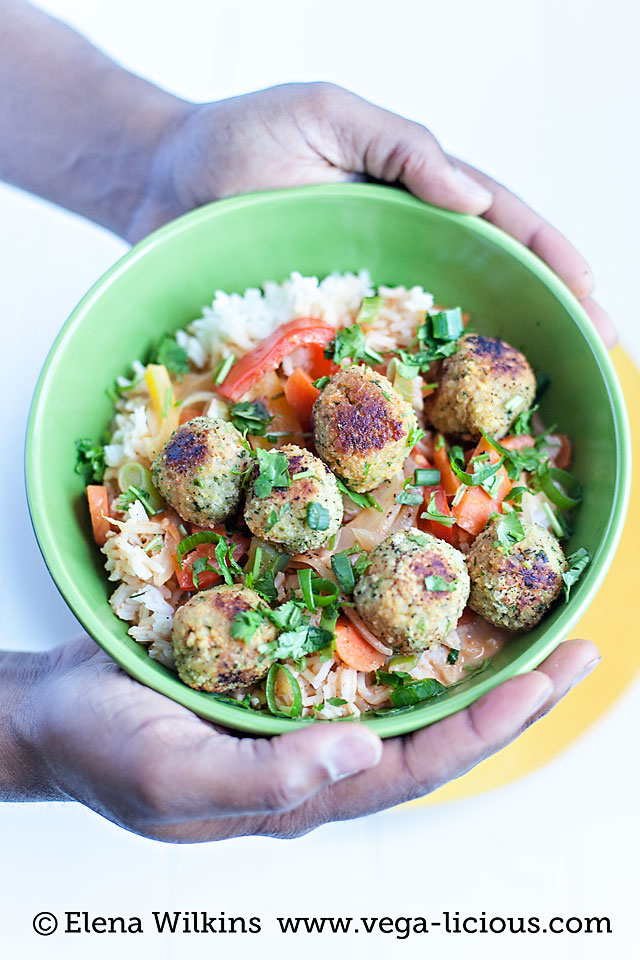 Inspiration.  Sometimes that's the only thing that stands between me and a great new recipe.
Inspiration.  That's something I really needed after four weeks of fighting the flu.
Inspiration is what I found when I saw the Vegetarian Meatball recipe by Pinch of Yum's Lindsay.
One look at her vegetarian meatballs and my salivary glands were working overtime.  Meatballs is something my husband loved dearly before our vegan days.  Texture is something I loved then and now.  Texture is something that good meatballs should offer.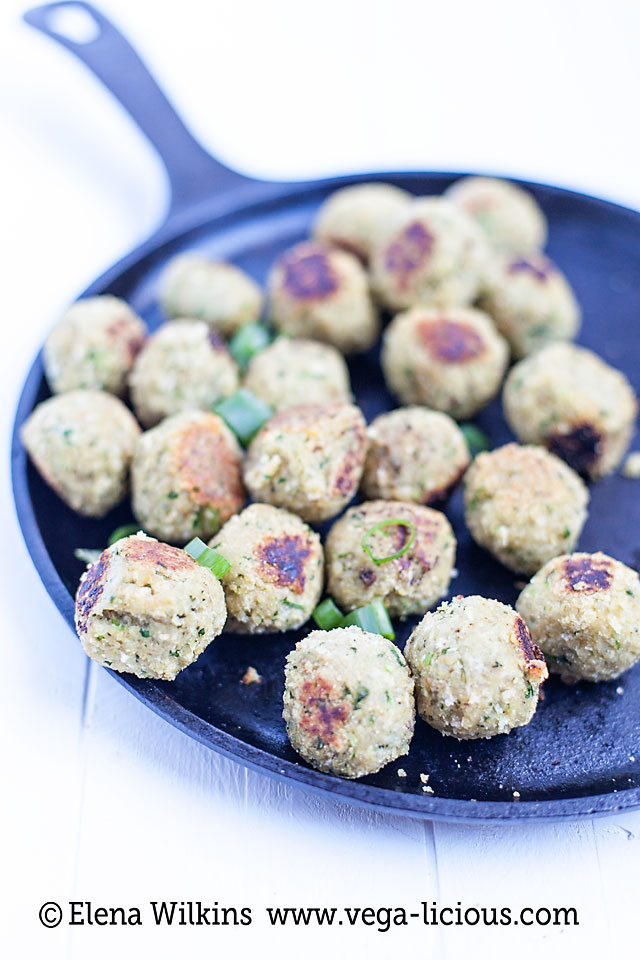 Inspiration awakened my inner cooking genius, which, when released, shouted: "Come to me, baby!" and took me on a shopping trip to the nearest grocery store.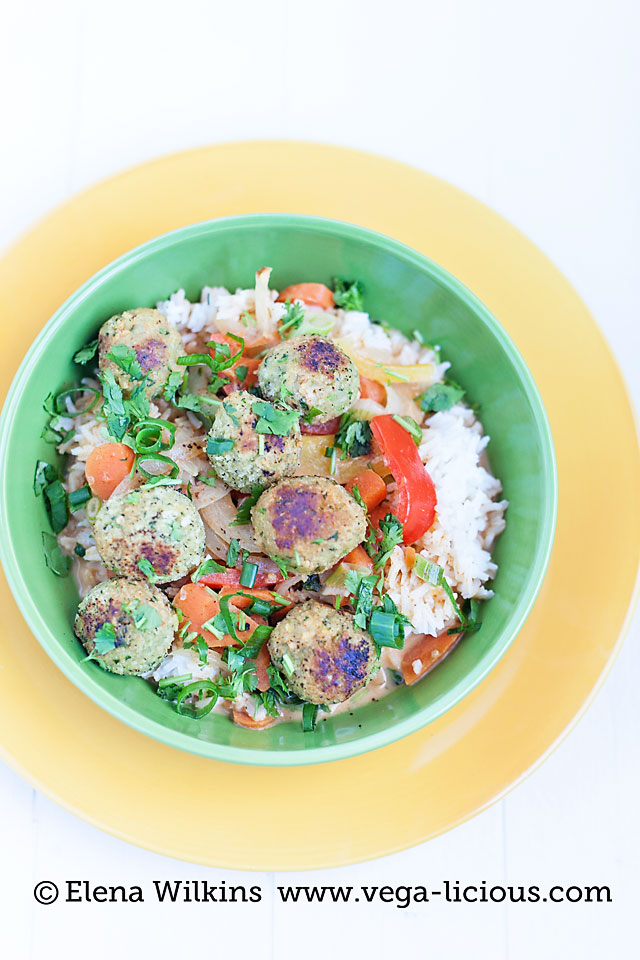 What followed was "off the chains!" results, according to Hubby, who had seconds, and was ready for his third helping when his body protested.
Easy Vegan Meatless Meatballs Recipe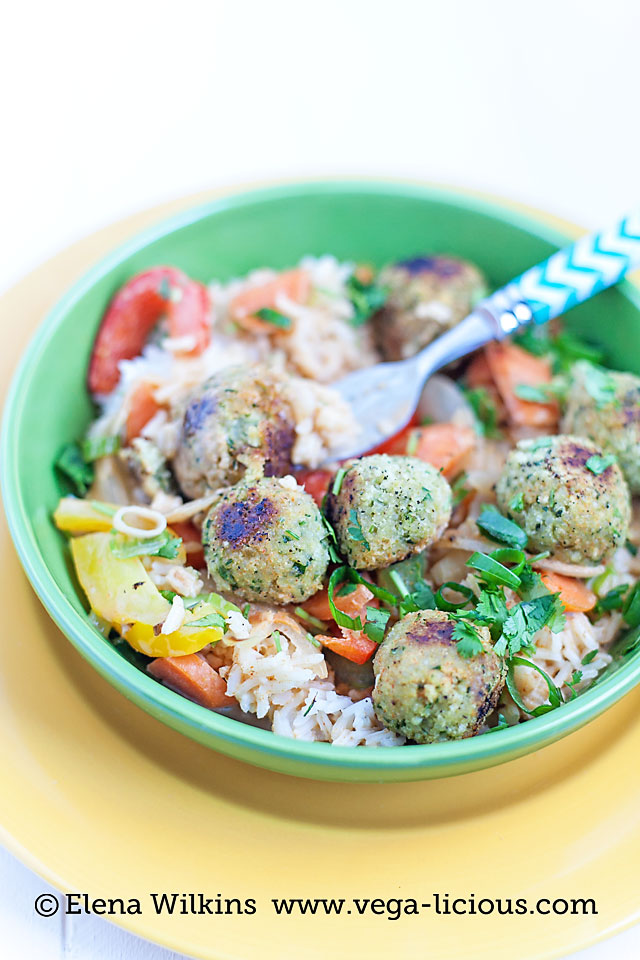 My vegan meatballs turned out perfect! Easy to make, I created with ingredients you can actually pronounce and find in your grocery store.  And they are low fat!
They are also versatile.  Yesterday I served them over coconut vegetable curry (recipe is coming).  Today I am going to have them for lunch with coconut vegetable curry, and for dinner over a green salad, drizzled with onion cashew dressing and balsamic reduction.   There are probably at least another ten ways to enjoy them.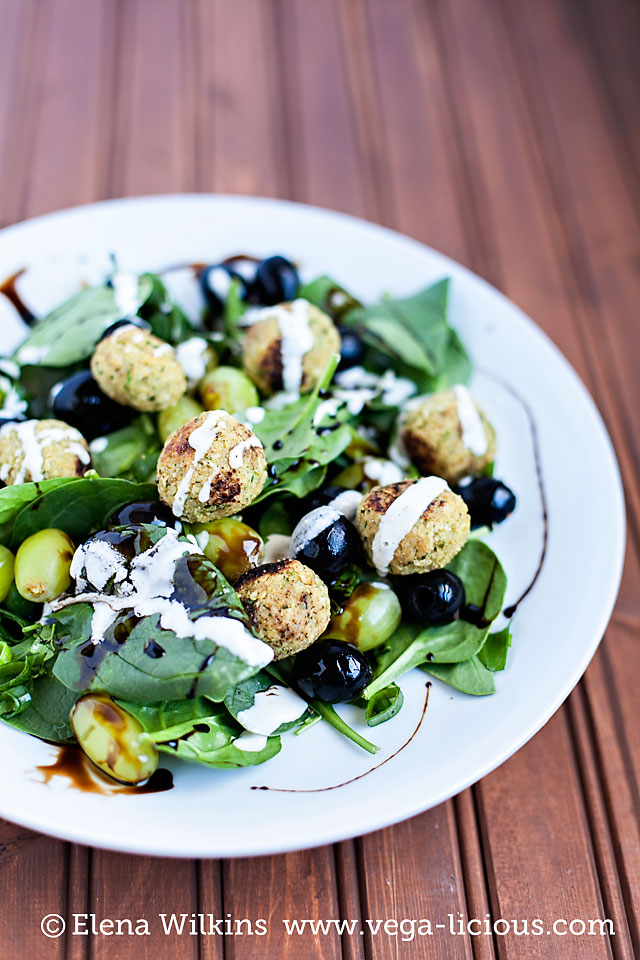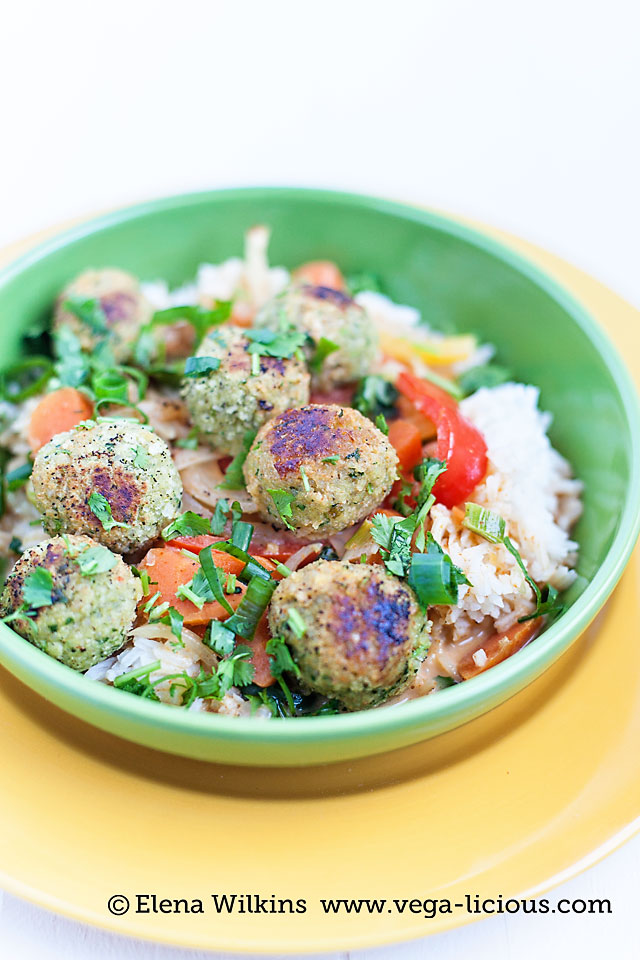 The recipe yields about 50 good size vegan meatballs, which should store well refrigerated for a few days, so, stock 'em up–you won't regret it.
Easy Vegan Meatballs
Prep time:
Cook time:
Total time:
Ingredients
1 medium-large yellow onion
2 cloves garlic
⅓ cup water
5 oz. white crimini mushrooms
1 tsp favorite all purpose seasoning
2 cups cooked garbanzo beans
3 cups cooked quinoa
1 cup parsley
1 cup cilantro
1 cup breadcrumbs
salt to taste
2-4 tbsp olive oil (optional)
Instructions
peel and chop onion and garlic and water saute in a skillet on medium high heat for 5 mins or until golden brown
chop mushrooms, add to the skillet along with all-purpose seasoning and saute for another 5 mins, stirring
place garbanzo beans, sauteed vegetables and quinoa into a food processor and pulse until meatball-like consistency is achieved (see image in the post)
cut cilantro and parsley into 1-2 inch long pieces
add cilantro and parsley into the food processor and pulse until herbs are chopped into tiny bits, but not disintegrated
add breadcrumbs and pulse to integrate, or transfer mixture into a bowl and stir in breadcrumbs by hand
roll mixture into balls (I used a tablespoon to measure out my meatballs "batter" and ended up with ~50 perfect size meatballs)
heat a large skillet on medium-high, add 1-2 tbsp oil and quickly add ⅓-1/2 of meatballs
fry on each side until they turn golden brown*
turn over gently, and repeat on the opposite side
Notes
You can avoid using oil altogether by using a non-stick skillet, or baking meatballs, laid out over parchment paper, at 400-450 F until golden brown.
Make 'em, share 'em, and let me know how you like them.