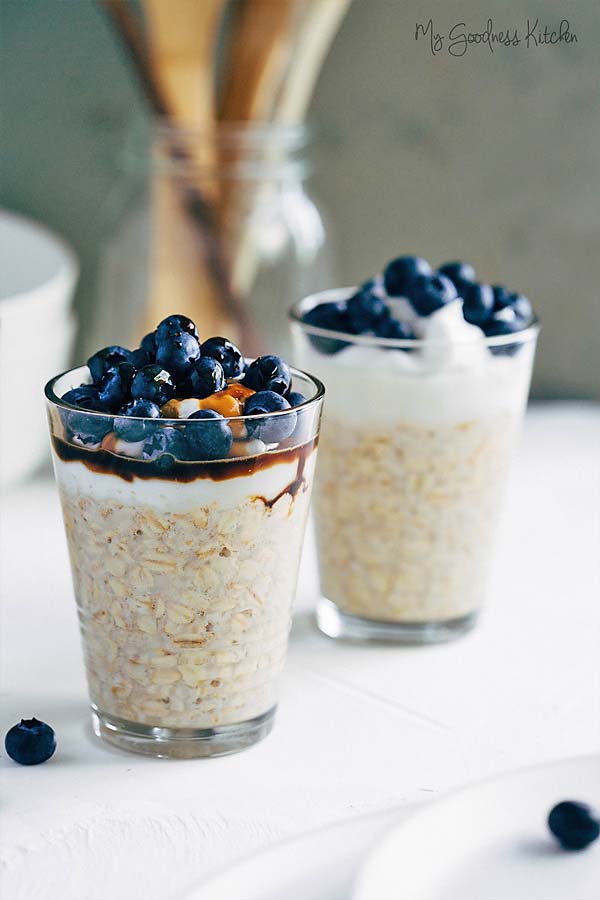 Blueberries and coffee go together like Fred and Ginger. There is something about the rich depth of coffee and the acidic sweet pop of blueberries that just works. Combine with creamy vanilla oats and these Overnight Oats with Coffee and Blueberries hit the breakfast sweet spot.
Our house is barely managed chaos in the morning with an early rising two-year old and a rambunctious Great Dane puppy in full throttle.  Both rise with a singular thought, get down to the garden to play in the sandpit that serves as a pirate's ship, a bus or a chef's kitchen depending on the day.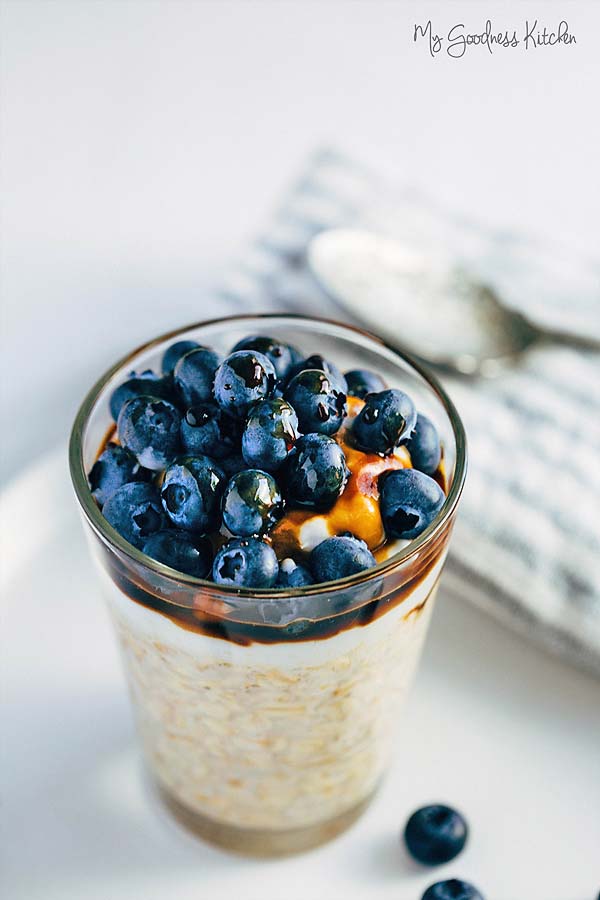 Overnight oats are the easiest way I've found to ensure my little one eats before setting sail on her next adventure. I usually make overnight oats in jars making them a very handy mobile breakfast. My husband leaves for work before the sun rises so this works perfectly.
With an easy ratio of 1:1, 1 part oats to 1 part liquid, overnight oats could not be simpler.
Vanilla oats with fresh blueberries, or any berries, works great for kids and busy mornings, but on those days when you have an extra five minutes the coffee syrup makes a simple breakfast, special–a grownup treat!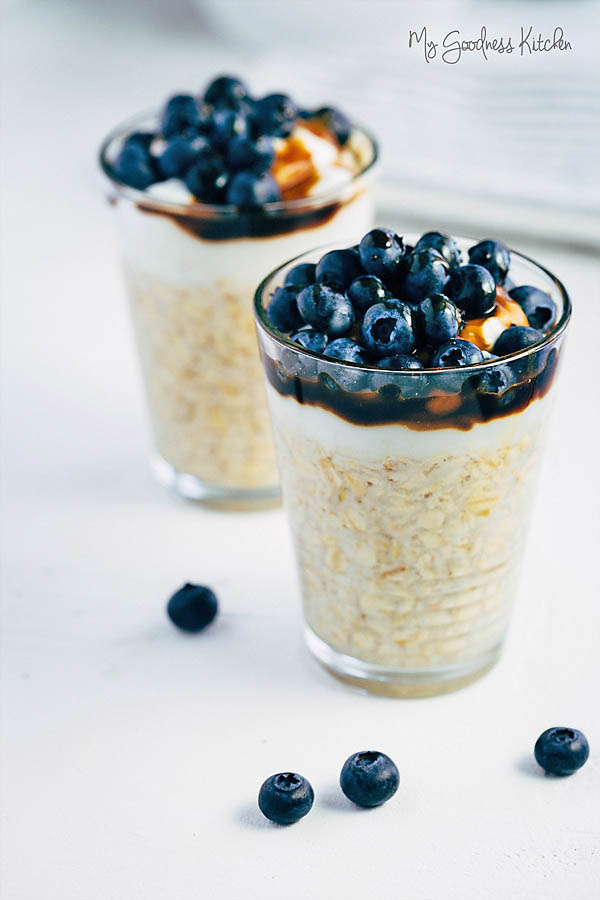 This Overnight Oats with Coffee and Blueberries recipe takes simple oats and gives them a sexy hairdo.
Perfect for lazy Sundays reading the paper or brunch with friends, the balance of flavors belies how simple the recipe is.
Each mouthful holds layers of yum; first a bold wave of sweet coffee followed by the acidic burst of blueberries and creamy coconut yogurt all brought together by simple vanilla oats.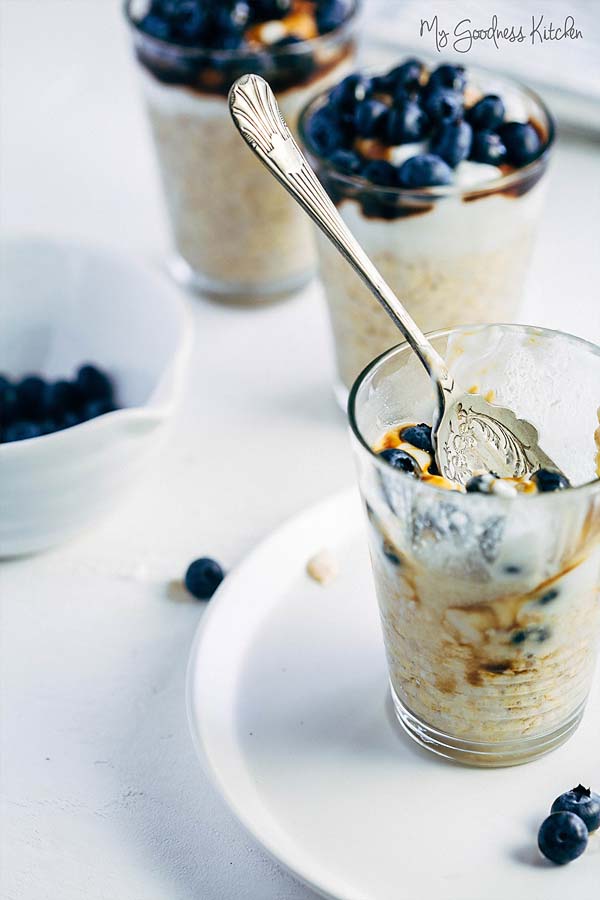 Enjoy it and let me know how you liked it.

Overnight Oats with Coffee And Blueberries
Prep time:
Cook time:
Total time:
This Overnight Oats with Coffee and Blueberries recipe takes simple oats and gives them a sexy hairdo.
Ingredients
Overnight Oats
1 ½ cups (375ml) rolled oats
1 ½ (375 ml) cups almond milk
1 tablespoon maple syrup (15 ml)
1 teaspoon vanilla extract (2ml)
Coffee Syrup
½ cup (125ml) freshly brewed espresso coffee
1 tablespoon (15ml) maple syrup
1 tablespoon (15ml) coconut sugar
The Rest
½ cup (125 ml) fresh blueberries
1 ½ cups (375ml) coconut yogurt
Instructions
In a medium bowl whisk together the almond milk, vanilla and maple syrup.
Place ½ cup rolled oats in three individual glasses.
Carefully pour ½ cup of the almond milk mixture over the oats.
Cover with cling film and place in the fridge overnight.
Before serving, put the fresh coffee and maple syrup in a small saucepan and bring to a soft boil over medium heat.
Lower the heat to low and simmer for 5 minutes.
Add the coconut sugar and continue simmering until the brew has reduced by half.
Take off the heat and allow to cool. The syrup will thicken while cooling.
To serve, dollop coconut yogurt on each serve of oats. Sprinkle liberally with fresh blueberries and drizzle coffee syrup over the top.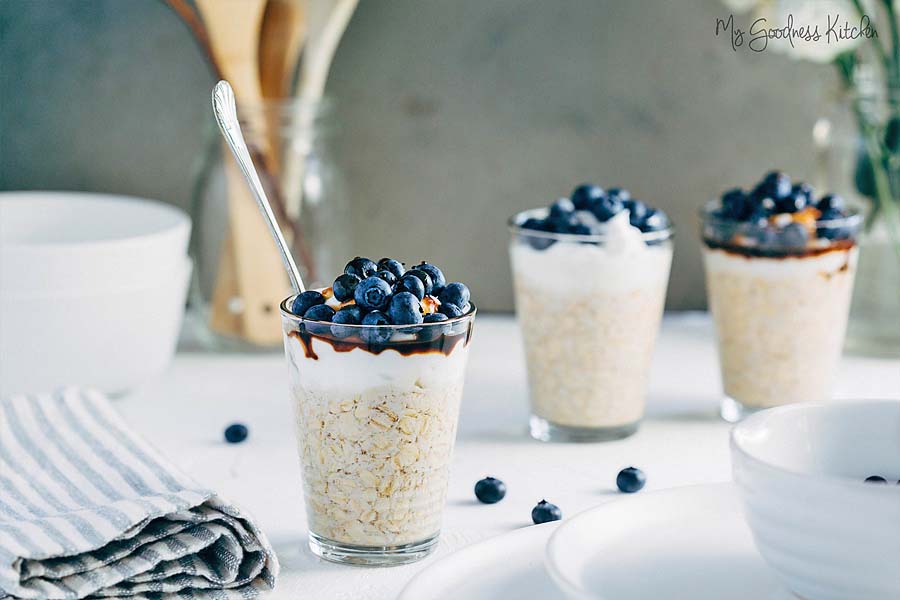 ---
A little about Amanda…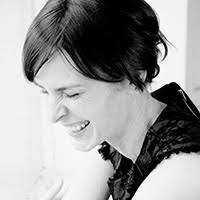 Amanda is a writer, photographer and recipe developer from Australia. Living in the treed Hills of Southern Australia, Amanda is inspired by local produce and creates seasonal plant-based recipes. Living with a family of omnivores, Amanda's blog My Goodness Kitchen is a diary of her attempts to placate a meat eating family with her vegan dishes.