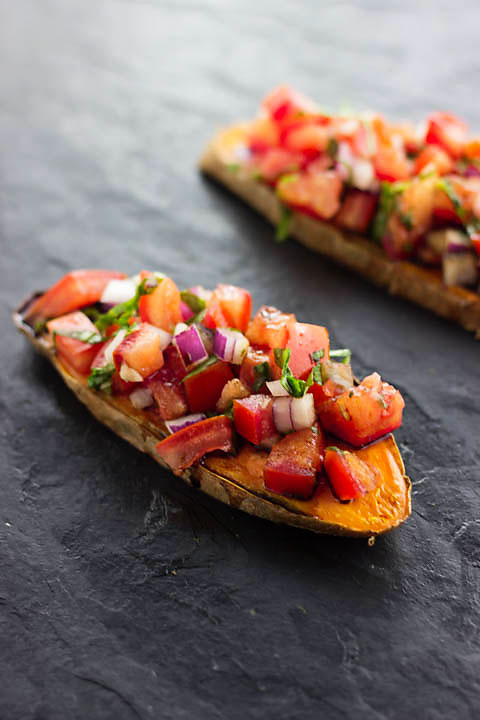 Having cooked thousands of different recipes, by now I find it thrilling to still get surprised by ingenuity and creativity of my fellow cooks and bloggers.
Just when I thought I had seen it all…or almost all, I get blown away by this vegan, and gluten free, sweet potato bruschetta recipe by Kelli White. 
OMG! Who ever thought of that?! That's genius!  I'm making these eye-candy bruschettas for dinner tonight.
Please enjoy this recipe and welcome Kelli to Vegalicious!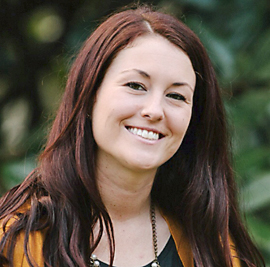 Kelli White is a writer and photographer from Atlanta, Georgia who cooks up simple and healthy dishes on her blog Baked Simple. She is loves cooking for friends and family and she is constantly being inspired by local and seasonal flavors.
---
Italian cuisine is one of my favorite types of food, but with all the gooey cheese and carbs it doesn't always make for a vegan friendly or healthy eating option. This vegan bruschetta recipe combines traditional Italian flavors with a healthy twist. 
Italian cooking to me means family or friends coming together to celebrate. There is just something about the simple and savory flavors that create beautiful and easy to share dishes.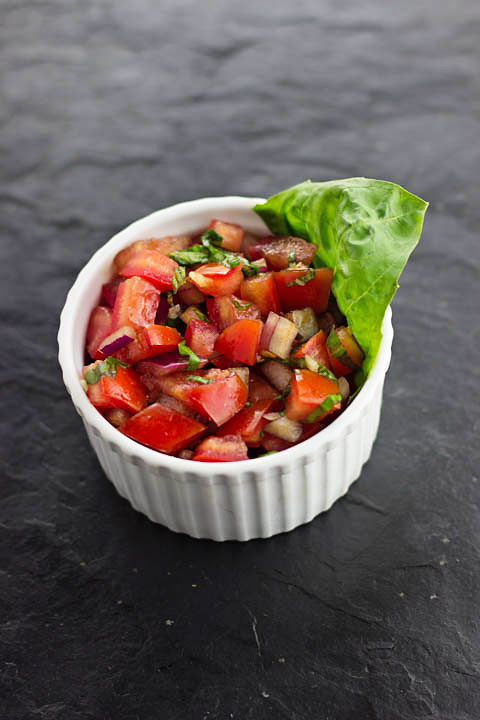 Sweet potato toasts are a new addition to my cooking arsenal and they provide such a wonderful alternative to bread. They are quick and simple to make, plus you can top them with any of your favorite flavors.
I hope you enjoy this quick and tasty treat at your next family gathering or party!
Sweet Potato Toast Vegan Bruschetta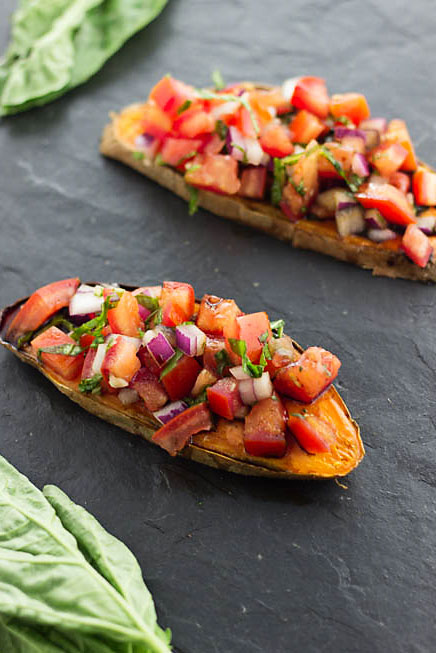 Sweet Potato Toast Vegan Bruschetta
Prep time:
Cook time:
Total time:
A great gluten free, health promoting alternative to the Italian original. These sweet potato bruschettas will melt in your mouth!
Ingredients
1 sweet potato, cooked and sliced into 1 inch slices
1 clove of garlic, minced
1 tbsp olive oil
1 tomato, diced
¼ red onion, diced
3 basil leaves, finely chopped
1 tbsp balsamic vinegar
Instructions
Cook sweet potato until slightly fork tender. (Microwave for 1 minute or bake on 400 F for 15 minutes)
Slice sweet potato and place slices into toaster on high to finish cooking through
While your potato is cooking, combine olive oil and garlic in small sauce pan on medium heat until garlic is slightly browned
Remove garlic from pan and place in bowl
Add tomatoes, onion basil and vinegar to bowl. Toss to combine.
Brush sweet potato toasts with olive oil and top with bruschetta mix
Serve and enjoy!