A couple of weeks ago I learned that Bob's Red Mill came out with a new gluten free flour mix. While I personally do not have to avoid gluten, I have plenty of clients and readers who do; so, it was time to experiment…and experiment I did.
The flour comes with a claim of 1-to-1 substitution power, so, I tried it in every way possible–desserts, cauli poppers, and even bread. While I am very pleased with overall results of the new flour, I have found that it cannot truly be substituted one-to-one in most cases, and some adjustments are needed.  However, when it comes to the quality of baked goods delivered, this gluten free flour surpasses anything I had tried so far.  I am very pleased to recommend this flour to you.
If you have to eat gluten free, I know you want all of the delicious gluten free treats I just mentioned.  While I need to keep playing around and reconfigure my bread recipe (the first trial was a semi-disaster), I am happy to share an updated, to live for, vegan, sugar and oil free, gluten free brownies recipe.
Vegan Gluten Free Brownies Recipe
yields ~20 brownies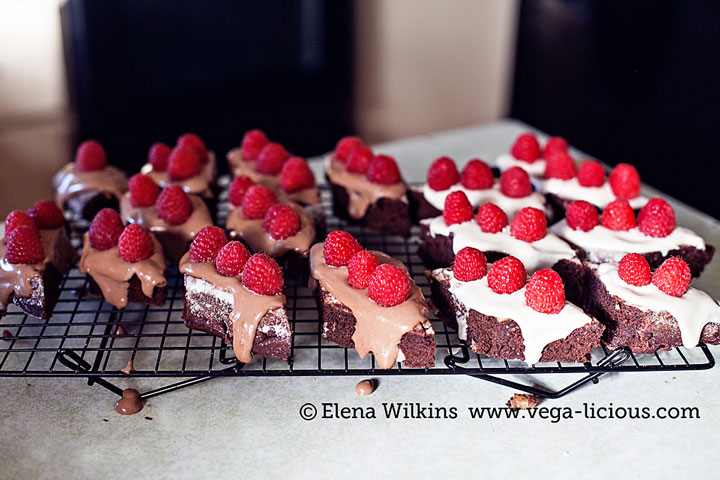 Ingredients
1/16-1/8 tsp sea or Himalayan salt
1.5 tsp baking soda
1 tbsp lemon juice
1 cup unsweetened dark cocoa
2 cups of pitted dates (about 17-18 Medjool dates)
1.5 cup filtered warm water
5 tbsp honey or maple syrup
13-15 oz cooked black beans*
2 tsp vanilla
1 cup chopped hazelnuts
raspberries or strawberries for garnish
Preparation
Preheat oven to 375 F (190 C)
Using a high speed blender blend black beans, honey, pitted dates and water until mixture becomes smooth.
In a large mixing bowl combine gluten free flour, salt, and cocoa.
Create a little indentation in the mixture and add baking soda.
Take lemon juice and pour over baking soda to activate it.
Add vanilla and blended bean and date mixtures and whisk together until all ingredients are well incorporated.
Add chopped hazelnuts and fold into the batter.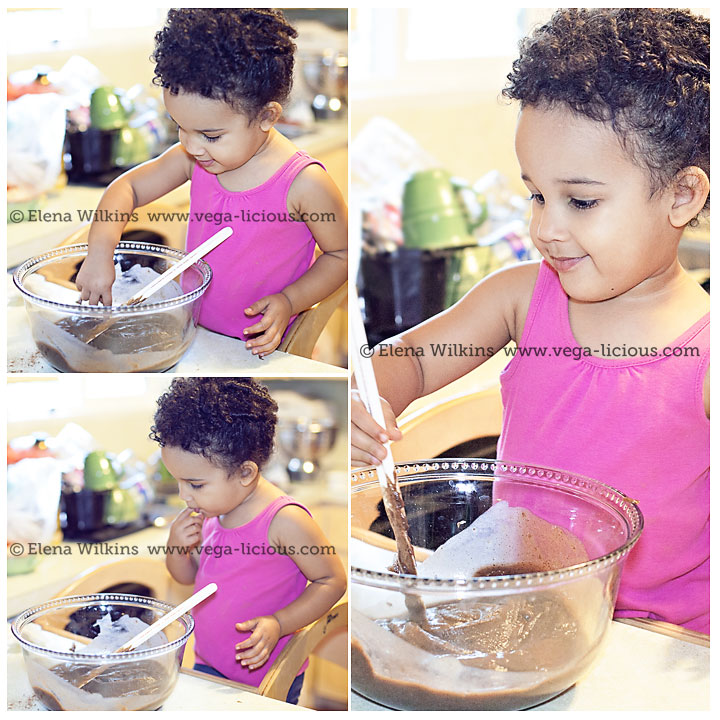 I had a little helper, who loves healthy desserts. She was happy to stir and taste the batter all at the same time.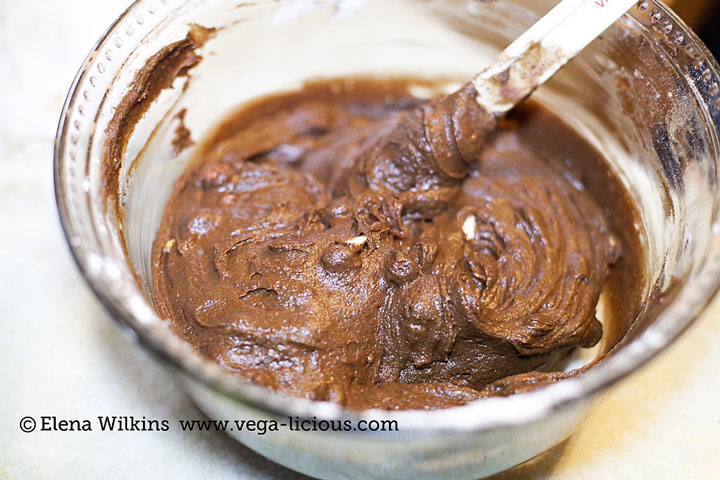 Line a 9×13 (inch) baking dish with parchment paper and pour brownie mixture into it, spreading evenly.
Place in the oven and bake for 27 minutes.
After 27 minutes take out and insert a toothpick in the middle and on the edges–if it comes out dry, brownies are done. If the toothpick is not fully dry, bake brownies for additional 2-3 minutes.
Remove from the oven. Let cool for a couple of minutes, then gently (with parchment paper) transfer brownies onto the cooling rack.
In a few minutes gently slide brownie sheet off the parchment paper.
Let brownies cool until barely warm before cutting.
When brownies have cooled, spread Cashew Chocolate Frosting over them, and cut into 2-3 inch diamonds.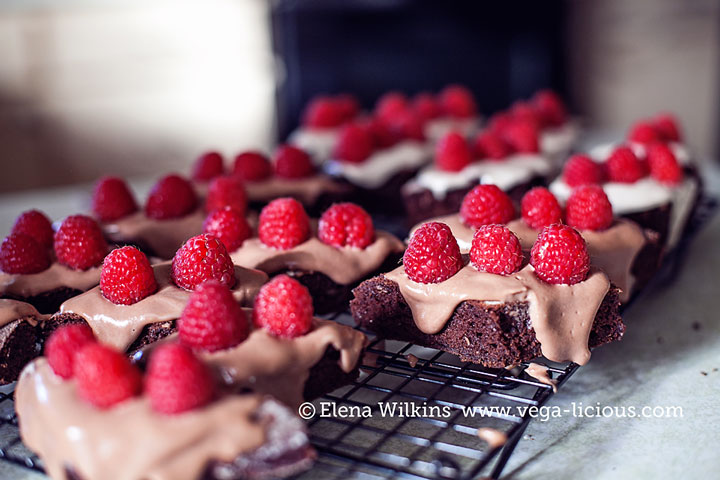 Garnish with berries.
Store leftovers in a covered glass dish.
*I prefer to cook my own beans. You can buy canned beans for this recipe. If you do, make sure to get unsalted option; and also make sure to rinse and strain canned beans before using in this recipe.
Cashew Chocolate Frosting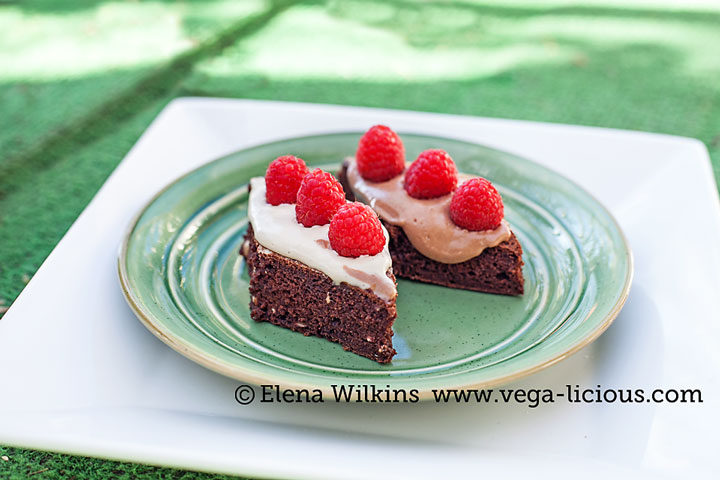 Ingredients
2 cups cashews
1 cup almond milk
2 tsp vanilla extract
1 tbsp lemon juice
4-5 tbsp honey or maple syrup
1/4 cup raw cacao powder
Preparation
Taste it! Share it!
I guarantee you that you will be blown away by the results.  I had taken these gluten free brownies to a recent information session and no one could tell that they were gluten free.  I also fed them to very discerning family members who love brownies, and they licked their plates clean.
Make these, take pictures, let me know how they turn out, and make sure to share this post with everyone you know!