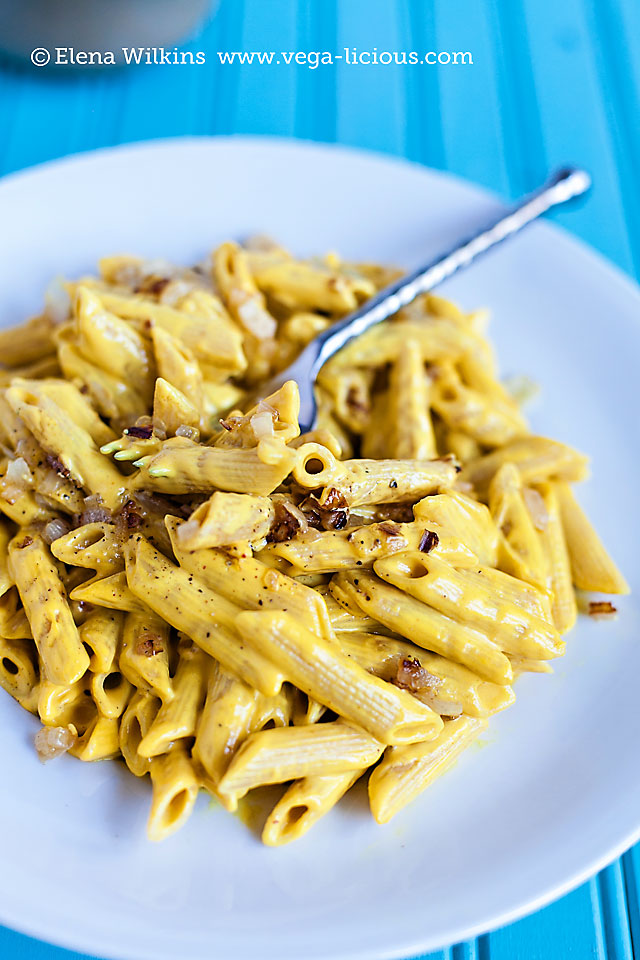 Have you ever had your family happily bang on the table, with forks in their hands, ready to go, chanting: "We want food! We want food!"?
Have you ever had the same family, after you serve them that food, bang on the table again, with saliva dripping the sides of the their pretty mouths, chanting: "We want more! We want more!"?
Did you ever ask your family: "What would you like for dinner?" already knowing what they will ask you to make them?
Well, it happens to me all the time! Especially when it comes to my fam's favorite Mac and Cheese!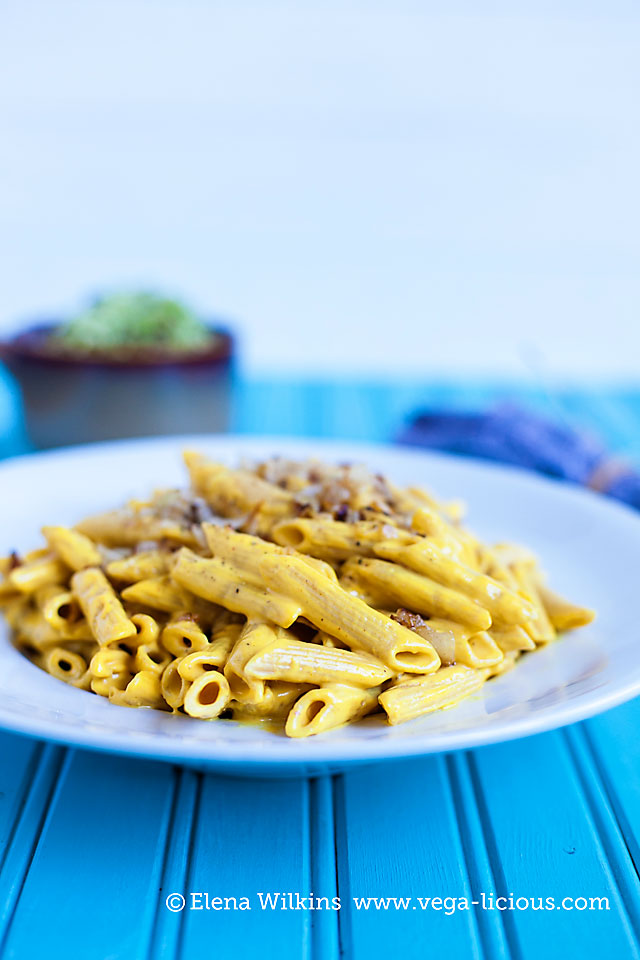 They go Ca-Ray-Zy for my vegan Mac and Cheese.  It's the best vegan mac and cheese recipe in town (tried and tested!).  And it is the easiest one to make too.
My two loves L-O-V-E it so much that I have to beg them to pick something else from my huge cooking repertoire.  They need variety…you know!
Just the other day, when I was shopping for my raw food cleanse, and my basket was brimming with fruits, greens and vegetables, Sprout was yanking me on my arm as we were passing by the vegan cheese section*: "Mommy, I want mac and cheese for dinner, please!"
With those deep, chocolate brown eyes staring at me, like a little lost puppy, it was so hard to say "No."  My heart was breaking.
*(Yes, she already knows the layout of the grocery store. She knows where we usually shop–in the produce section, and she knows where we don't like to shop or even pass by–the meat section. Any time we pass by it, she covers her little knows, furrows her pretty brows, and says, "Mommy, it stinks."  "Indeed." I respond, because it really does stink.  "Mommy, eating dead animals will kills us," she says.  I couldn't agree more!)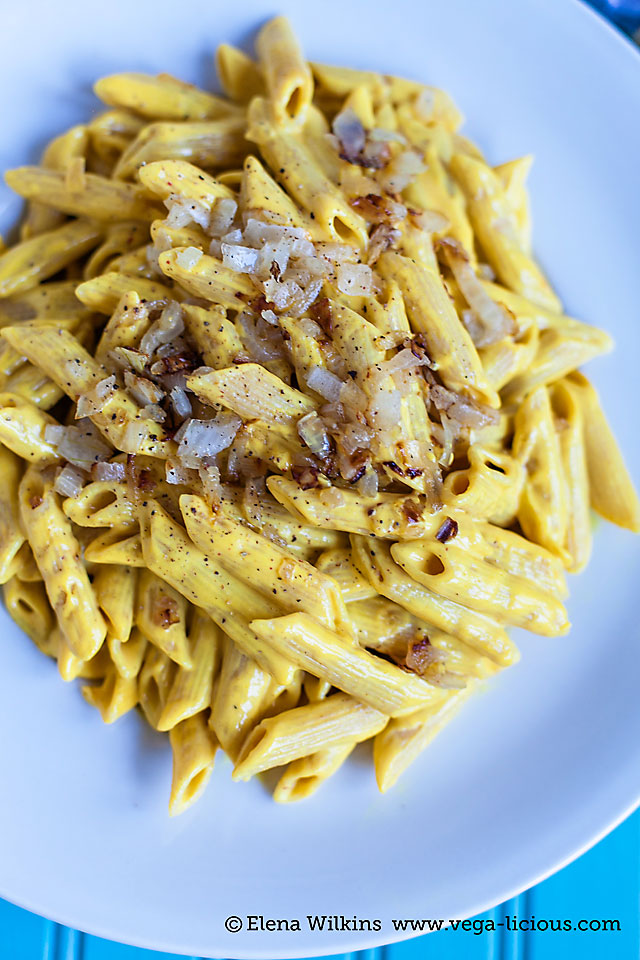 But then I gave in, because she was not doing the cleanse–I was! And I am strong-willed enough to know I would not be tempted to cave in.  Especially because, as you know, I love soups.
So, while I was cleansing, they were indulging.
"MMMMM!  Good, Mommy!  Can I have more?" Sprout begged.
The interesting, and the cutest, thing about my kid is that when she loves something (like mac and cheese, pizza and scrambled tofu) she literally hums as she eats.  Sometimes she gets carried away and gets pretty loud.  That's when I know I don't even have to ask if I did good.  Hubby (and don't you go telling him I said this) does the same, only on a much quieter scale, although he would never admit to it.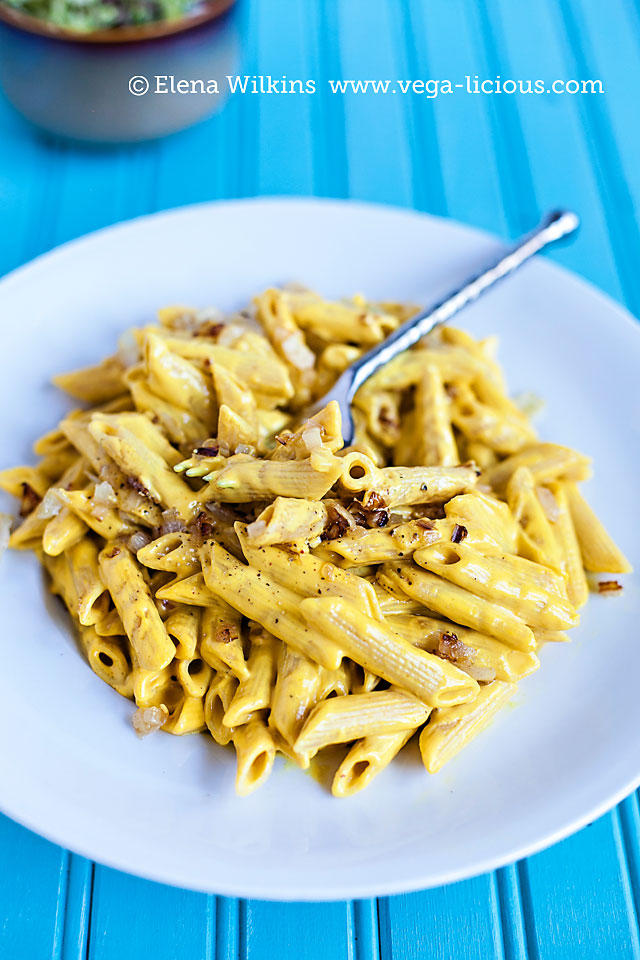 So, while they were humming away, munching up their favorite meal, I stole away a few shots of it to share the recipe with you.  I had to shew them away from the bowl too, as they were chasing me to get their third serving.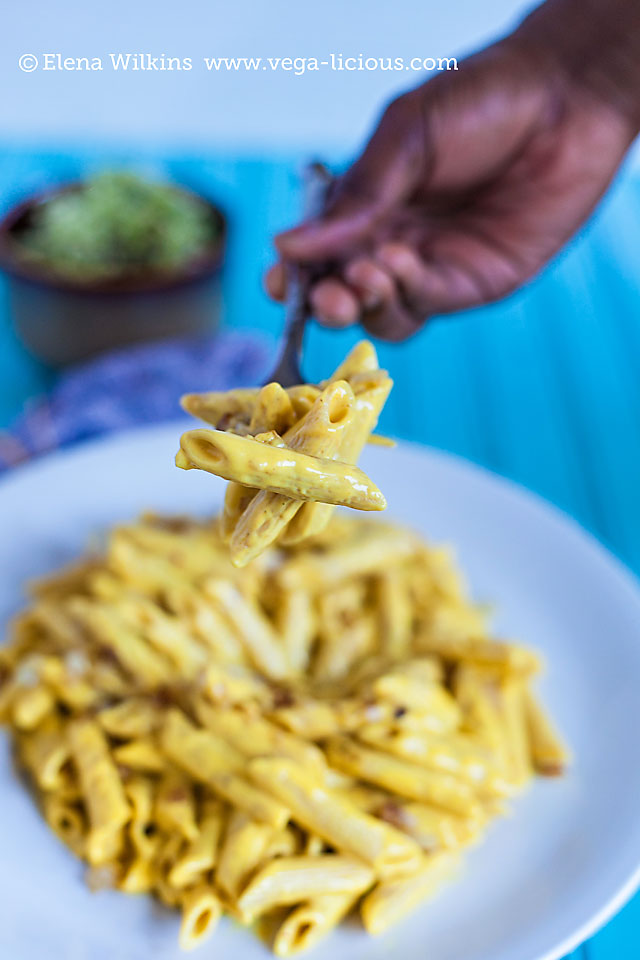 If you are vegan, planning to go vegan, or simply avoiding dairy products and want to be kinder to your health and the planet, you will LOVE this recipe.
You can make it your own too–add red pepper flakes for extra spice, saute mushrooms to top off your experience, or even make it gluten free, by using brown rice or quinoa pasta.  Let your imagination soar.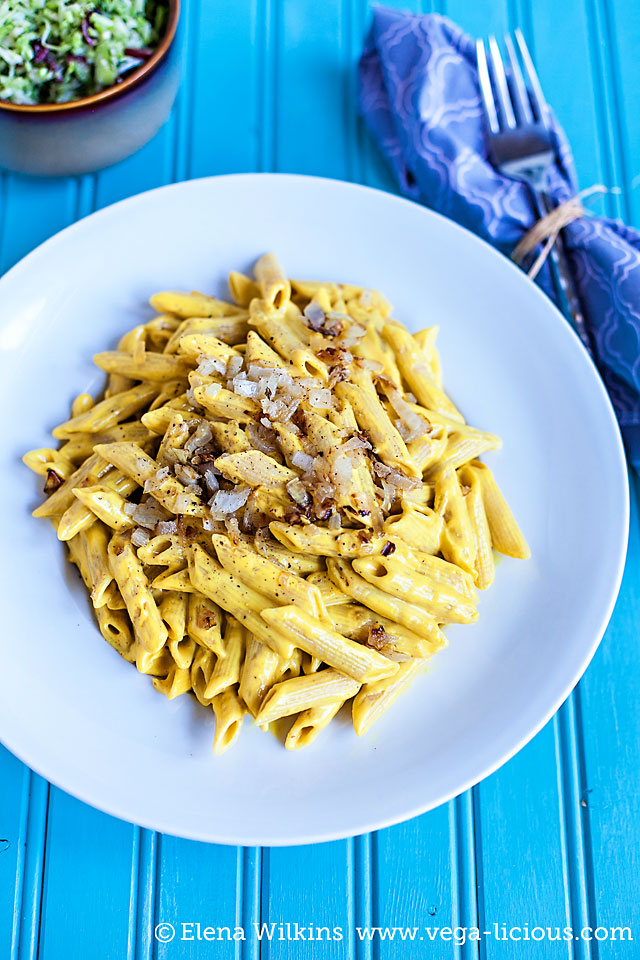 Enjoy!


Best Vegan Mac and Cheese Recipe
Prep time:
Cook time:
Total time:
Ingredients
16 oz box whole wheat or gluten free pasta
1 yellow onion
¼ c water to saute onions
Himalayan or Sea salt to taste
⅛-1/4 tsp your favorite, freshly ground pepper
Cheese
8 oz. bag of Daiya vegan Cheddar style cheese shreds
4 oz Toffuti cream cheese
1.5 tbsp apple cider vinegar
1 tbsp yellow mustard
½ tsp turmeric
2.5 cups almond milk
Instructions
cook pasta according to package instructions, salt water lightly; drain cooking water
Cheese
add all cheese ingredients into a high speed blender and blend until smooth
transfer into a small cooking pan and melt on medium heat
remove from heat and mix with cooked pasta
Garnish
chop onions into cubes
sauté on high heat in water for 4-5 mins, stirring, then reduce heat to medium, and keep frying until golden brown
when done, add to mixed mac and cheese
Make it! Share it! Love it!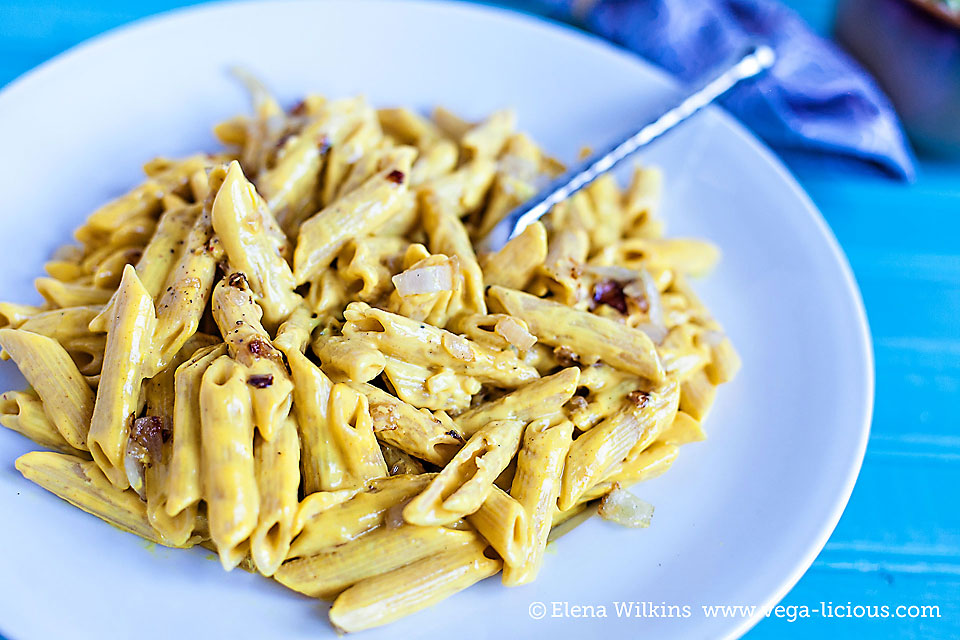 Let me know how it turns out for you.