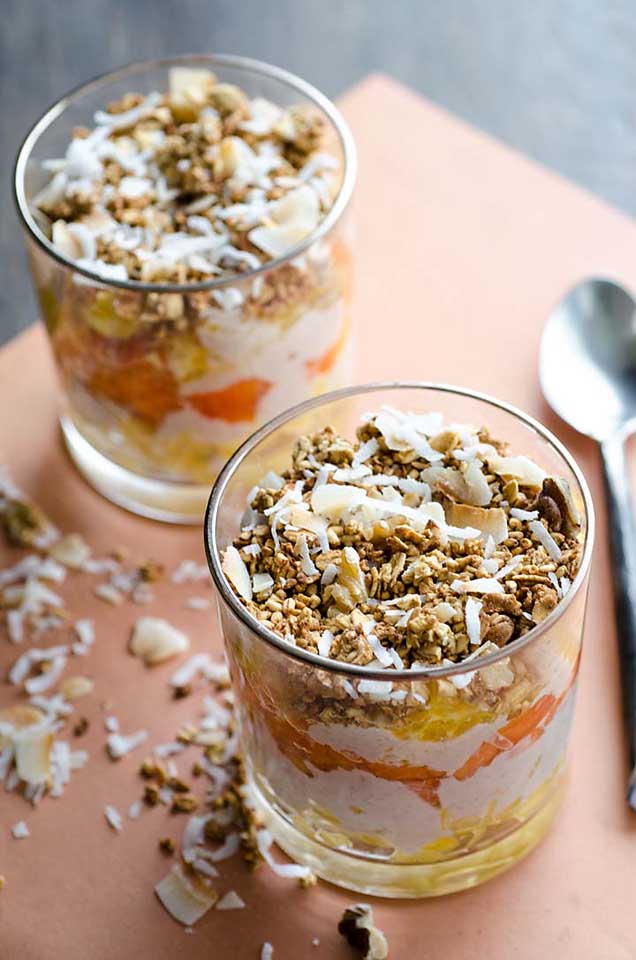 Last time Dora share a recipe on Vegalicious blog (Mexican Zucchini Corn Tacos)–it was a huge hit, so I asked Dora to do it again.  And she did!  She delivered this beautiful eye candy that begs to be enjoyed at least once a week–Tropical Fruit Parfait!
Enjoy it, and let Dora know if she should keep sharing her delicious, health promoting, veganized Mexican recipes with us. Leave her a comment under the post.
---
All the beautiful flavors of a summer vacation come together in this tropical fruit parfait. Sweet papaya, pineapple and orange chunks are layered with an almond banana yogurt, and topped with granola and coconut. It is a refreshing dessert or decadent breakfast.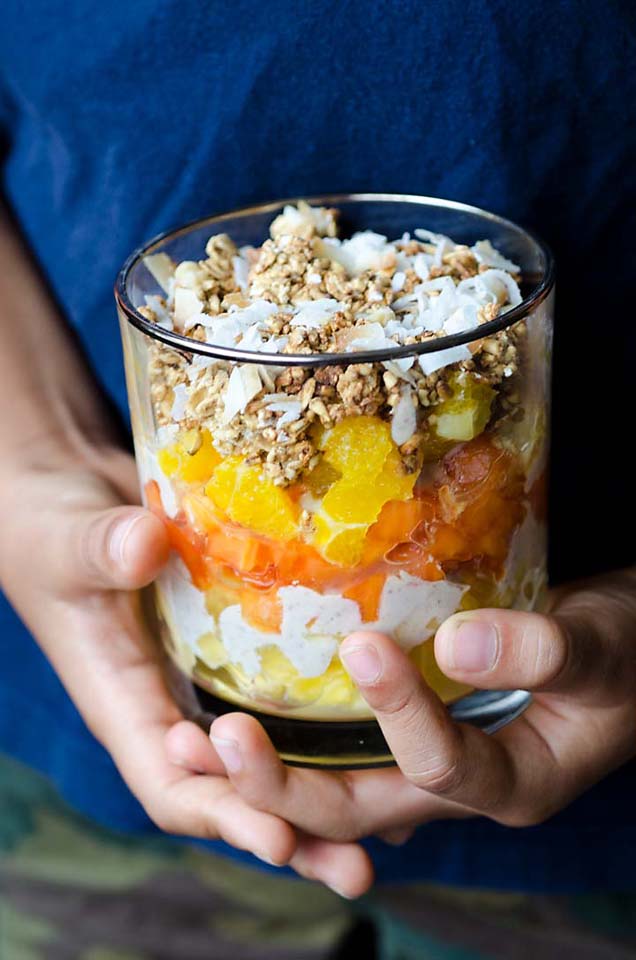 This tropical fruit parfait is very often served in Mexico for breakfast or it is sold at juice shops. Juice shops in Mexico have been around for years, way before juicing became a thing in the U.S. Freshly squeezed fruit juices, fruit cocktails, and smoothies are prepared on the spot for a very affordable price. Making the plant-based version of it was easy, incredibly delicious, and brought back so many memories.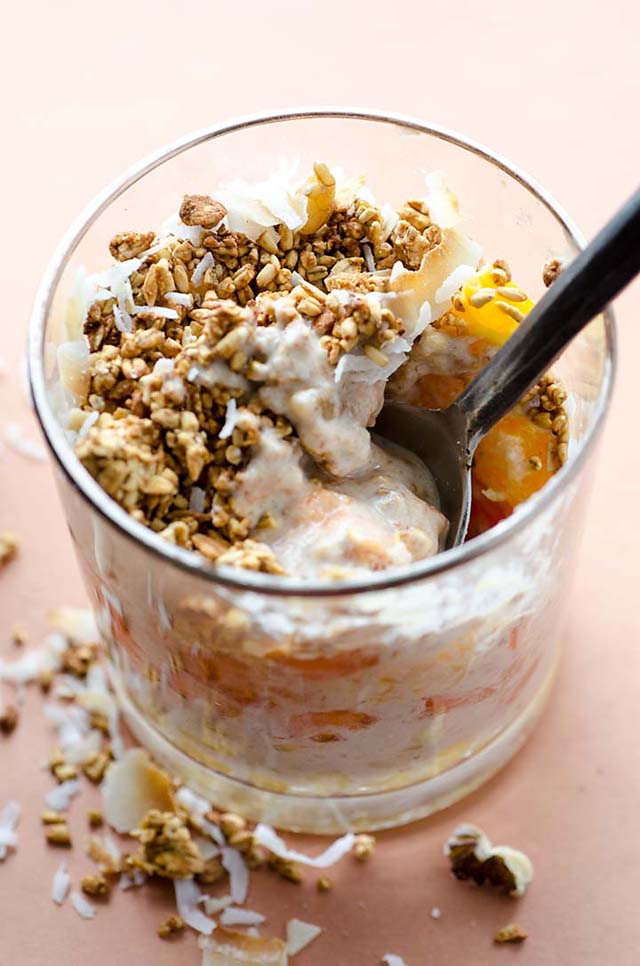 You can add any fruit you prefer, but I think mango would go exceptionally well with this. 
To make the yogurt I simply blended almonds, almond milk, water, lemon juice, and a banana to create a creamy and thick dairy-free version of yogurt. If you are not a fan of almonds you can do cashews if you prefer.
I bought an oil-free granola, but you could make your own in less than 30 min. You can layer it as you please, mix it or even add chocolate chips to it. Enjoy!
Vegan Tropical Fruit Parfait Recipe
Ingredients
1 cup Pineapple, peeled, cut into cubes
1 cup Papaya, peeled, cut into cubes
1 cup Orange, peeled, cut into cubes
½ cup Granola, oil-free
1 tbsp. Coconut, shredded, unsweetened
Almond Yogurt
½ cup Almonds, blanched
¼ cup Almond milk
½ cup Banana, ripe. sliced
⅓ cup Water
1 tbsp. Maple syrup
1 tsp. Lemon juice
Instructions
Place all of the ingredients for the yogurt in the blender. Process until completely smooth. Pour into a container, set aside and refrigerate for 15 minutes. (It will thicken slightly in the refrigerator.)
Begin layering your fruit into a cup or bowl, by alternating with 1 tbsp. of almond yogurt, until you have filled your cup ¾ of the way.
Top the fruit and yogurt with granola and shredded coconut.
Notes
If you do not have a high powered blender, soak the almonds overnight before making the yogurt.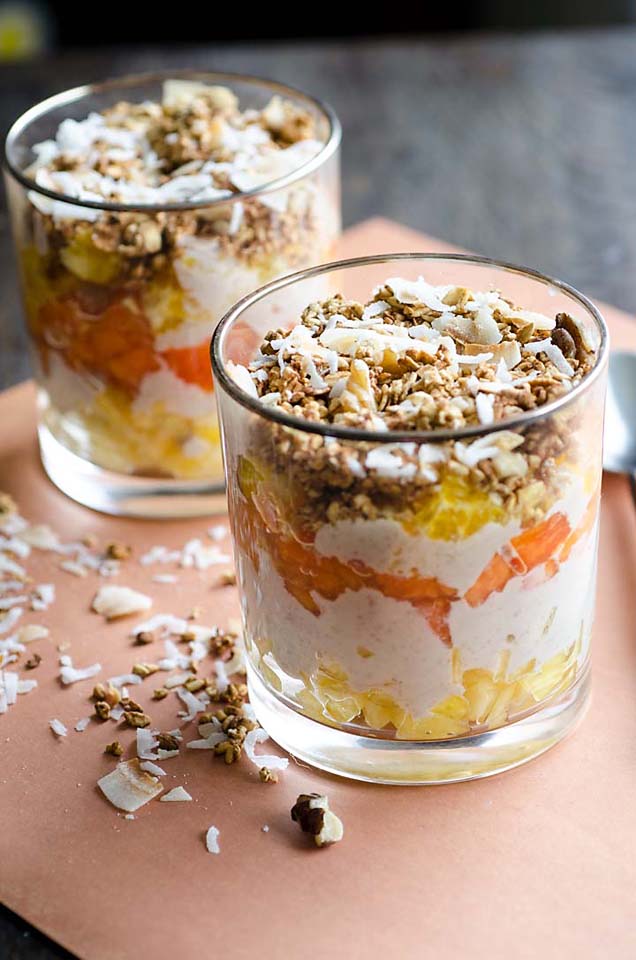 ---
About Dora 
Dora is the founder, recipe developer, and photographer at Dora's Table and Mi Mero Mole. Born and raised in Mexico and a graduate of the Culinary Institute of America in New York, she adopted a vegan (plant-based) diet to take control of her health. She is passionate about teaching others the benefit of a plant-based lifestyle while preserving the beauty and richness of the different regional cuisines of Mexico and what they represent.