"Waste not, want not!" is my motto, when it comes to about everything in my life. But you already knew that when I told you how to freeze extra produce to save money.
Lately I have been on a watermelon kick, and already told you about the benefits of eating the WHOLE watermelon, not just the delicious pink flesh. When I shared the Watermelon Rind Smoothie Recipe, I received a very curious email from…the National Watermelon Promotion Board.  Who knew organizations like that existed?  However, that was a good surprise.  When I got the email, I checked out their web-site and was inspired to think outside the box to use watermelon rind in more than one way.  I especially was intrigued by the Watermelon Rind, Carrot and Pineapple Slaw. I decided to make extra healthy and vegan friendly. I was anticipating the final results, as I was making it, and was not disappointed.  I was greeted by a multi-layered, explosive taste experience of the final product.
Here is my watermelon creation for you to enjoy.
Watermelon Rind Slaw Recipe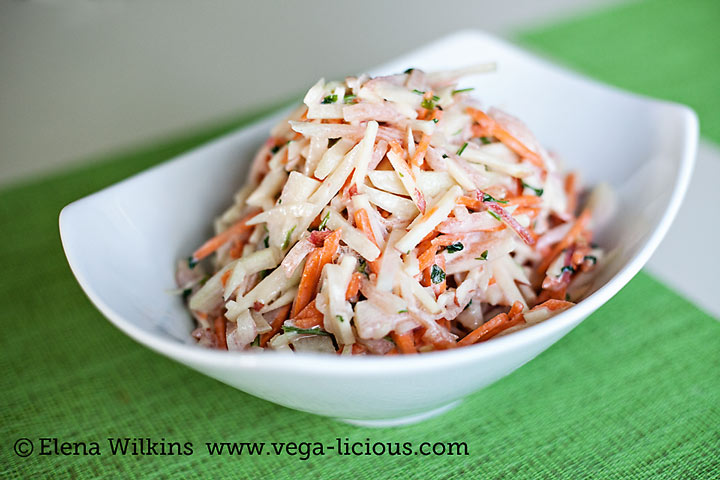 Watermelon Rind Slaw Recipe
Prep time:
Cook time:
Total time:
Nutrient packed salad that will help you use every part of watermelon.
Ingredients
rind from one small (personal size) watermelon, with fruit and green peel removed
1 large carrot
1 large juicy apple
½ tsp ground mustard or pre-made Dijon mustard (optional)
¼ cup chopped cilantro
dash of salt (~1/8 tsp)
1 tbsp lemon juice
1 tbsp honey or maple syrup
⅓ container firm tofu (4-5 oz)
Instructions
grate watermelon rind, carrot and apple (I used Swissmar Borner V Power Mandoline with the smallest julienne blade)
place into a mixing bowl
blend tofu, honey, mustard and lemon juice in a high speed blender until smooth (I used Blendtec's twister jar)
pour over grated ingredients
add cilantro and salt, and toss
refrigerate for 1-2 hours to let ingredients marinate (optional)
slaw will store well refrigerated for a few days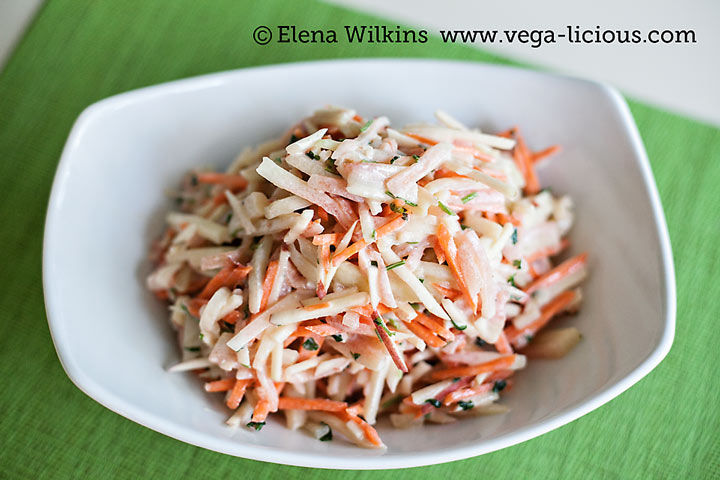 I guarantee that you will love this unexpected creation. While it is filled with nutrients it is also packed with the most amazing flavors.
Share!
Make it, let me know what you thought about it and make sure to share it with everyone around the world wide web.  Let's make this world a healthier place one delicious bite at a time.